Posted on
Make family and friends first place of refuge- Acting PM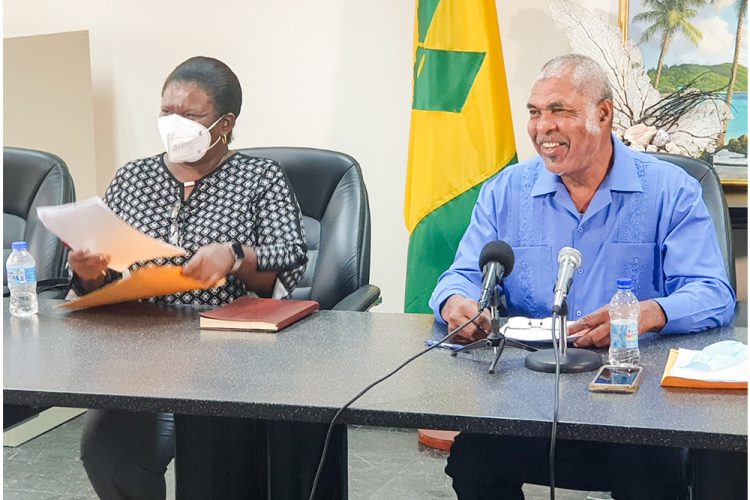 Persons who may be displaced during the 2021 Atlantic Hurricane Season are being asked to take up refuge with friends and family, if possible, before considering entering an emergency shelter.  
This, as more than 3000 persons are still housed at emergency shelters throughout St. Vincent and the Grenadines (SVG), displaced by the eruption of La Soufriere volcano which erupted explosively on April 9. 
Speaking on Tuesday at Cabinet Room, at the start of the 2021 Atlantic hurricane season, Acting Prime Minister Montgomery Daniel, said that given the onslaught of hurricanes, there must be necessary shelter arrangements.  
He pointed to the number of people who are still displaced by the volcano which drastically reduced the available space in emergency shelters for the 2021 hurricane season.  
"While we hope that many persons who have been displaced may be available to return home in the next few weeks or months, there are those who may not be able to for an extended period and we have to continue to support these families," Daniel said.  
He noted that the National Emergency Management Organization (NEMO) has been identifying alternative shelters for use during this hurricane season and this remains a challenge. 
"Plan ahead if you need shelter, and consider staying with families and friends if that situation is available, and that is so because it is always best if you can find a shelter with friends and family and using the shelters as last resort," Daniel said.  
He is also encouraging persons entering shelters to take supplies that can last at least three days. Supplies include food, water, bedding and sanitary items.  
Persons are also being encouraged to go to the shelters closest to their community if their immediate community does not have a shelter.  
The Acting PM is also reminding persons that there are several measures that remain in effect to reduce the spread of COVID-19 in emergency shelters.  
He said this is important as 54 cases have just been recorded in 14 shelters over the past six weeks. It is necessary to continue adhering to the protocols, he stressed.
"I want to urge that persons in the shelters must continue to wear masks at all times, and this is to reduce the spread of COVID and other viruses," Daniel said while also encouraging social distancing.  
The 2021 Atlantic Hurricane Season officially began on June 1 and runs until November 30. 
The National Oceanic and Atmospheric Administration (NOAA) based in the United States of America (USA), is predicting another "above-normal" year, with 13 to 20 total named storms.  
NOAA predicts that six to 10 of the 13 to 20 total named storms could develop into hurricanes, including three to five major hurricanes (Categories 3-5).