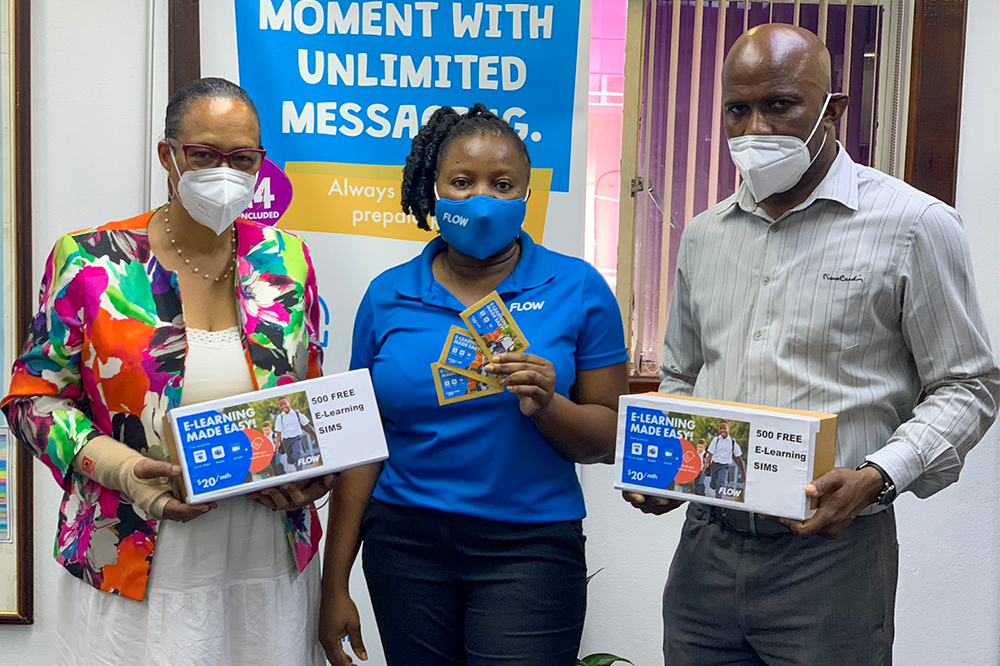 Flow donates sim cards to Ministry of Education
TELECOMMUNICATIONS giant Flow launched an affordable prepaid E-learning plan on Tuesday May 25, 2021 which it said is geared towards meeting the needs of parents, and students with limited access to a fixed internet connection.
in a release, the company said the plan debuted just in time as most schools resumed online classes for the third term.
The 30-day E-plan comes with 90 gigabytes of data and costs only EC $20.
In anticipation of the E-learning plan's launch last week, Acting Country Manager Andrea Liverpool, handed over 500 prepaid sim cards to the Chief Education Officer Elizabeth Walker, and Deputy Chief Education Officer Dixon Findlay at the Flow Kingstown offices on Tuesday May 18.
Liverpool in her remarks said that "Flow is extremely pleased to be part of this venture in conjunction with the Ministry of Education. I must say thank you to the Chief Education Officer and the Deputy Education Officer for accepting our challenge. These 500 sim cards we know will be of extremely great help to the students, especially those who have been displaced and those who may be less fortunate.
" We know that this will help them in their education journey, we are also aware that E-Learning is very significant at this time and we (Flow) are happy to be a part of it. This a testament of our continued support to Education in St. Vincent & the Grenadines."
The Chief Education Officer shared her Ministry's gratitude in receiving 500 sim cards loaded with data for students, many of whom are "challenged at this time with COVID-19 and the eruption of La Soufriere".
"Some (students) are in shelters while others for various reason may not have the necessary facility for online teaching and learning. We are happy that Flow has again come to our assistance and wish to say on behalf of the Ministry of Education how happy we are. We can assure Flow that in regards to our student selection, it will be a rigorous process to ensure those who are in most need will receive the much needed assistance."
To activate the E-learning plan which also works with E-tablets, users must first register at a Flow retail store or with a Flow Retail agent.