Posted on
Slain footballer died with a broken heart – girlfriend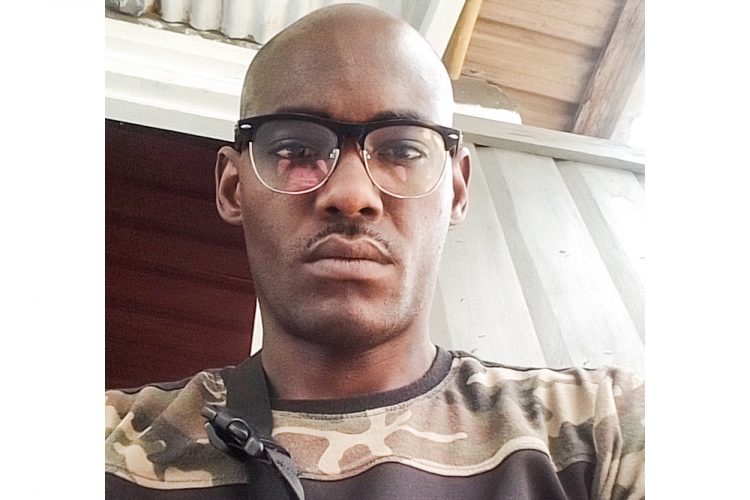 Dwaine Sandy, the national footballer who was shot and killed over the weekend died with a broken heart, says his girlfriend Naressa Ollivierre.
Sandy, who recently represented the Vincy Heat soccer team as a goalkeeper, was on suspension from the national squad and therefore was not included in the training unit that left for Grenada on Monday, May 17.
Sandy, this country's 16th homicide victim for 2021, was shot last Friday night around 8:30 while at 'Granny's Shop' in Calliaqua. He is said to have received about three gunshots from two assailants who also shot Ollivierre in her upper left arm.
"Dwainie died with a broken heart, he had football on his mind. Dwainie was frustrated leading up to his death. All Dwainie wanted to know is why he was suspended, nobody tell him nothing," Ollivierre told SEARCHLIGHT.
Ollivierre said she only learned why Sandy had been suspended from national duty when she read an online article stating that he had threatened someone. She said he had not been given a reason for his suspension.
The bereaved woman said she is not blaming the St Vincent and the Grenadines Football Federation (SVGFF) for anything, but she is disappointed with their procedure.
She expressed the view that if they had told Sandy what the issue was and had gone about the suspension in a more professional manner, Sandy would have been with the team in Grenada.
"Everybody know he was suspended, but up to the day he died he did not know what he was suspended for. I am only seeing it now on the news what he was suspended for and Dwainie died not knowing.
"I saw on the news that the football federation was going to send him for psychiatric evaluation and counselling, he did not know this and I did not know this," Ollivierre said.
She said also that what is troubling is that up to press time, everyone from the SVGFF except team manager Renson Haynes, called Sandy's mom Margaret, to offer condolences. SVGFF president Carl Dickson also expressed condolences.
"I know he do things in his past, or he was a bad person but I am telling you, he changed.
"Since Dwainie meet me when he come out of prison- he was living in Paul's Lot before he went to prison- but when he came out he left Paul's Avenue and went by his mother (in Brighton) and never went back," said Ollivierre who has been in a relationship with Sandy for five years.
She said he wanted to return to the national team when he came out of prison, but was rejected because of his past; however, he tried very hard until he made it.
Ollivierre said Sandy was one of the best goalkeepers in the country and tried out for teams like Hope International and the local Chelsea team, but was rejected because of his past.
"He went to Chelsea in Campden Park and did a tryout and was accepted but later they called and said they could not take him because he would be a bad influence on the youths," Ollivierre said.
She explained that he played with a lower division team, Glenside Ballers, and that team entered a village competition for which Sandy won 'man of the match' and persons again started looking at him as a good goalkeeper despite his past.
She said Sandy continued with Glenside Ballers in the first division, trying to build his career and was eventually called to play for the premier team Sion Hill.
"After the tournament with Sion Hill, he said he was going back with Glenside Ballers to help them come up to the premier league and he did not want to be ungrateful.
"He was trying…," Ollivierre said of the 32-year-old father of two who celebrated his birthday on February 19.
She added also that things were looking up for Sandy, as the day before he died, he had sent his passport to a team in Brazil that was interested in signing him on a contract.
Explaining what happened on the night Sandy was killed, Ollivierre said he had been not at the shop for five minutes before the murder took place.
She said she had just ordered a chicken and chips meal for Sandy when two gunmen entered the business place through a side door and started shooting.
"Me think ah been a joke or something. When me hear the first shot, me look and see ah the two gun man, me run out, me just start to run," Ollivierre said, noting that she ran out of the business place and tried to get into a vehicle to get away, but was shoved aside by someone and the vehicle sped off.
After she was pushed away from the vehicle, she ran into a nearby shop and did not realise she had been shot until minutes after when she saw blood.
She said everything happened so quickly that she didn't see anything and she is shell-shocked.
"All now is like me ah see them ah come to me still, me just feel like if them ah come to me. Me just ah see guns like two man ah come to me," Ollivierre said.
She said Sandy was shot three times, once in his heart, and she is wondering why she was shot.
"Eight persons were in the shop, so why me? People saying they didn't want me, but I was not next to him so why I was shot? Ollivierre questioned.
Margaret Sandy, the dead man's mother said Sandy was her fourth of five children and she is sad about his death.
"I feeling down and depressed. We had a good relationship," she said while adding that he is the only one of her children that lives with her.
Ollivierre said Sandy will be buried around June 20 as she is waiting for the national team to return from Grenada.
"He would want them there, that is what he would have wanted," Ollivierre said.