Posted on
Five weeks after shooting still no one charged – Lawyer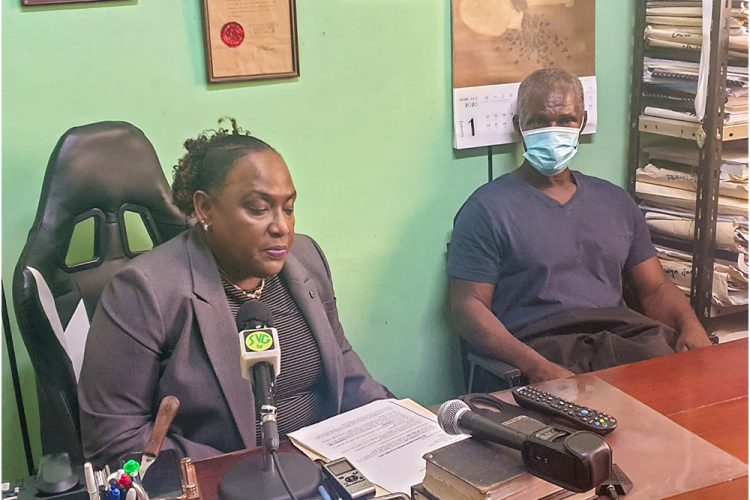 Lawyer Kay Bacchus-Baptiste is peeved that weeks have passed in the Cornelius John/senator Ashelle Morgan shooting incident and no one has been charged or detained.  
Bacchus-Baptiste is also up in arms over because up to Friday May 21, she had not received a response from the Commissioner of Police (COP) Colin John in relation to a letter she wrote on May 4, 2021 asking for an update on the issue.  
On Tuesday April 13, 2021, John, a  business man who lives at Diamond, was shot and he said he was also beaten and threatened. 
"To date I have had absolutely no response from the Prime Minister, the Director of Public Prosecution or the Commissioner of Police.  
"Not even an acknowledgement that they actually received the letter which was served on them, so I know they received the letter," Bacchus-Baptiste said at a news briefing on Friday May 21. 
Speaking from her office at White Chapel Road, Bacchus-Baptiste said her letter of May 4 was addressed to the COP and copied to Prime Minister and Minister of National Security, Dr Ralph Gonsalves.  
In the letter, the veteran lawyer asked eight questions, among them, if the third person at the scene of the shooting was a policeman, and if anyone is going to be charged in relation to the incident.  
"St Vincent and the Grenadines is a country of laws and the rule of law is on trial, administration of justice demands that these assailants be detained, investigated and some charges be brought against them.  
"My client is hurting…"Bacchus-Baptiste told local media personnel, adding that May 21 marked five weeks since the incident and no one has been charged for shooting John.  
Bacchus-Baptiste said she is still waiting to find out who was the third person who is alleged to have gone onto John's property on the day he was wounded.  
"I have information of who it might be, but there is no reason for the Commissioner of Police to be hiding the name of this person, even for the security and safety of Vincentians.  
"I asked myself whether he appeared to have decided to withdraw from the common design that they came there for, and that he would be a good witness to support my client's case," the lawyer commented while asking, "is that why they are hiding his name?" 
Bacchus-Baptiste said this is a public matter and justice demands that persons know who the third person is so that he can also be interviewed by her on behalf of her client. 
"…And certainly, I do not know if they have taken a statement from him yet, if the police took a statement from him yet.
We are entitled to know all of this," she said while adding that the letter was also copied to the Director of Public Prosecutions Sejilla McDowald.  
Bacchus-Baptiste said the letter was copied to the DPP "in case the Commissioner of Police was lagging" but it is "sad to say it seems as if they are all knocking one head."  
She said if nothing is done about John's shooting, private criminal actions can be brought, but that is also problematic as you must have a fiat from the DPP before any individual can bring a private criminal action.  
"…So you see where we are going?" Bacchus-Baptiste  queried while also noting that writing for a fiat to do a private criminal prosecution is a very expensive venture and John should not have to pay for that when the DPP and COP's jobs are to pursue criminal cases. 
She said she is not saying that it would reach to the stage where they will have to pursue private criminal action, but if they reach that stage and they do not get the go ahead from the DPP, they can ask for a judicial review, but it is unfair that John would have to pay a lawyer to get justice.