Posted on
Opposition in full support of the supplementary budget – Dr Friday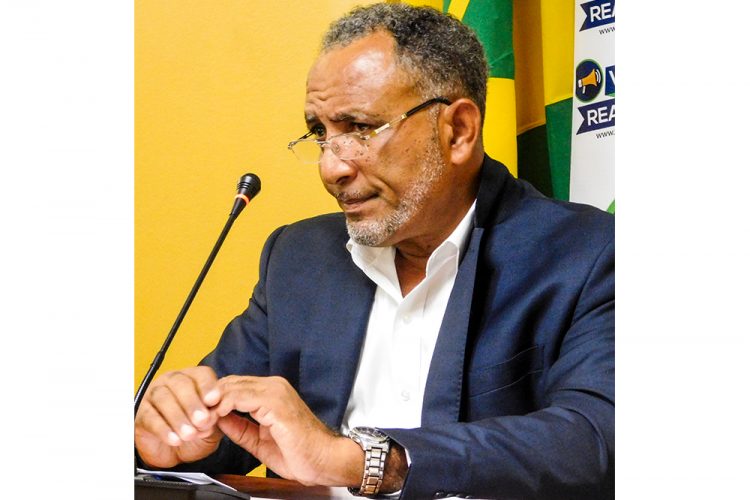 PRIOR TO BEING made to withdraw from Parliament last week Tuesday, opposition leader, Dr Godwin Friday and his colleagues on the opposing side of the House had all intentions to support the supplementary budget passed in the House of Assembly for volcano relief efforts.
But they would have asked for more to be done to adequately compensate people who have lost their property and livestock.
"The issues that were raised on the supplementary estimates are important matters, but those matters are going to go ahead no matter what," Friday told members of the media just minutes after exiting the chambers with his fellow opposition colleagues.
The $117.9 fiscal package was passed sometime after 12am on Wednesday morning, in the absence of opposition parliamentarians, who left after Friday was ejected from the May 11 sitting for refusing to accept the ruling of the Speaker as he sought to have Senator Ashelle Morgan suspended from the Parliament.
His protest came in the wake of allegations levelled against Morgan in relation to an alleged incident which resulted in a Diamond resident being shot.
Friday's request that Morgan, who is also the Deputy Speaker of the House, step down or be made to step down while investigations into the shooting incident took place, was denied.
"Our intention was to support the measures and to ask for more, there needs to be more…there needs to be compensation for people who lost their animals and their property. What they are talking about giving you implements so that you can start over, but what about if you had 10 sheep and you lose them? That's a big loss for you," Friday said.
The opposition leader also criticised the payments that are to be made under the $117.9 million supplementary budget, saying that they were "temporary and very small".
"This is something we are going to be doing for a very long time, but the point of the matter is, that is something that we were prepared here to debate and the fact that they were prepared to take this right up to the limit, tells you that they don't want to have a debate on this either," he said.
Finance Minister, Camillo Gonsalves seemingly commented on the day's events at the beginning of his presentation last Tuesday afternoon in Parliament, declaring that they were in the House to "deal with serious work, not side shows".
He described this time as one of the most painful periods in the country's development dealing at once with the volcanic eruption and fallouts of the COVID19 pandemic.
"I would think that any parliamentarian worth their salt would want to be here today to add their voice, either in support or criticism, or in shaping the way in which this country would go forward, dealing with the most fundamental and significant developmental challenge of the last four and a half decades," Gonsalves said.
Of the $117.9 million, $28 million has been allocated for ash cleanup, debris removal and river clearing.
Income support for farmers in the hazard zones ($10.5 million for red/orange zone farmers; and $3.8 million for green/ yellow zone farmers) is one of 18 major initiatives that will receive funding under the Supplementary Estimates of 2021.
Other major initiatives to be allocated funding include shelter meals, building materials, agriculture production support, home reconstruction, bridge and road rehabilitation, and community brigade and road cleaning crews.