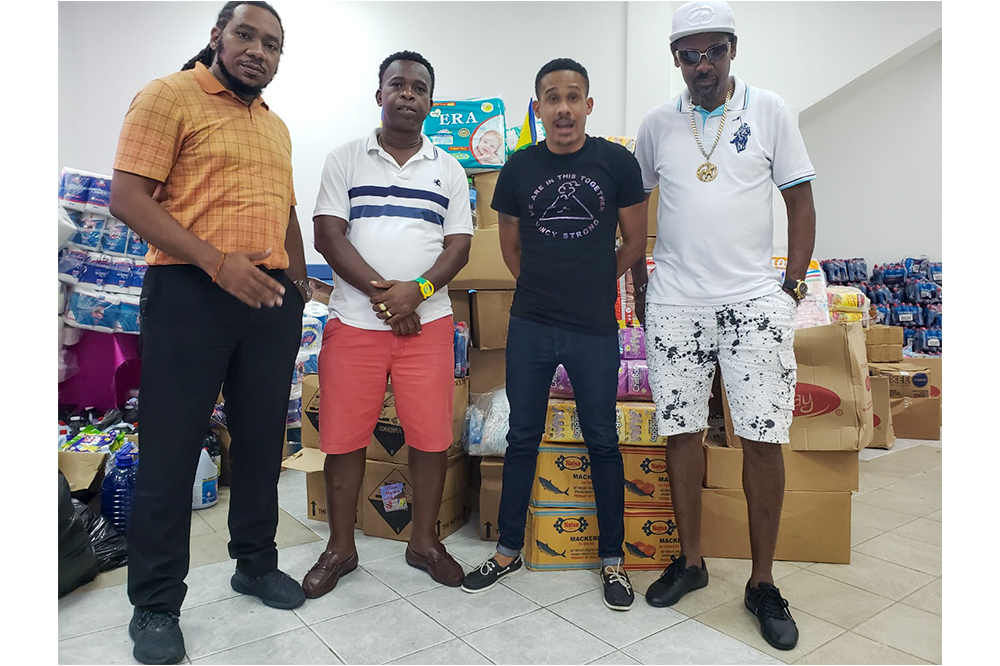 Vincy Cultural Ambassadors doing their part to help
The Vincy Cultural Ambassadors group sprung into existence on Friday 09th April 2021, the day La Soufriere Volcano began its explosive eruptions. This group of artistes, musicians and persons in the creative and cultural industries came together and immediately began assisting shelters with food, water and other necessities. The group later shifted its focus to assisting evacuees staying with friends or families at private homes. Members of this group include, Skinny Fabulous, Rondy "Luta" Mc Intosh, Rodney Small, Orande "Bomani" Charles, Shaunelle Mc Kenzie, Charlie "Chewalee" Johnson, Lester Iroha, Andrew James, Pablo Lewis, Franklyn "Supadex" Richards, Esworth "Ezzie" Roberts and others.
Stephan Reis of Synergy TV, after viewing various posts on social media about the group's activities, reached out to a member of the group and expressed the wish to support the work of the organisation. He and his team at Synergy TV subsequently launched a relief drive to assist the people of St Vincent & the Grenadines. Various collection points were established in T & T where persons dropped off vital supplies. A shipment of cargo, consigned to Vincy Cultural Ambassadors, arrived in St. Vincent on the Sassy Cat on Thursday 06 May. The cargo included water, juices, dry goods, toiletries and clothing.
A member of the group, Esworth "Ezzie" Roberts stated: "We were on the road delivering vital supplies from the day the volcano erupted explosively. Our supplies were received from businesses and individuals locally as well as from persons living overseas."
He added : "he shipment of goods from Trinidad and Tobago came at an opportune time and after sorting and packing boxes, we immediately began distribution to needy persons."
Another member of the group, Rondy "Luta" Mc Intosh expressed much love and appreciation as he stated: "We are extremely grateful for the outpouring of love and support received from the people of Trinidad and Tobago through this initiative by Stephan Reis and the team of Synergy TV. These vital supplies will be going into the hands of persons who are definitely in need at this time" He continued: "Special thanks to Richard Liquor Cellar, the captain and crew of the "Sassy Cat", Colfire, Mr. William Monro and Red Edge Mall, Ricky & Central Neon and all the other business and individuals who contributed in any way in making this [initiative]a reality. We love and appreciate you all"
Rodney "Steelpan Boss" Small also expressed gratitude to local businesses, "Bonadie Supermarket #1, KFC, Mustique Company Limited for providing a vehicle to do deliveries. Uncle Skinny's Playtime and to all other local business and individuals who have been supporting our efforts, we sincerely thank you."
The group has so far sent one pallet of water each to Bequia, Canouan and Union Island. The work of the group continued this week with deliveries to homes daily.