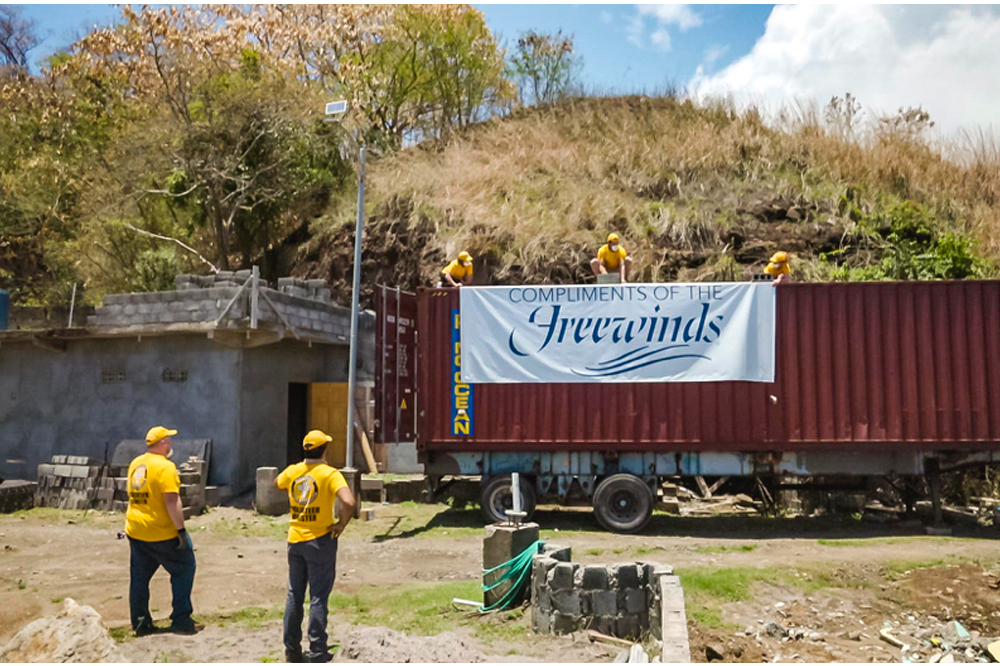 Freewinds cruise ship provides relief supplies
After the first eruption of La Soufriere Volcano on the island of St. Vincent took place, the cruise ship Freewinds acted immediately by finding out what was needed and wanted in the way of priority relief supplies. With this information to hand a 40-foot container of vital materials was sent from Miami to Kingstown. This was followed up by getting a team of Volunteer Ministers on the ground to help with logistics and distribution of relief supplies.
With nearly 16,000 people [the exact numbers vary] having to be evacuated from their homes in the red and orange zones it was apparent that a humanitarian crisis was imminent. Though many found refuge in the homes of relatives, it seemed the shelters would be stretched to their limits. Teaming up with the St. Vincent and the Grenadines Medical Association and the SVG Bar association, a co-ordinated effort was made with the Freewinds getting the relief supplies arrived to the island, stored and ready for distribution to the shelters.
Based on the list of immediate needs issued by NEMO, over 13,000 pounds of relief supplies ranging from water storage tanks, respirators, blankets, tools and hygiene kits were quickly assembled and shipped to St. Vincent. Before the arrival of the container the team of Freewinds Volunteer Ministers arrived and met up with Miss Rene Baptiste, President of the SVG Bar Association.
Upon arrival of the container the Freewinds volunteers worked Ms. Baptiste to get it stripped and the materials made ready for distribution where they are most needed.
Miss Rene Baptiste commented that she was grateful that the Freewinds responded so well to the cause of disaster relief by saying: "The vessel and staff know many persons in St. Vincent and have formed friendships and business relationships with individuals here. Their donations would go a long way towards assisting many displaces persons."
 
Miss Baptiste noted as well that the volunteers are already in the field supporting the Red Cross and are actively engaged in cleanup activities.
The Port Captain of the Freewinds, Ken Weber, had this to say: "The Caribbean is our home. Whenever disaster strikes in the region the Freewinds is always ready to assist.
Previously we have provided disaster relief on different occasions after hurricanes hit the region between 2015 and 2017. However, this is our first volcano, but the handling is basically the same, find out what is needed and wanted then provide it rapidly.
Regardless of the situation, the Caribbean can count on the Freewinds to do whatever it can to provide help."
The Church of Scientology Volunteer Ministers program is a religious social service created in the mid-1970s by Scientology Founder L. Ron Hubbard. It constitutes one of the world's largest independent relief forces.
A Volunteer Minister's mandate is to be "a person who helps his fellow man on a volunteer basis by restoring purpose, truth and spiritual values to the lives of others."