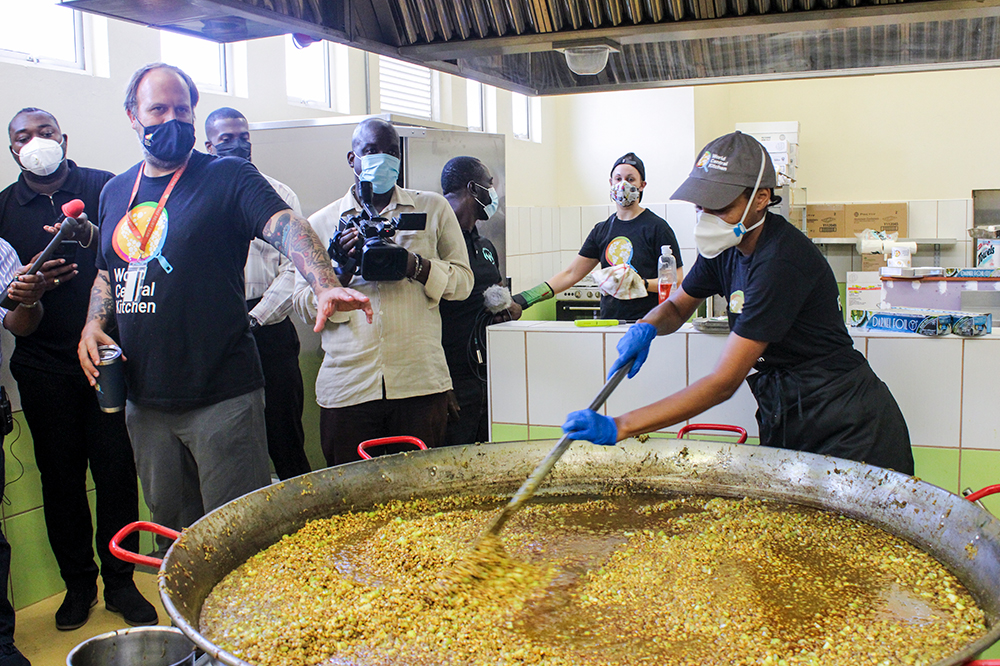 World Central Kitchen supports relief efforts with 8000 meals a day
In the aftermath of the volcanic eruption at La Soufriere, several humanitarian initiatives were launched by various organisations to provide relief for the thousands of people who have been displaced from the northernmost parts of the island.

For non-profit organisation World Central Kitchen (WCK), their contribution to humanitarian efforts consists of generating no fewer than 8000 meals on a daily basis with the help of local businesses and volunteers, both here and abroad.
The Kitchen, which was founded by Spanish-American chef, Jose Andres, is set up at the St Vincent and the Grenadines Community College (SVGCC) Hospitality and Maritime Training Institute at Diamond.
"We are doing out of here, 4000 [lunches and dinners; hot meals and a meal of a sandwich, fruit and water] and then organising another 4000 from local restaurants, putting that money back into the local economy as much as we can," Josh Phelps, the relief operations director of WCK told reporters during a visit to the institute on April 30 with Governor General, Dame Susan Dougan.
Phelps said many of the volunteers are actually students at the SVGCC who, after a long break due to COVID19, now have an opportunity to flex their culinary skills and also learn from chefs who have come in with the WCK team.
The relief operations manager arrived in SVG last week, but praised the team that had been on the ground since early April, who have been able to build a lot of local relationships and distribute food to various parts of the country in all zones.
Part of that local networking includes buying local vegetables and other products in SVG so as to "keep the money here in the local economy".
He explained that the WCK has mainly operated in countries who have experienced hurricanes and he said they were grateful to be able to do work in SVG.
When local media visited the facility with the Governor General, they were able to observe some of the work taking place in the kitchen. Local volunteers and members of the WCK team were busy packing and preparing food to go out to various parts of the country.
As a US-registered non-profit organisation, the Kitchen is funded through donations from the general public and small and large foundations.
"We have a team that goes out specifically and looks for donations during events like this but we also just throughout the year, raise money and this is what the money is for," Phelps said. "We have a large media presence, social media presence and we talk to people…a lot of times, when people maybe aren't talking about what's going on, we make sure we get photos and video and put the word out there because our founder, Chef Jose Andres wants everyone to know what's going on here and not have people forget."
St Vincent joins a number of countries over the world that have received assistance from WCK in the aftermath of natural disasters. These countries include Haiti, Dominican Republic, Nicaragua, Zambia, Peru and Cuba.
The Kitchen has also assisted in the United States during the COVID19 pandemic.