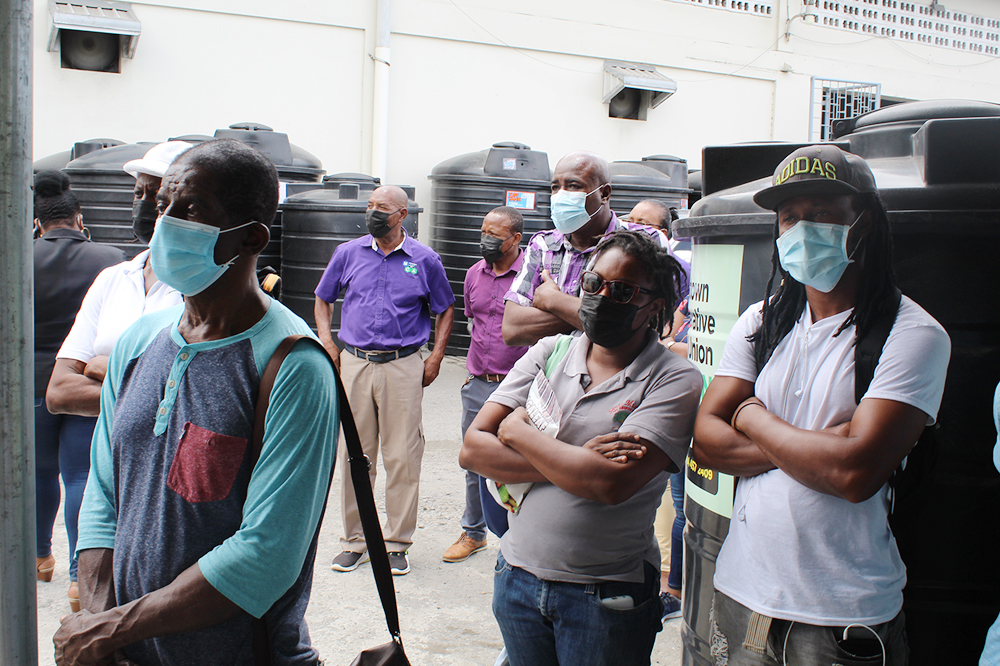 KCCU helps 20 farmers with provision of water tanks
The Kingstown Co-operative Credit Union (KCCU) is helping farmers recover from a devastating drought in 2020, and now the ravages of volcanic eruption, with the provision of twenty 600-gallon water tanks to 20 farmers last week.
Acting Chief Agricultural Officer, Renato Gumbs said the Ministry of Agriculture wants the tanks "to serve the farming enterprise" and urged the recipients not to connect the tanks to their homes.
"We want to increase productivity because really and truly, if you look at the extent of damage that has taken place so far in the country, you know we'll be challenged with producing food," Gumbs remarked.
"…Those farmers who are able to produce, we have to increase their production and productivity so we want these tanks to be used for actual farming," said Gumbs, who promised that the ministry will be checking up on them.
Martin Sheen, Secretary to the Board of the KCCU pointed out that in 2020 when this country suffered its worst drought in 72 years, farmers experienced losses in excess of EC$16 million, with major export crops such as dasheen, eddoes, sweet potatoes and bananas experiencing significant declines at a time when foreign exchange earnings from tourism had all but dried up because of the COVID19 pandemic.
He said the KCCU "is cognizant of the importance of the local agricultural industry as a driver of economic activity and a source for food and nutritional security; we are also aware that despite SVG's abundance of fertile land and hardworking farmers the industry continues to be challenged by the ravages of climate change and in particular, dry spells," Sheen said.
"We are committed to assisting farmers getting back on their feet and rebuild better than before," Sheen continued.
The water tanks, valued at EC$20,000, are the second donation of water tanks made by the 63-year-old financial institution over the past two months, having donated in March, 14 one thousand gallon tanks costing EC$27,000 to 14 schools designated as emergency shelters.