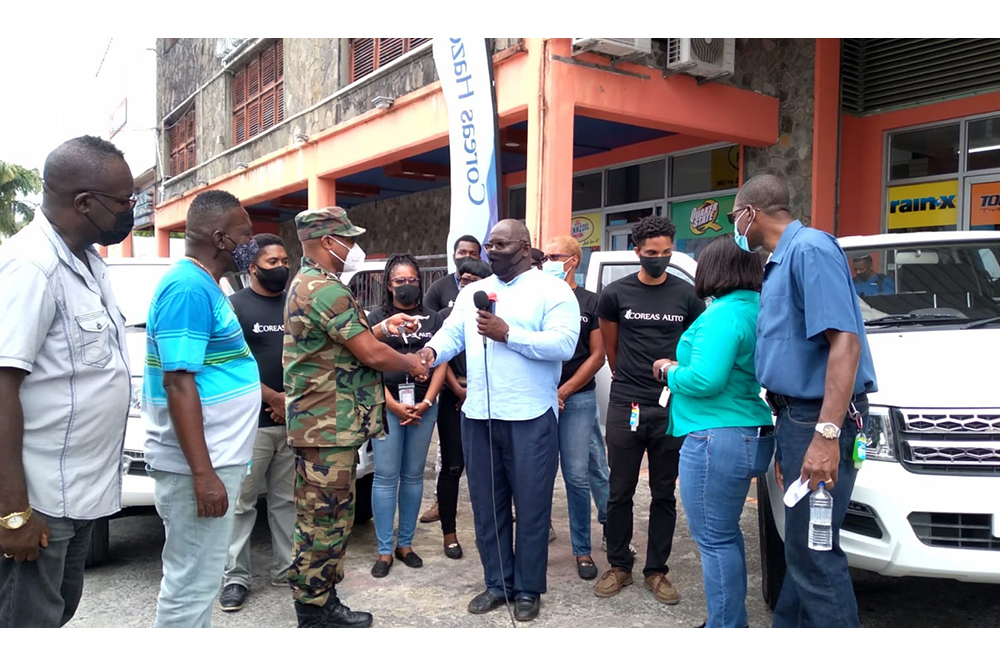 Coreas donates trucks to the police & NEMO
Two pick-up trucks have been gifted to the National Emergency Management Organisation (NEMO) and the SVG Police Force to bolster ongoing volcano relief efforts in St Vincent and the Grenadines.
The brand new vehicles were donated by local company, Coreas Hazells Inc at a short ceremony on Saturday, May 8, where CEO, Joel Providence handed over the keys to Michelle Forbes, director of NEMO and Commissioner of Police, Colin John.
"We have been making donations since I can say, two or three days after the eruption on the 9 April to both the government and the people," Providence said as he stood in front of the Coreas Hazells headquarters on Saturday morning with other officials.
Included in the company's previous donations were water, mattresses, groceries to displaced persons in shelters and private homes, and an array of other necessary supplies.
The CEO noted that logistics and security are two important pillars of the country's current relief and recovery efforts and the donation of the two vehicles will prove beneficial to the overall exercise.
It is projected that combined contributions from Coreas Hazells and Coreas Distributions to the relief effort – with the support of overseas business partners – will exceed EC$1.3 million.
Both Commissioner of Police, Colin John and NEMO's director, Michelle Forbes thanked Coreas for their contribution to the country's relief efforts since the start of explosive volcanic eruptions on April 9.
Also present at last Saturday's handover ceremony were permanent secretary in the Ministry of National Security, Hudson Nedd, and head of the Police's Traffic Branch, Kenneth John.