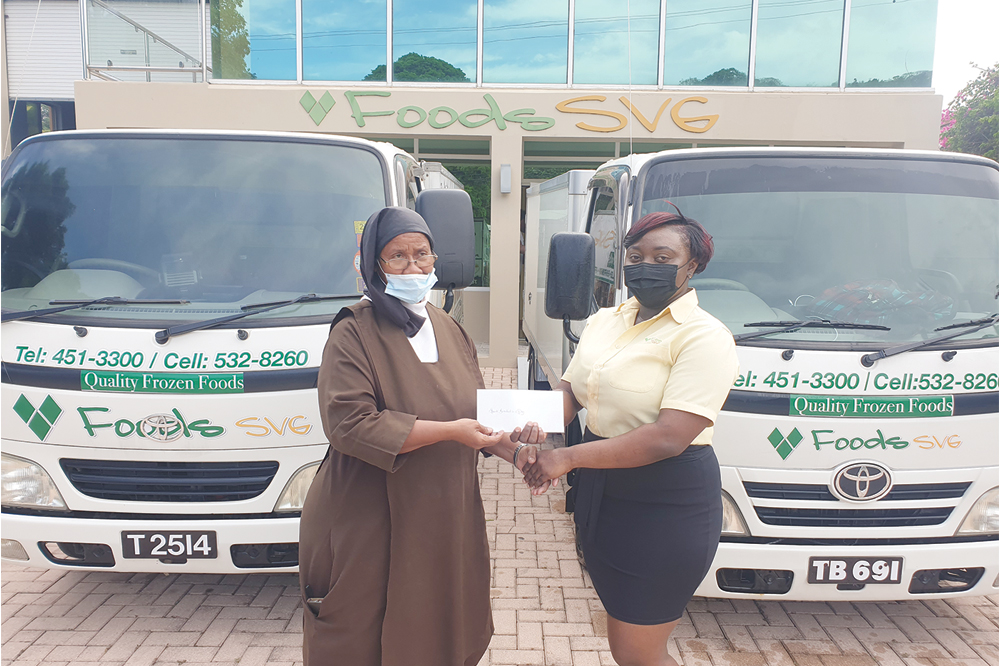 St Benedict's receives financial donation from AJC International
The St Benedict's Day Nursery and Hospital in Georgetown needs assistance and one company, AJC International, through a local business partner, Foods SVG, has already come to its aid.  
AJC International is a global poultry company and on Wednesday, Foods SVG's Michelle Solomon, handed over EC$1500 to Sister Nyra-Anne Pajotte of St Benedict's Day Nursery and Hospital. 
Sister Pajotte explained that the St Benedict's Day Nursery and Hospital in Georgetown takes care of mentally challenged children and they need all the help they can get at this point.  
She said they had to evacuate from Georgetown to the St. Mary's Roman Catholic School (SMRC) shelter because of the eruption of La Soufriere volcano.  
 The donation will be used to purchase food, cleaning items and looking forward, they need money to make the facility in Georgetown comfortable again.  
 The Catholic sister said the roof was filled with ash and they have had that removed, but they have to find money to pay for repairs in other areas as water has entered certain parts of the building.  
"We really need help, financial help and otherwise," she stressed while extnding thanks AJC International, Foods SVG and the other persons and entities which have helped so far.  
"I feel privileged that they would think of our home for the children. We are so very happy to receive their funds as it would help us a long way especially now in the crisis time," Sister Pajotte said.  
The St Benedict's Day Nursery and Hospital caters to 21 children from as young as one year old to teenagers and young adults.  
Handing over the money, Foods SVG's Solomon said  AJC wanted to provide the funds through Food SVG as a way of supporting the country during this difficult time.  
 "We see what they are doing for children who are less fortunate, so we think it is wise that they get this cheque so they can keep on helping children who need it," said Solomon.