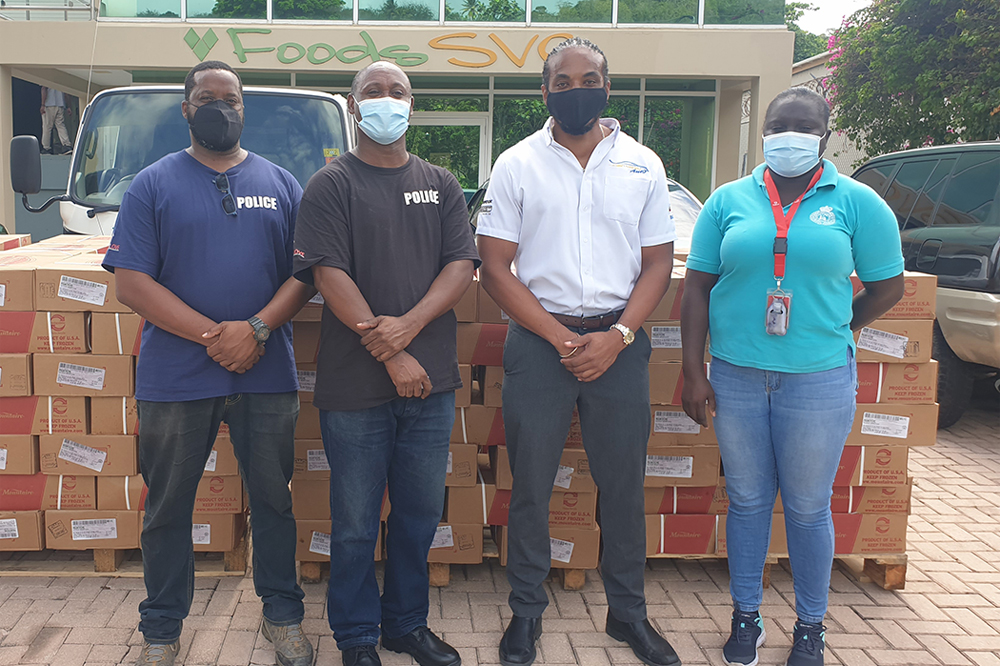 Mountaire Farms donates 420 cases of drumsticks to SVG
Delaware based poultry farm, Mountaire Farms, through local business, Foods SVG, has donated 420 cases of drumsticks to the humanitarian efforts in St. Vincent and the Grenadines (SVG).
 One of the recipients of the generosity of the businesses, the Police Welfare Association, who collected 20 cases of the meat on Monday at SVG Foods' Glen headquarters. 
Station Sergeant Brenton Smith, chairman of the Police Welfare Association, collected the donation from Managing Director of Foods SVG Elton Bailey.
Standing in the company's parking lot Sergeant Smith thanked Mountaire Farms and Foods SVG for coming to the police's aid in the wake of La Soufriere eruption.  He said the families of about 60 police officers will benefit.
"It is going to go a long way. We have many police officers and their [families] who were displaced and had to be removed from where they live as they were directly affected," Sergeant Smith said. He added that they have even had to rent homes for some offices.
  Bailey explained that Foods SVG received the 420 cases of chicken from their overseas supplier Mountaire Farms, to aid in the feeding of persons affected by the eruption of the Soufriere volcano.
"We felt the need to assist the people of St. Vincent and the Grenadines with this donation," Bailey commented. He said that Mountaire learnt about the eruption from media reports and they asked him about it, so he shed some light on some of the issues and the company decided to help.
Bailey said the government waived the duty on the import and his other business, Cash Money Investments, is helping with the logistics of getting the meat out to the most needy families.  
"I will like to thank Mountaire; we really need this help and the people of SVG need this help and we are really grateful for this," Bailey said. He put the cost of the donation at over EC$34,000.
Bailey added that chicken would be given to individuals, homes, organizations and shelters while they will also employ a few persons from the shelters on a temporary basis, to assist with bagging the chicken into smaller quantities for persons who do not have the capacity to take an entire case.
"This eruption is a problem that impacted the country and everyone felt it deeply and it touched peoples' hearts and everybody saw the need to pitch in," Bailey commented.
He said he hopes to reach a wide section of society, making sure that the aid gets directly to the people who need it most.
The handing over was witnessed by intermediate chairman of the Police Welfare Association Corporal Germano Douglas, and Somorow Quashie, general secretary.