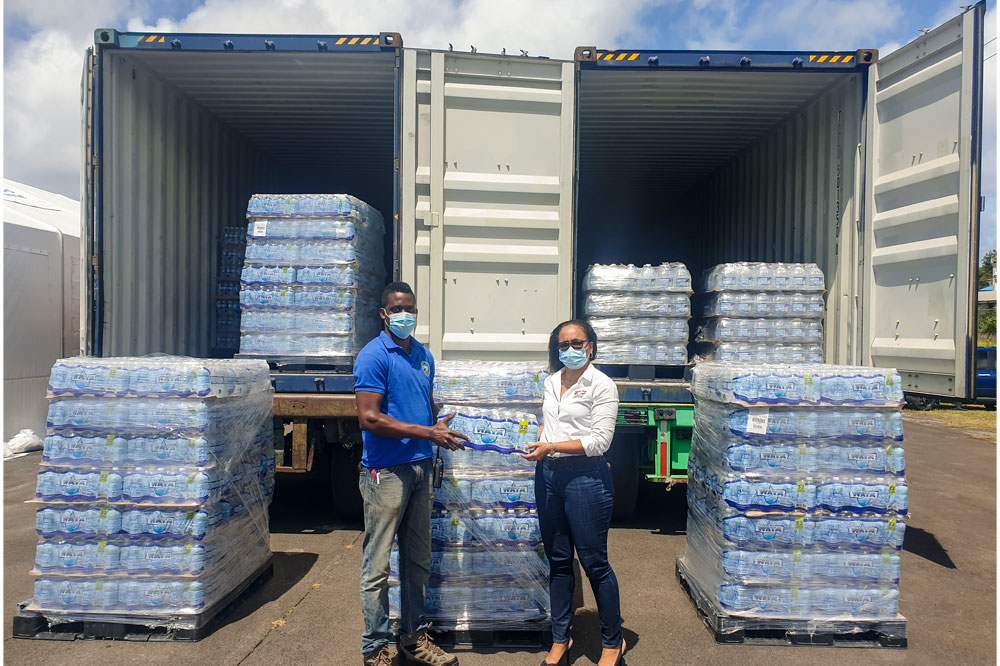 Food Centre SVG donates water to NEMO
Food Centre SVG has joined the ranks of local businesses that are contributing to the volcano humanitarian relief efforts in St Vincent and the Grenadines (SVG).
On Thursday morning at the decommissioned ET Joshua Airport tarmac, Gailene Mofford, general manager at Food Centre SVG, handed over to the National Emergency Management Organization (NEMO), two 40 foot containers containing 2184 cases of water.
Collecting the water of behalf of NEMO, senior clerk Muwsa Muhammad, described the donation as significant.
"This is a very important donation. We know we are facing a lot of issues in relation to clean water and the volcanic eruption, so this is very good donation for persons who are in need and who have been displaced," Muhammad told SEARCHLIGHT.
He said NEMO would like to say a heartfelt thank you to Food Centre, and went on to describe the gesture as, "a very good contribution for the people of St. Vincent and the Grenadines" which adds significantly to what the organization already has.
Mofford explained that the water comes from Wisynco Group Ltd, a Jamaican distributor that collaborated with Food Centre SVG.
"This is to assist the people of St. Vincent and the Grenadines in this time of crisis. Helping others is a privilege and an honor," Mofford said.