Posted on
'Lavaman' still not charged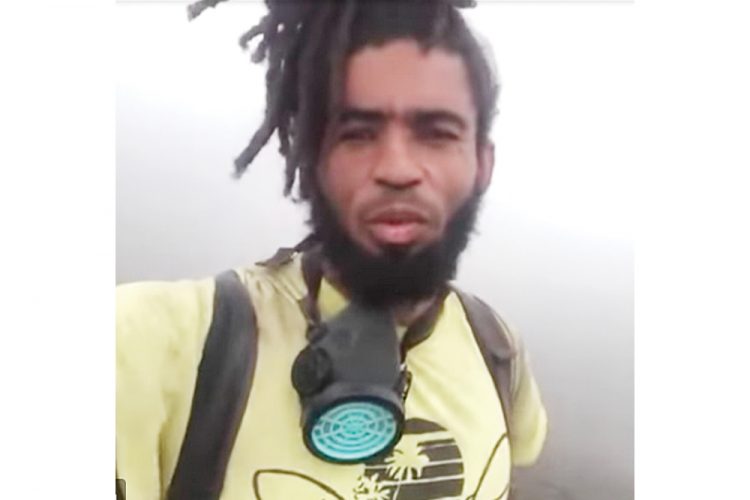 DESRON RODRIGUEZ, the local thrill seeker who has split public opinion in relation to his alleged forays up to the summit of the erupting La Soufriere volcano, has still not been charged with a crime.
On Tuesday April 20, at around 4 p.m. Rodriguez's alleged exploits on to the country's highest peak earned him an interview with police officers stationed at the Biabou Police Station as the summit is listed as off limits by local authorities.
Rodriguez was detained for 48 hours, released, then asked to return to the Biabou Police Station on Monday April 26 as police were said to still be conducting investigations.
Grant Connell, Rodriguez's lawyer, told SEARCHLIGHT last Wednesday that his client turned up at the police station on Monday, April 26 and was once again freed after a short period. He was however told that the police could, at any time, be in contact with him.
Connell noted that he never expected, and still does not expect Rodriguez to be charged with a crime.
The police's attention focused more on Rodriguez because on Sunday April 18, the man who earned himself the moniker "Lava Man" posted a video claiming that he was at the summit of La Soufriere.
Since the volcano started erupting in December 2020, Rodriguez has posted several videos on his social media platforms, allegedly showing him at the summit of the erupting volcano.
In some of the videos and photos, other persons are seen with Rodriguez.
The trips to the volcano, located in the red zone, caused the National Emergency Management Organization (NEMO) to issue a statement stressing that persons who journey into the red zone will be prosecuted to the full extent of the law.
But this did not seem to stop Rodriguez and on April 18, the day he alleged he was at the summit with other persons, the volcano erupted explosively, sending plumes of ash and gases into the atmosphere.
Rodriguez's exploits did come in for scrutiny from Professor Richard Robertson of the University of the West Indies (UWI) Seismic Research Centre who described the actions of persons who continue to climb the erupting volcano as "Doltish".
Commissioner of Police (COP) Collin John had warned last week that persons who enter the red zone can be charged under different sections of the Public Order Act.