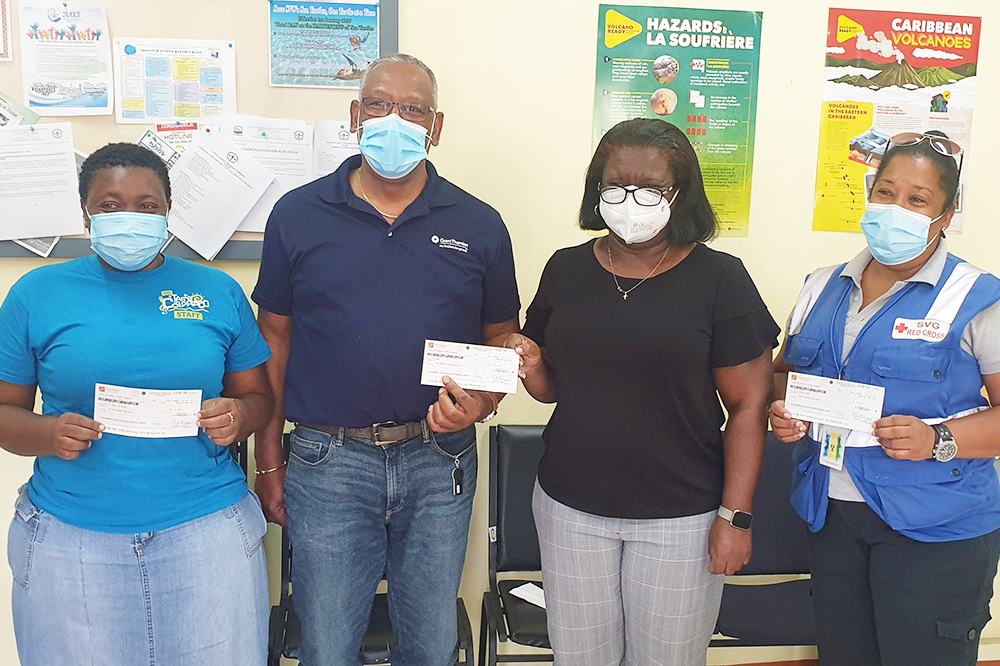 Grant Thornton donates to Soufriere volcanic eruption relief organizations
GRANT THORNTON, an international firm of chartered accountants, has split EC$145,000 among three local organizations that are spearheading the Soufriere volcanic eruption relief effort.
On Friday, Floyd Patterson, the resident partner of Grant Thornton Windward Islands St. Vincent, handed over to the National Emergency Management Organization (NEMO) EC$100,000; to the Red Cross EC$30,000; and EC$15,000 to the St. Mary's Roman Catholic School (SMRC) emergency shelter.
The SMRC school shelter's donation is for the purpose of assisting the St. Benedict's Day Nursery and Children Home occupants, who have relocated from Georgetown as a result of the eruption.
"The monies that we are providing to NEMO, we are hoping that around 15 to 20 percent of that money would be allocated for medical needs, for medication, for those persons who are suffering from chronic illnesses," Patterson said.
He added that it is up to NEMO to allocate the remainder in a way that it reaches persons who are most in need.
"In was out of that need that the partners decided that we are determined to make this contribution," Patterson added, noting that they held a meeting after the eruption and it was decided that they would do anything to assist the affected persons.
The money was raised directly from the Grant Thornton partners in the Eastern Caribbean. The Grant Thornton International (GTI) head office also contributed.
"We are still trying to see if we can raise additional funding to help those persons in need, because we realize their lives have been disrupted because of the volcano," Patterson said.
He pointed out that apart from personal and social disruption, persons have also been impacted economically.
"We are hoping that this will go out to some of their needs. We know it cannot address the needs of all, but this is our way of giving back to society," Patterson said.
Eula Johnny, shelter manager at the SMRC school, thanked Grant Thornton for what she considers a "very generous" contribution, while logistic officer at the SVG Red Cross Society Julia Simmons, said they were grateful for the donation.
Michelle Forbes, director of NEMO, said the donation will allow them to further support persons that have been displaced by the natural disaster.
"So we are really grateful and thankful," said Forbes who added that she has been in discussion with Chief Medical Officer (CMO) Dr.Simone Keizer- Beache and the Ministry of Health will make a decision about how to use their part of the donation.
"Our funds go to the national disaster relief fund which can be used for different purposes," Forbes said, while noting that the donation is significant as they spend thousands of dollars daily to help displaced persons.
Patterson also revealed that Grant Thornton St. Lucia donated food stuff and water to local shelters, while staff members from his office are also assisting in the relief efforts.
Grant Thornton provides audit, accounting, business advisory, and tax services in the Windward Islands, including St Vincent; the Leeward Islands; Barbados; Trinidad; and the Dutch Caribbean Islands.
Grant Thornton's St Vincent office comprises a resident partner and staff of 17.