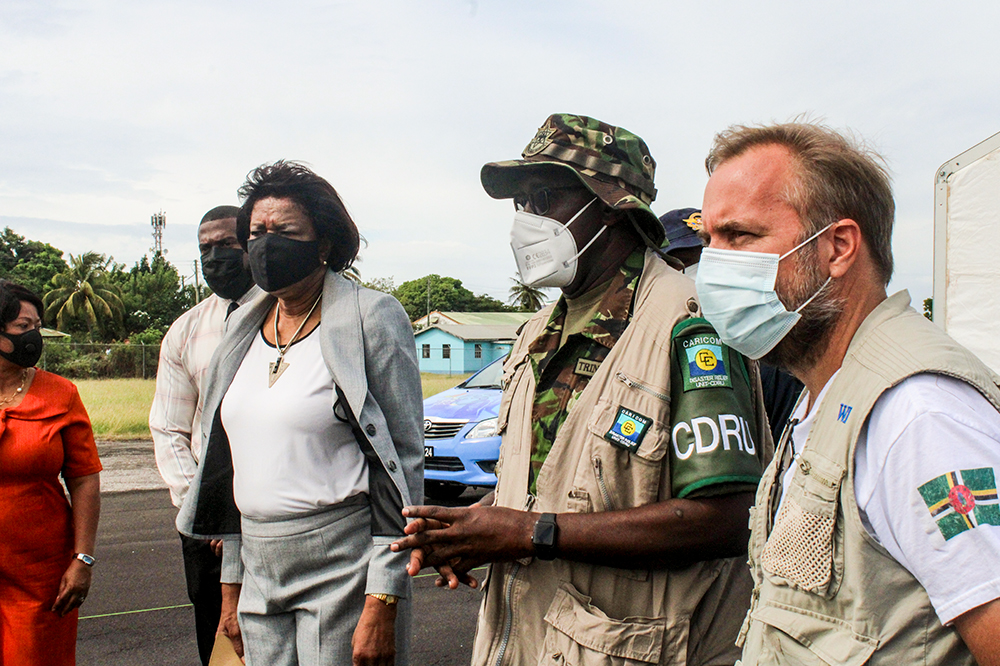 Governor General tours emergency facilities
FOR TWO DAYS, this nation's Governor General, Dame Susan Dougan travelled to various parts of the country to visit shelters and agencies engaged in the relief efforts following La Soufriere's explosive eruption in early April.
Dame Susan's tour began on Friday, April 30 at the National Emergency Management Organisation's (NEMO) headquarters where she sat in briefly on a meeting with director Michelle Forbes, and other important arms involved in the process.
"I appreciate what you are doing. I realise it's going to be challenging because you cannot have perfection. You can only do your best. I'm encouraging you to keep up the high standard and what I see here is a means of communicating, which is so important so that everybody knows what is going on," the Governor General said.
She also noted that communication is very significant in times of disaster and that it requires a lot of coordination and management. Following her short visit to NEMO's headquarters, the dignitary headed across the street to visit NEMO's Command and Communication Centre, which was set up to receive calls from persons calling in for assistance.
The GG offered words of encouragement to the persons manning the phones and urged them to continue the good work.
"You always have to be mentally prepared, courteous, take the information and give whatever feedback you can in a professional way," she said, adding that some individuals who call may be frustrated or upset by the current situation.
"We are having so many things thrown at us, the COVID19, the volcanic eruption, now we are having floods and of course, we have the hurricane season coming up. These are challenging times for all of us, and I know that you can rise to that challenge."
The Governor General also made visits to the World Food Programme facility at the decommissioned ET Joshua tarmac, the World Central Kitchen at Diamond, and the shelters at the Calliaqua Anglican School and Fair Hall Government School on Friday.
Dame Susan also made presentations of books and a gift basket at both shelters, after which she interacted briefly with some of the children.
The Governor General's tour continued yesterday, when she visited the Campden Park warehouse where supplies are being stored, and shelters at the Thomas Saunders Secondary School, JP Eustace Secondary School and the Golden Years Centre at Cane Grove.