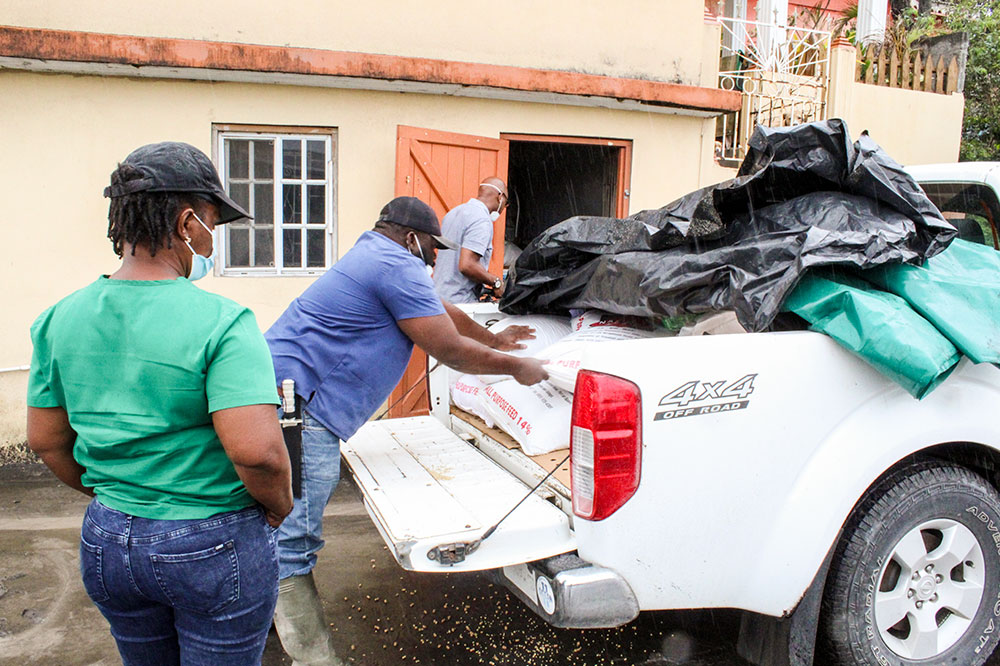 Farmers responding well to animal feed support programme
FARMERS ARE SAID to have been responding excellently to a programme under which the Ministry of Agriculture is providing commercial feed for animals, in the wake of the eruptions of La Soufriere.
Chief Veterinary Officer, Dr Kathian Herbert-Hackshaw told SEARCHLIGHT that farmers whose livestock are affected have been collecting the commercial feed because "there is a need".
The Inter-American Institute for Co-operation in Agriculture-IICA- provided the funding that kick-started the programme just over two weeks ago during which 1200 bags of animal feed were distributed to livestock farmers.
The Government has also contributed to the programme and this week, the unit was expecting to receive further help from an entity in Guadeloupe to replenish stock on the ground which was running low. The UWI School of Veterinary Medicine in Trinidad is also providing aid for farmers, their livestock and companion animals.
As residents in the designated red zone moved to safety, some stayed behind to tend their animals, but others let theirs loose to forage as best then can among the ash covered vegetation.
Herbert-Hackshaw said members of the Animal Health and Production Unit have been fanning out in villages in the red zone, to place feed for these animals, and a tank was being set up at Orange Hill from which to obtain water, with a similar provision to be made in villages on the leeward end of the mainland.
The officials in the unit have found that the bigger species, such as cattle, have been more resilient with many still "having good body condition", but there has been some loss of more delicate species such as sheep.
Just prior to the order by Prime Minister Dr. Ralph Gonsalves to evacuate, Minister of Agriculture Saboto Caesar providing an update, said that about 90% of animals had been tagged and would be moved out of the red zone to corralled shelters, but none of this happened.
In the days immediately following the April 9 explosive eruption, some farmers from Sandy Bay, expressing concerns about having to leave their cattle behind, said they had been waiting on officers from the Ministry of Agriculture to advise them about the movement of their animals, but had not heard anything.