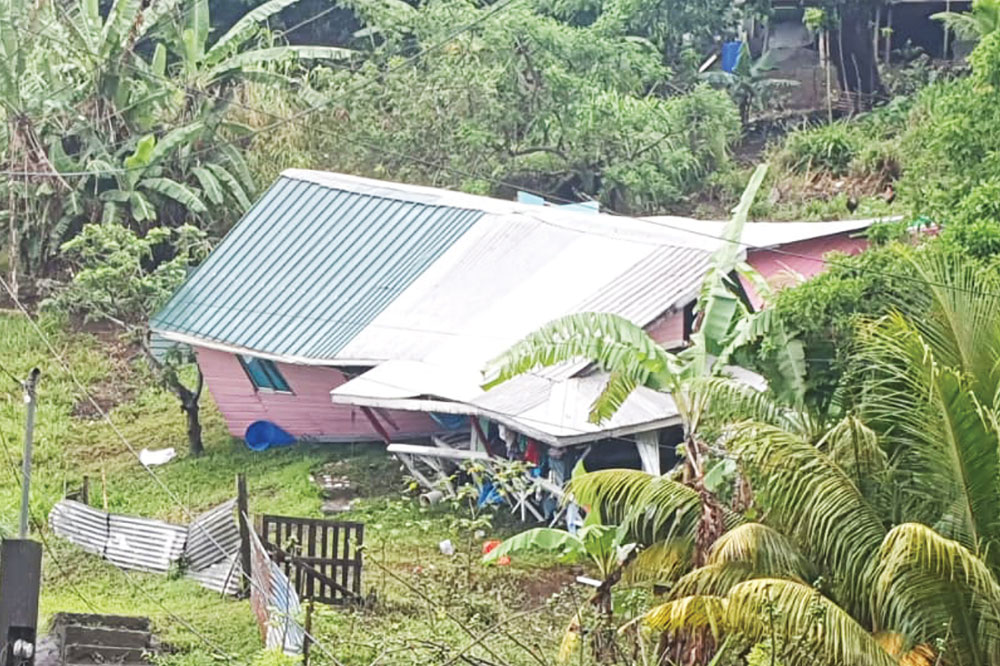 Two houses destroyed, one flooded in Rockies
Two houses in Rockies were destroyed while a third was flooded out, and another partially damaged, when heavy rains on Thursday triggered landslides and flooding.
Families in that area, as well as other parts of the country, are now displaced as landslide and flooding were reported throughout the mainland, one month ahead of the start of the Atlantic Hurricane Season.
Ian Edwards said that about 8 a.m. Thursday, "a big massive landslide came and sweep the house."
Ian, wearing a jacket given to him by a neighbor because his belongings were in his precariously perched house, said when the devastation started, his entire family of six was at home.
"I feel devastated at this time because I have nowhere to sleep. I have nothing," Ian said. He and his three month old baby were the last to evacuate the house.
"When it was my time to come out it was totally impossible at the front, so I took the small one and jump over the porch to get to safety," he explained.
Ian is appealing for help and said he will be appreciative of any assistance he can get. He can be reached at 498-0953.
Rohan Edwards, Ian's uncle and neighbour, had his entire home flooded out and has nowhere to go. He said when he woke up on Thursday morning,at about 8.10, he saw a lot of water flowing next to his home.
"The actual water like it pumping from through the earth heavy, heavy, heavy and after I run inside," Rohan said adding that he saw water coming through the house from underground.
"Right now I don't know what causing all this damage," Rohan said confused. He explained that he has lost all the contents of his home including television and appliances.
"Everything is just terrible, the house mucky," said Rohan who has lived at Rockies for 30 years; it's the first time he has experienced flooding.
"The whole house, everything down there destroyed," he said pointing. He could not give an estimate of his loss but said he is willing to accept assistance and can be reached at 433-6703.
A friend has given shelter to his six year old daughter and 10-year-old son but he has no idea how long that person will help.
Annie Edwards said she woke up to the news from her son that a house had been destroyed in the area. She said she soon witnessed another house being destroyed.
"I come out in the porch and watching the house. When I watching the house now I see the house going, so I start to bawl out for 'help, help, help' but I see nobody coming out," Annie said.
She revealed also that she has nine persons from the red zone staying at her home and when she went to them in the lower part of her home, they told her the apartment had flooded.
"Same time now I run calling all the neighbours waking them up to help and try rescue the people and them," Annie said , noting that she encouraged persons to flee the landslide and flood waters.
"First time in all me life since I live here 40 something years this happen."
She said that her outside sink and half of her retaining wall are gone.
"It real sad, I never frighten so in all me life," she said pointing to a huge landslide at the back of her home that has damaged her sewer system and rendered the bathrooms unusable.
She said it is sad that the persons she rescued from the volcanic eruption now have to go through another natural disaster.
The family who lives in the second home that was wiped off the hilltop community, had already left the area when SEARCHLIGHT arrived.
However Dexter Lewis, the head of that household said via telephone that he had five persons with him when the landslide took his wooden house at around 7.30 a.m. In the house at the time were five children ages 13, 11, 7, and two four year olds.
Dexter said he has relocated the children to Belair with family, and has already received a call from the Ministry of National Mobilisation offering assistance.
He said at the time of the landslide he was washing wares in the kitchen when he heard a bump on the house and blamed it on the kids playing.
He sent them to their room but soon heard another bump, so he looked out and saw a small landslide which he noted and promised to clean up later.
"I put some clothes to wash and came back in the kitchen and saw through the window water running in different places and I said this is something I never saw before," Dexter recalled.
He said he put the children in a different part of the house and woke up his daughter but soon realised that he had to leave his home.
"I push the door which was already jam so I use my shoulder to open it and got out then the whole bank came rushing down and push the house down," Dexter told SEARCHLIGHT.
He said the main thing for him is that he got everyone out safely.
"I don't feel scared or worried or any way," he said, noting that life is everything, and once you have life you can regain material possessions.
Meanwhile, the National Emergency Management Organisation (NEMO) is advising that communities in volcanos' the Red Zone can be impacted by mudflows as ash deposits are thickest in these areas, and the absence of trees means that a lot of material will find its way down the valleys.
"There are also several reports of flooding and landslides in and around Kingstown and its surroundings as well as in other areas prone to landslides and flooding.
"The public is asked to exercise caution, especially persons living near rivers and streams and in areas prone to landslides as flood waters are dangerous and can result in loss of lives and property," NEMO warned.