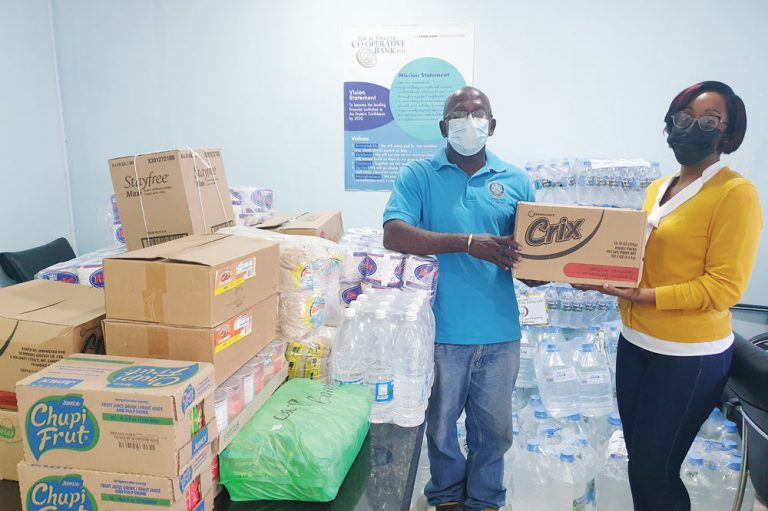 Penny Bank helps victims displaced by volcano disaster
The St Vincent Co-operative Bank Limited/Penny Bank has pledged to do all in its power to help persons affected by the eruption of La Soufriere volcano.
And, a donation of supplies to the Rotary Club of St. Vincent is just one of the moves made recently by the bank in its efforts to help those displaced by the natural disaster.
On Friday April 23, Rotary Club of St. Vincent's Club Service Director and Past President, Earl Tash collected food supplies from Penny Bank's Chief Financial Officer (CFO) Ruth Alves, and the bank's Marketing Consultant Juno DeRoche.
"Our club is eternally grateful for these donations which we will donate to who are in need not only in shelters but in private homes also," Tash told SEARCHLIGHT.
He said the club has had many requests for supplies, not only water but toiletries, mattresses and cots.
"Literally everything people have been asking for," he stressed while noting that his club has been at the forefront of helping persons over the years.
He added that on August 5 this year, the club will celebrate 50 years in SVG.
"So inasmuch as we have activities planned, this is almost a precursor to the main event that we are celebrating our 50th anniversary.
–
"We thank this bank and many other corporate citizens and government institutions and sister clubs that have come to the rescue of St. Vincent and the Grenadines in a time like this," Tash commented.
CFO Alves noted that when the volcano erupted, the bank felt the need to assist those most impacted.
"So we purchased items from local suppliers to assist persons in need, and this is a continuous thing that we are going to do because we understand there is a long road to recovery, and we are going to work along with the local groups," Alves said as she mentioned the National Emergency Management Organization (NEMO).
She said they also plan to adopt shelters while they have been reaching out to customers in the red zone to see how they can assist in any way possible.
Also commenting, DeRoche said the donation is part of the bank's corporate social responsibility in this time of need.
She stressed that the Penny Bank is committed to assisting persons most impacted by this disaster and they have been working tirelessly to get in touch with customers who through the bank, built their homes in what is now considered the red zones.
"So it will be continuous; as long as the need is there, we will do our part," said DeRoche.