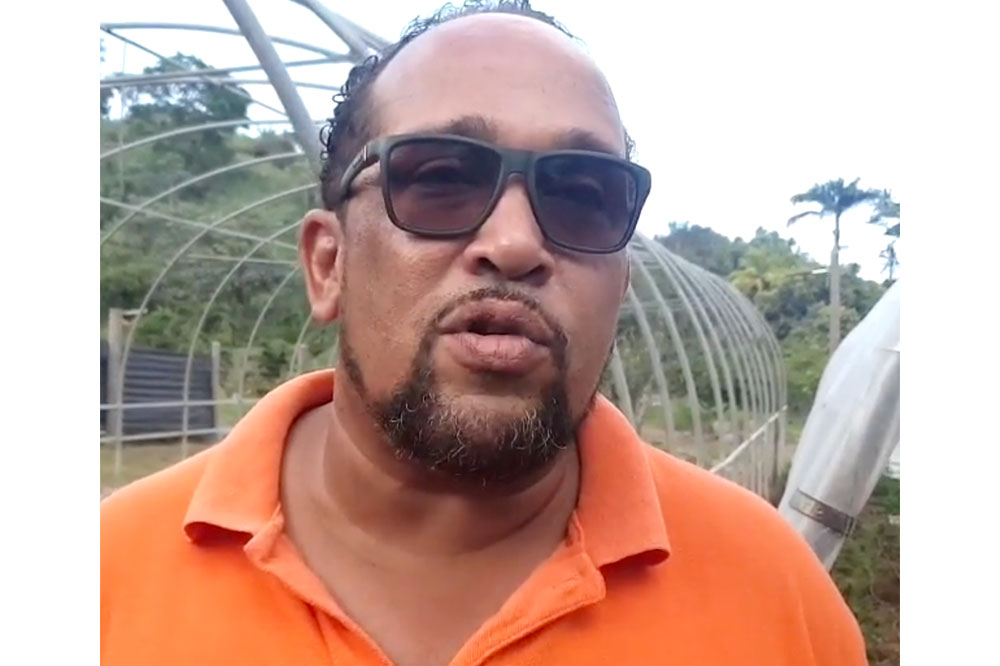 Marijuana industry takes a beating
The marijuana industry on mainland St Vincent, both legal and illegal, has been totally destroyed by the erupting La Soufrière volcano.  
"All and all its had a pretty big impact…" Robert "Bobby" Forde said from his marijuana plantation at Dumbarton in the Marriaqua Valley on Monday April 19.  
Forde operates SVG Cannabis Limited, a medicinal cannabis registered business, and told SEARCHLIGHT during a live Facebook broadcast, that marijuana planting in St Vincent is an outdoor industry as most persons do not have greenhouses, like the two he is working to perfect at his plantation.  
"The entire north of the island is more or less destroyed…there is no cannabis at all in that sector of the country at this point," Forde stressed.  
His factual point means that millions of dollars of marijuana plants and thousands of hours of hard work have gone down the slopes post La Soufrière eruption which vented explosively on April 9 after erupting effusively for close to four months.  
Forde said his open fields were destroyed by ash and "it ain't no coming back for those buds," as he puts his loss at over EC$100,000.  
He said the only thing saving his farm is the fact that he has a greenhouse and was able to save 300 plants, while he has set up a makeshift nursery to plant a second greenhouse.  
Forde said they were lucky to get one greenhouse planted as they had just put trees into the soil in the open fields when the volcano erupted.  
"It has had a pretty big impact and as I said, I am one the lucky ones."
He has no doubt the local farmers will bounce back after the volcano settles down.  
"Vincy is known for being a very resilient country and our people, our Ganga farmers in St. Vincent, we ain't new to destruction, we not new to mishaps, we will come again," he said while adding that we have true Ganga farmers in the country.  
"I am not a traditional farmer, but at the end of the day I know most of the traditional farmers in St. Vincent and we have a strong, strong nation, we will be back," Forde said.  
In the red zone, a few traditional farmers ventured into the Duvalle Mountains after one of the initial eruptions and video taped what was left of their plantation- ash and a few trees peeping out of the grey mountainside.  
"…all of the weed them get (expletive) up …all them dey ah weed yo see dey, (expletive) up from the ashes," a farmer who did not give his name said in a recording while pointing.  
He said the entire marijuana and other crops were destroyed for miles and miles along the mountain side.