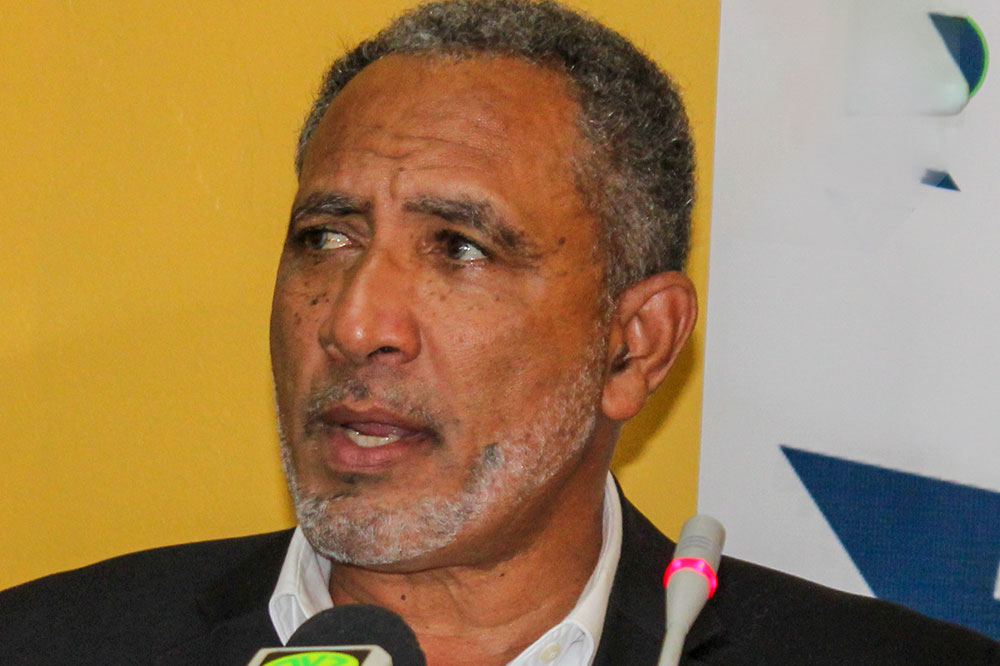 Distribution of relief aid should be non partisan – Dr Friday
There should be no partisan consideration when determining who receives aid coming into the country and when they receive it; leader of the Opposition Dr Godwin Friday has emphasized.
At a media briefing on Wednesday, April 28, the President of the New Democratic Party (NDP) was joined by Senator Shevern John, the NDP's candidate for North Windward, and Vice President Roland 'Patel' Matthews, candidate for North Leeward, both of whom have been evacuated from their homes.
They spoke of their two trips to the zones close to the volcano, up to Sandy Bay on the Windward side, and reaching, on a boat, as far north as the Larikai Valley on the Leeward side.
"I felt it necessary as the leader of the opposition, my colleagues as representatives of people of those communities to be able to see first-hand what is happening," he revealed.
"This is not a curiosity trip, and no one should be venturing into the danger zone without proper approval and for serious very valid reasons," he added.
The volcano is still on alert level red.
"…The explosive eruptions of La Soufrière volcano have turned an already struggling country upside down. Approximately 14,000 people, the estimates vary, have been displaced from their homes to avoid the dangers of the explosive eruptions," the President relayed.
The Opposition Leader spoke briefly of some issues.
For evacuees, he claimed, "..they are still in accommodations that lack basic things like beds, regular food supplies and clothing that might make their lives more comfortable and give them some peace of mind."
Another area of pain for the people in these zones that has been expressed is that they have had to leave their animals behind.
"…They want to know if their livestock have fallen prey to dogs, that in the absence of their owners, did fend for themselves by killing sheep, pigs, goats, other animals for food."
"…When we were in Sandy Bay, we met a gentleman who said that he had lost three pigs to dogs. Yesterday in one of the shelters in Central Leeward, we met a woman, she said she had lost several animals, sheep, again to dogs," Friday commented.
"…The question now for us is this, why were those animals not moved to safety as had been stated by the authorities principally in NEMO (the National Emergency Management Organization), that they would be done, and an area had been allocated, tags, we've seen green tags in the ears of animals in those areas. Tags had been placed on them but they were still not removed to safety.." he said.
Friday also alleges that the people's distrust for the authorities, "has shown itself recently in this crisis through the concerns that have been raised by many people about the use or misuse of resources collected by Governmental agencies in response to the eruption of La Soufrière."
They have heard of "..the failure to provide food stuff, basic things, beds, clothing, for evacuees. Nearly three weeks after their evacuation, they still have not received food packages in some areas, in some instances…"
The Opposition leader also posited, "we've heard also reports also of political partisanship being used to distribute aid to volcano victims.
"That is to say persons who are now known to be NDP supporters, the complaint is that they have been overlooked or delayed in getting assistance while ULP (Unity Labour Party) supporters have received aid."
Such reports must be investigated fully, he said, and where found to have basis, "…steps must be taken urgently, vigorously, to remove the persons causing the problem from that position where they could no longer do so, and to ensure equity and transparency in the dispensing of aid."
He explained that it is not a party matter, and does not involved party resources, and aid donated by numerous individuals and organizations internationally, locally and regionally.
"It is given to help the people most affected by the volcano, by its eruption, and must be distributed on the basis of need only, that must be the principle criterion upon which we determine who gets what and when.
"No partisan consideration must be permitted to determine these questions; where they exist they need to be stamped out," Friday said.
"…It is of paramount importance that this transparency be there, that the confidence of the donors be there, so that they will continue to give long after the spotlight has shifted away from St Vincent and the Grenadines and the volcano goes into a more quiet phase, as it ultimately will, the need will still be there," he also indicated.