Posted on
1st National Bank St Lucia donates to SVG relief efforts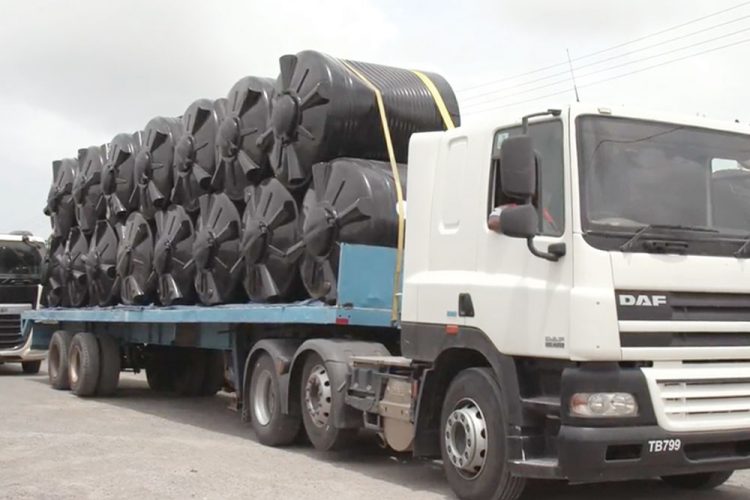 1st National Bank St. Lucia Limited on Wednesday, April 28, made a significant donation of drinking water and water storage tanks to the families most affected by the eruptions of La Soufriere Volcano in sister island of St Vincent and the Grenadines.

A total of 2000 cases of drinking water, plus 50 eight hundred water storage tanks were placed on boats and shipped, along with other relief supplies, to the residents that were displaced from their homes and for general distribution where the supplies are most needed.
Managing Director of 1st National Bank, Johnathan Johannes was personally at the ports as the relief items were being loaded.
"1st National Bank joins our sister islands in their solidarity with the people of St Vincent and the Grenadines at this extremely difficulty time. Just when we thought that the pandemic was bad enough, our brothers and sisters there now must deal with a natural disaster of a volcanic eruption that has displaced families and thrown the country into a crisis mode, and great uncertainty.
"We at 1st National Bank understand our role and the deep connections we have with Vincentians, and see our assistance as the right and natural thing to do. The worst of times brings out the best in us, and we want to assure the people of St. Vincent and the Grenadines that 1st National Bank is Here…for YOU!
Deputy Director of NEMO, Kenson Stoddard received the items on behalf of the Government and people of St Vincent.
"On behalf of our Government and the entire nation, I want to thank the Board, management and staff of 1st National Bank St Lucia for their generosity and brotherhood with this significant donation of drinking water and water storage. Water is life and this assistance is one that is life sustaining. Thank you! 1st National".
The receipt and coordination of the donations were handled by Ms. Vonetta Rogers, Country Manager for RBC-RBTT which was recently purchased by the Consortium of Banks (Antigua Commercial Bank Limited (ACB), National Bank of Dominica Limited (NBD), Bank of Montserrat Limited (BOM), The Bank of Nevis Limited (BON) and 1st National Bank St Lucia Limited.
The Bank continues to monitor the volatile situation in St. Vincent and the Grenadines and stands ready to provide additional support where necessary.