Posted on
Mustique group begins phase one of its $2m. VERF project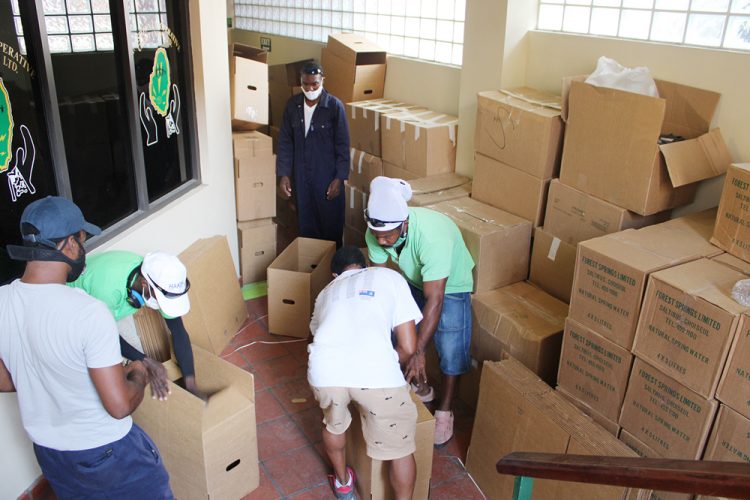 THE MUSTIQUE CHARITABLE ARM is implementing phase one of their Volcano Emergency Relief Fund (VERF), which has a $2 million budget, and will focus on 5000 out-of-shelter evacuees.
On Tuesday, April 20, the Mustique Charitable Trust's office was abuzz with persons packing boxes of food stuff, water, toiletries, masks, baby supplies and other items which were to be loaded onto trucks.
The reason for all of this activity was in order to get packages ready for those in need after being displaced following the continuing explosive eruptions at La Soufrière that began on April 9, and have yet to end with the most recent one being yesterday morning.
"The Sunday after the (first explosive) eruption, correspondence was already sent out to all of our donors with regards to what was transpiring in St Vincent, and what we ascertain would be in the coming future," Dularie Malcolm, Administration Director of the MCT stated.
After this circular was sent, the Mustique Charitable arm, which includes the Mustique Charitable Trust, the Mustique Charitable Foundation and the UK fence of the Mustique Charitable Trust, raised US$1.5 million within 24 hours.
The Mustique VERF is an initiative which has fallen to the Mustique company to execute.
"This project is focused on the immediate needs of our evacuees with particular attention to those evacuees outside of the Government shelters," Malcolm informed.
"As we all know, those at the shelters are getting sufficient attention as in normal fashion for the Trust and the Foundation; we try to provide assistance in areas of need or as they say, where the gap exists. As such our focus is on the evacuees outside of the shelters."
Phase one focuses on immediate needs, which also include "minor infrastructure, things such as showers in the shelters and laundry facility".
The budget for this phase is EC$2,000,000 Eastern Caribbean Dollars and from this they are looking at distributing food to 5000 families, and the budget for the food is EC$1,000,000. This would mean an average of $200 per family.
"This is for the first two weeks that we're looking at. So then we're gonna assess, see what's happening and then determine how we move forward," Malcolm disclosed.
This is being synchronized to ensure that there is no duplication with other volunteer groups. "Our IT team immediately formed a database and we do have an online fillable form. We are in the process of getting a Facebook page and Instagram page where we will post this form, but in the interim we have been emailing this form out," to different groups on the ground the MCT Administration Director said.
"We implore, everyone who has received this google link to access that form to please provide it to evacuees so that they can fill the form and it will be immediately sent in to our database," she said.
Please access: https:// forms.gle/pLAzZj2QLoo-71ZJs5 for the form.
As for phase two, Malcolm explained: "I am sure we can all agree that this event is going to have a ripple effect for a long time to come, and we're all aware of the devastation in the northern half of this country, so our phase two is going to eventually look at more capital projects in terms of assisting with rebuilding the country."
The implementation of phase two will be on hold, as: "we have to wait on the guidance from our experts, and I take this opportunity to commend Dr Richard Robertson for the grand input that he has contributed to the people of St Vincent and the Grenadines."