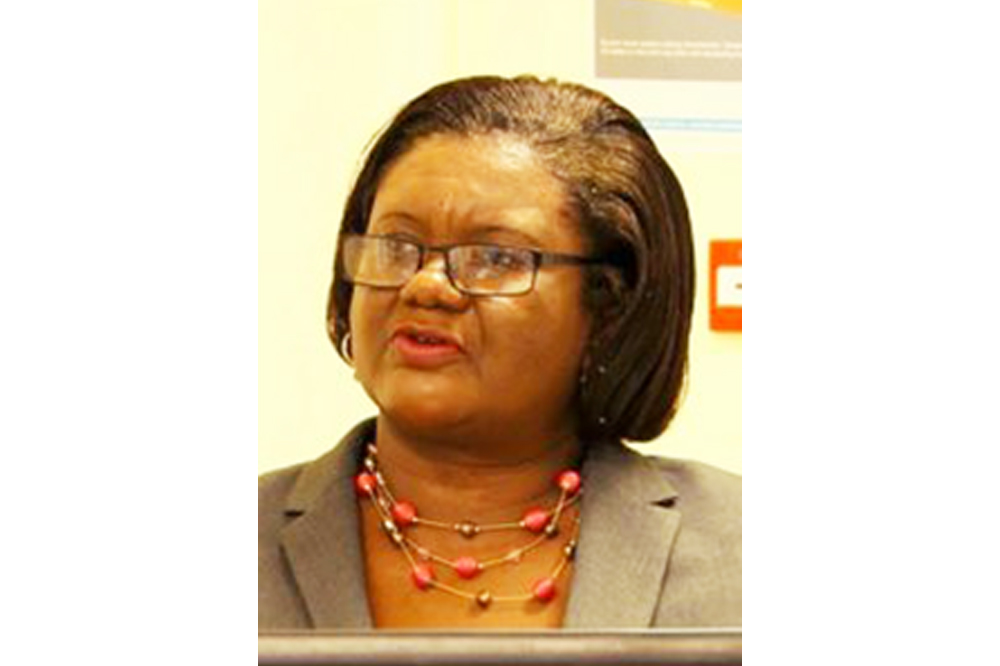 Don't blame NEMO for everything! – Director
THE National Emergency Management Organization (NEMO) is not just the workers at the secretariat but an entity made up of various organizations.
These organizations include government agencies, private and public sector entities as well as Non-Governmental Organizations (NGOs). Director of NEMO Michelle Forbes, explained the structure on Wednesday April 21 while waiting on a Venezuelan vessel to arrive with supplies for the Soufriere relief effort.
She said that NEMO is an overarching organization but currently, is the entity taking all the blame when things go wrong.
"When you say NEMO, NEMO is not just the few members of staff we have at NEMO, but of course we get the blame.
There are different agencies that are charged with different responsibilities," Forbes said.
Since the Soufriere volcano began erupting explosively, social media has been blaming NEMO for anything tied to relief efforts that goes wrong.
But by way of explanation, Forbes said that different aspects of the management of the relief effort are handled by different organizations.
"The food distribution is being done by the Ministry of National Mobilization. They package the food, they contact the families after we have recorded the names. Everything goes to them and they package the food and they call the families for pick up. So that is one aspect of the operation," Forde explained.
She said food supplies are a different entity.
"The Ministry of Foreign Affairs is responsible for the food supplies. If you notice they come down here (at the Kingstown Port) during the day where the supplies come in, so it is the Ministry of Foreign Affairs and other agencies, not necessarily the secretariat at NEMO," Forbes said.
She added that, "…different functions, not necessarily the persons at NEMO but of course I know we tend to take the flak for it.
"I think that maybe people do not understand the organizational structure…what each agency does, roles and functions," Forbes further commented.
She said the shelters are managed by the Ministry of Education and that entity has its own management teams.
"….but it falls under the umbrella of NEMO, so everybody, when anything happens, is NEMO…," Forbes noted.
She added also that persons are accusing NEMO of taking supplies that belong to them but that is not the case.
"Not at all, not at all, we don't take anybody's supplies.
"What we see coming in…is people are putting things on the boat and addressing it to their family, and we have no information on it. Nobody has said to us that we have sent this, we have sent that so most of the things that come in, we don't even know about that.
"We just see a boat turn up with things for NEMO and things for additional persons, and we have not been informed about those additional persons but what we are doing, they are staying at the Geest Shed and persons are coming to check."
Forbes said there are persons responsible for that aspect of the shipments.
She said once a shipment is not marked NEMO, they don't touch it and anyone can send supplies to their family.
"You don't have to send to NEMO because once you send it to us it becomes part of the national coffers, but you can send your supplies directly to your family and apply for the same duty free concession.
"If it comes to NEMO, you don't have to apply, but if it comes to your family, you have to go through the process," Forbes explained while stressing that the government has relaxed the process so persons can apply easily.
She added also that persons can donate to whatever shelter they want, but what NEMO is asking is that persons coordinate with them so that the same shelters don't get the same supplies and other shelters are left out.
"We are not here to tell anybody what to do with supplies, but just have it coordinated. We have been meeting with the various organizations so we can pull things together," Forbes explained while adding that they are aware that persons donating want visibility because they have donors to whon they are accountable.
"We understand all of that. Just reach out to us and let us know and we will be able to guide you into which direction so that people can get supplies. You can give to who you want, it doesn't really matter to us," NEMO's director stressed.
She pointed out that there are more than 6000 persons in Government shelters and 6000 persons in private accomodation.