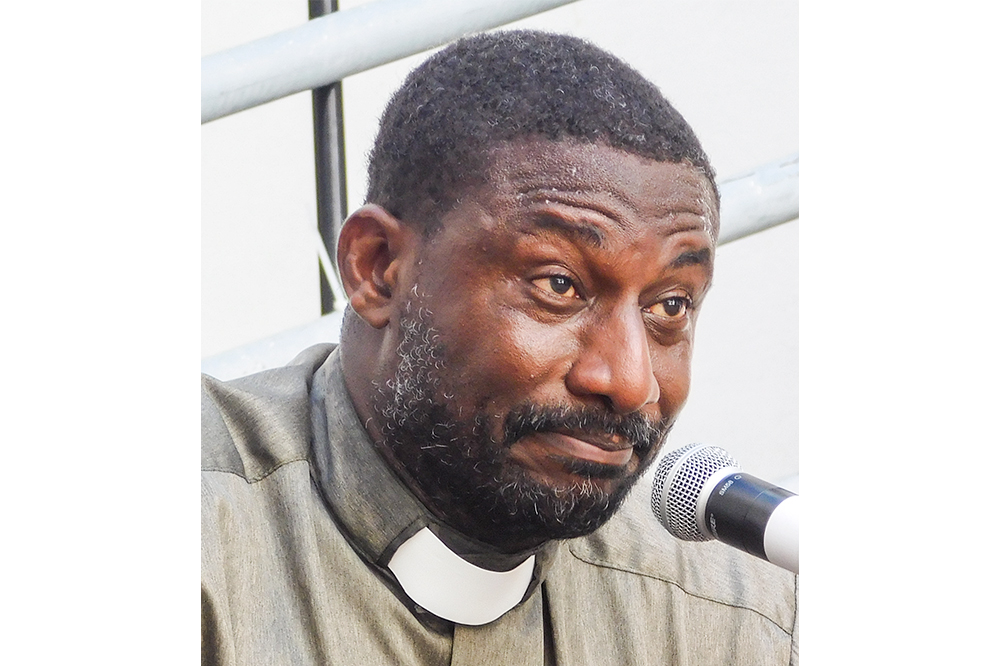 Churches across SVG host National Day of Prayer
CHURCHES ACROSS the state yesterday turned attention to repentance as one area of focus as they led the state in a national day of prayer and fasting.
Making remarks at the start of the event which involved periods of prayer, praise and worship, and messages from the word of God, President of the St Vincent and the Grenadines Christian Council, Rev Adolf Davis said: "we will affirm God's sovereignty, affirm that He is God over St Vincent and the Grenadines, celebrate God's faithfulness and give him thanks for he has been at work…" Davis, who is also Superintendent Minister of the Methodist Church Kingstown/Chateaubelair Circuit, said that "God has been blessing us, but we will also spend time today recognizing where we need to make right with God, where we need to say 'God I am sorry, we are sorry, God forgive me."
A call was made for a national day of prayer in the face of the on-going eruption of the Soufriere volcano and displacement of thousands of residents living in the designated red zone on both the leeward and windward portions of the mainland.
Prime Minister Dr. Ralph Gonsalves said on radio last Friday that Pastor Andrew Clarke first approached him with the request because of messages he said he had received.
Gonsalves also held conversations with Orando Brewster, Minister of National Mobilisation, and engaged the Christian Council. He announced that Monday, April 26 was set aside as the national day of prayer and urged persons at work to set aside some time to pray.
Rev Davis said while a day had been set aside for the nation to pray led by the religious community, the churches were not waiting on an organized day of prayer, to pray. He said the churches have always been praying.
"We have been praying hard before Soufriere, after it has erupted we have been praying, and when we have already gotten over the soufriere challenges we'll still be praying."
He said the churches have continually been seeking God, "bringing this nation before God, bringing all the challenges before God."
Davis remarked that people have been asking why pray when the volcano has already erupted, "but imagine if we didn't pray what we would have been dealing with."
He noted that tragedy often provides an opportunity for reflection and makes people realize that they are not really in control of their lives as is often thought.
And while he will not theorize about the meaning of the eruption and tragedy generally, and cannot say with certainty what God does or is saying, Rev Davis said he is certain about the verse of scripture in the Gospel of St John chapter 3, verse 16 which speaks about God's love for the world in giving His only son "which says to me that whatever God allows and does in our life and living it is so that we will not perish but have everlasting life."
He declared that in such situations God wants us to have no doubt that He "…wants us to know him as our personal Lord and Saviour; he wants the salvation of every citizen of St Vincent and the Grenadines" The Methodist superintendent minister also pointed out that people are humbled by tragedy, and it "provides us with a deep sense of brokenness, it makes us aware of our own failure as human beings and it makes us even more aware of sin" which has messed up this world.
"…You can't truly come before God humble and not understand the language of a broken spirit and a contrite heart… when you start praying your attention turns upward, but without prayer we tend to be so immersed in everything that is wrong."
Rev Davis anticipated that "we wouldn't pray only with our words, but we will pray with our lives," and that "this day of prayer will be part of a living in this nation that honors God."
The national day of prayer sessions, hosted at the Faith Temple Church, New Montrose, was carried live on radio and television.