Posted on
Vaccination was never a prerequisite for entering gov't shelters – PM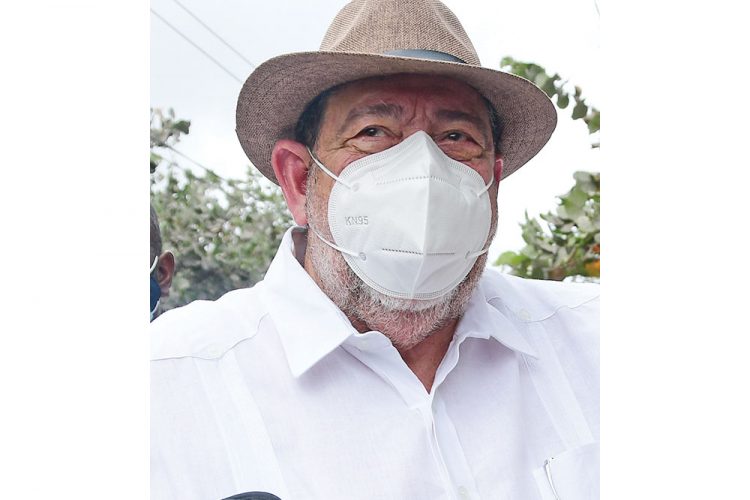 There seems to have been some miscommunication when it comes to the COVID-19 vaccination and persons being housed in shelters in the wake of the eruption of the soufriere volcano.
But, Prime Minister (PM) Dr Ralph Gonsalves has made it clear that being vaccinated was never a prerequisite for persons to enter the various government operated emergency shelters.
On Thursday April 8 when the PM issued the evacuation order, Minister of Tourism Carlos James who is also the member of parliament for North Leeward, said on Facebook live that the evacuation of persons he was filming at the time in Chateaubelair was not a drill.
"If you go to any evacuation centre, you will also be vaccinated. This is not a drill and it is not voluntary. There is a pandemic that is taking place and we will be vaccinating persons once they enter a government operated shelter and I want that to be very clear to persons as well who is listening this live," James commented.
But on Saturday April 17 while visiting the red and orange zones on the Windward side of the island, PM Gonsalves spoke about the issue of vaccination and the eruption, stressing that while medical officials are encouraging persons to get tested for COVID-19, no one is being forced to be vaccinated against the coronavirus.
"We are encouraging everybody who comes into the shelters to get tested, obviously, because you have asymptomatic people, and if you are tested positive we have to quarantine or isolate you so it is highly recommended," Gonsalves stressed while pointing out that persons who are not tested would not be turned  away .
He stressed also that in relation to the issue of vaccinations, "there was absolutely no requirement at any time to go into any shelter to be vaccinated", contrary to what was said by James on the night of April 8.
In response to a question from a journalist about persons being told that they had to be vaccinated to get on to cruise ships that had docked to evacuate persons to neighboring countries,  the PM said the countries that were willing to take evacuees are the ones who said that persons had to be vaccinated.
"The countries were saying you must be vaccinated to enter there. More than one of these countries have said you would need to be…".
Gonsalves further noted that people going overseas would have to be tested for COVID-19 and if they are not vaccinated, they would have to quarantine for 14 days.
"We are encouraging everybody to get tested and we are encouraging everybody to get vaccinated," the PM stressed.
He remaked that he is fully vaccinated and has been tested about 17 times for COVID-19.
Vincentians are reluctant to be vaccinated for the COVID-19 virus with only about 10% of the population so far having been vaccinated.
The government aims to have at least 70% of the population vaccinated. Vaccination was never a prerequisite for entering gov't shelters – PM