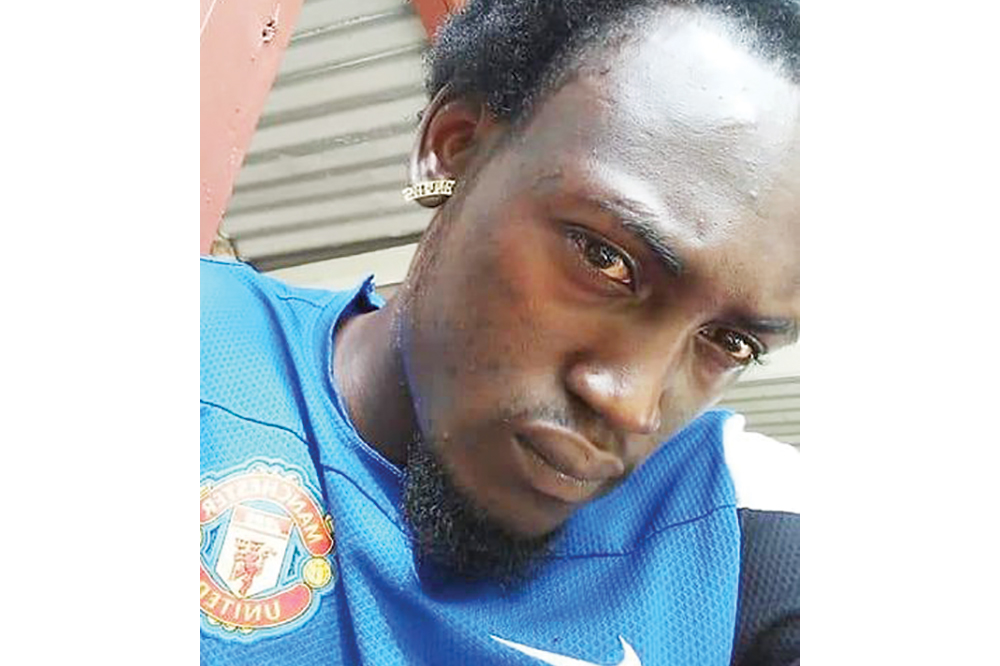 Glen records third shooting death for April
Something appears to be amiss in the community of Glen as that area has recorded its third shooting death this month, bringing the country's homicide numbers to 12 for 2021.  
On Wednesday night, social media was rife with "RIP" after gunshots quieted down in the East St. George community, and persons saw Shane "Ranka" Cabral dead with his pants and boxers down around his ankle.  
Dannisha Harry, the dead man's sister, said her brother was approached by two masked gunmen around 8.25 p.m. and shot with "big guns like what the police have" while standing in front his aunt's gate.  
She said that persons who witnessed the shooting said her brother's pants and boxers were pulled down by his killers, after which he was shot multiple times in his head, hand, and belly, with high caliber rounds.  
Harry said that a few moments before he was shot, Cabral had cooked for his mother, and the family wasn't aware that he had left home because they had warned him to stay off the streets at night.  
"We told him to stay home because people was out for him. The talk was on the street," Harry said while noting that she does not know the reason that persons wanted her brother dead.   
Cabral, a laborer, had no children.  
"I feel bad. I lost my brother. This is the first time I'm experiencing something like this.  I don't even know how to explain how I feel," Harry said.
When she saw her sibling on the ground with his pants and boxers pulled down, she said she pulled them back up and left the scene.  
"Too much violence in the community. The police booth ain't making no sense," she commented, noting that there is a mobile police station a few feet away from where her brother was killed. 
She said her brother was a hard headed person who did not always listen when his mother spoke to him, but was showing some signs of changing and he went to church last Sunday for her daughter's christening.  
"Mommy use to pray for him and tell him keep off the road. I never expected anything like this to happen. Everybody in the village know how he stop, but he been done cool down with the things he was doing," Harry related. She said Shane did not have friends and would usually be around his family members, "smoking he little weed."  
On the night of the shooting, one resident told SEARCHLIGHT they heard nine gunshots, followed by seven loud explosions, after which they heard that Cabral was shot dead. 
But a source said Harry could have been shot as many as 30 times.  
The 24-year-old who celebrated his birthday last December 13 was the third man killed in his community this month, the fifth killed in St. Vincent in April, and the 12th killed violently for 2021.  
The first to die in Glen this month was Keon Scott who was shot and killed on Saturday April 3 at about 3:50 p.m.  
Scott, 45, was a laborer, and is the eight homicide for 2021. He was no stranger to violent situations and had five previous convictions in court for several offences.   
On Saturday night April 10, Glen resident Dale Hooper, was shot dead at 20-years-old. Hooper was shot several times, and died on the spot and is this country's ninth homicide victim for 2021. 
On Wednesday April 14, this country recorded the death of Manajaka Solomon of Barrouallie who was shot and killed in his hometown.   
Solomon, 28, was fatally wounded around 10.20 p.m.  The laborer is the 10th homicide recorded in St. Vincent and the Grenadines (SVG) for 2021.  
Also, police are investigating the shooting death of Cleforin Wyllie, a 45-year-old farmer of Carriere who was shot about his body with a gun at Carriere on Friday April 16, 2021. 
The death of Wyllie marked the 11th homicide recorded in St. Vincent and the Grenadines (SVG) for the year 2021.