Posted on
Fresh team of Soufrière monitors on the ground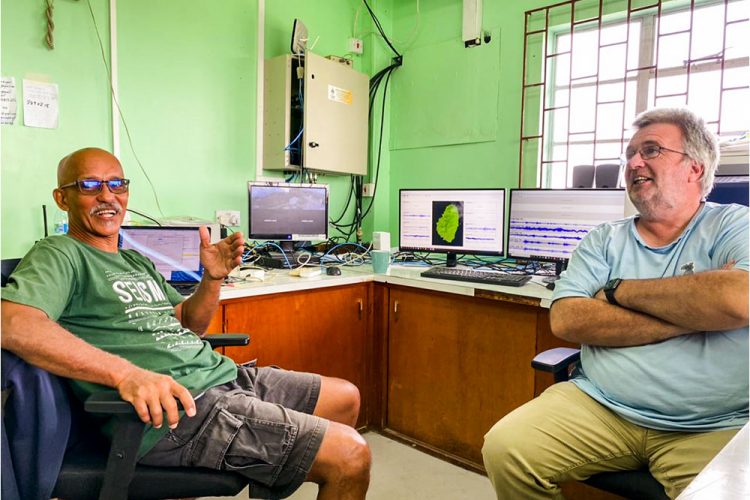 More scientists arrived in the country last weekend, and a gradual process has begun for the three-man team on the ground monitoring the volcano to be swapped out for a period of time.  
 On Saturday, April 17, when SEARCHLIGHT visited the Belmont Observatory, which is the base for the scientists monitoring the exploding volcano, the conversation turned to how the three scientists here being supported by other scientists and personnel at the University of the West Indies (UWI)-Seismic Research Centre (SRC), are managing the workload.  
 Three people seem to be a small number, but geologist and lead scientist, Professor Richard Robertson explained that it depends on how you're operating. They have a good support system from the UWI-SRC and Montserrat Volcano Observatory, where they are based under normal circumstances.  
It also just so happened that when the eruption happened, the three on the ground were a volcano-seismologist, Roderick Stewart; a gas specialist, Dr Thomas Christopher; and a geologist, Professor Robertson. Three crucial monitoring areas.  
Robertson was supposed to have left two weeks ago but has stayed on, Stewart had initially been slated to stay for a few weeks but this period has already been extended considerably, while Christopher has been on island since January 13.
 
 "What we're trying to do now is, we've actually got some people arrived this morning, but they're going to stay in Kingstown and they're gonna do some work remotely," before they swap out for a few days, Stewart explained.
 
 "We're moving, getting into a process where the three of us would be swapped out eventually. We're slowly bringing in new people…," Professor Robertson explained.   
 "…Even though they're familiar because they're offline and we all communicate, there's a difference between remotely seeing what's going on and being here, so there's a certain amount of transfer of experience that you have to do over time," he continued; and this is what will be done over the next weeks.  Communications and building a relationship with those on the ground is also important when doing the handover.  
 However, Stewart and Robertson said that they would be returning.  
"One of the things that has been upset by the eruption is developing local capacity, so we were working with some local people, doing some training," Stewart indicated, because on a long-term basis, the Belmont Observatory has to be staffed.  
 "Seismic hasn't got the resources to staff it, the Government of St Vincent has to do the staffing. So we were working with people to start the training, but then the eruption(explosive) happened, and that had to be pushed aside because you can't train and monitor at the same time.
 "…I'll be going back to Montserrat but I'll be planning to come back because there's just so many things to do, so we just have to work out what the rotation is in the future," Stewart said.  
Professor Robertson added that: "…we're leaving but we're not really leaving. I can't leave in any case, I'm a Vincentian so I'll always be coming."