Posted on
Fishers encounter dark seas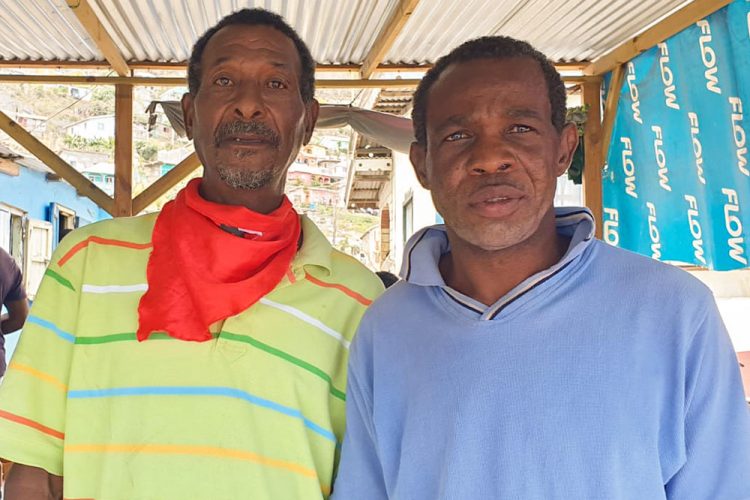 The eruption of the Soufriere volcano is affecting every aspect of Vincentian life and living, and the fisheries sub-sector is no different.  
"I throw out a line and nothing biting," Nicholas Reece, a Barrouallie resident who says he has been fishing off and on since he was five years told reporters from SEARCHLIGHT and The Nation Newspaper on Wednesday while standing on a beach in his hometown.  
"It little bit hard, sometimes you catch one or two fish, sometimes you catch nothing at all. You can't catch a big catch like how you use to catch," he lamented. He blamed this on the explosive eruption of La Soufriere volcano.  
Reese said none of the older folks has shared insight on why the fish has left, but noted that another fisherman who has a fish pot set up is also having no luck catching any seafood.  
"Since the erupt[ion], it get a little worse."
The fisherman with the fish pot mentioned by Reese is Allan Richardson.  
"Since the eruption, things rough because I can't move around like I should," Richardson said while noting that it seems as if someone damaged his boat, making him unable to use the engine he has fitted on it.  
"To me, definitely, it kinda rough, nah kinda, it rough," he stressed when asked about fishing since the eruptions.
  
"Through the dust, especially the dust…the problem for me is the dust…everybody, the same cry," Richardson pointed out.
 
In Bottle and Glass, Barrouallie, the cry is the same.  
"Arwe can't get fish to eat so is chicken arwe have to cook…arwe can't go out go fishing..," Chateaubelair fisherman Simon Carter commented, while seasoning several pounds of chicken-back in a bowl on the beach.  
He said the volcano chased him away from his hometown and made him leave his fishing boat behind and he is "camping" in Barrouallie.  
"Fisherman can't go out to get fish. Tell you the truth, right now through the ashes and the eruption of the volcano, the fish and them go out in the deep, can't say if them dead or not, but it very difficult now to get fish around here," Carter said.  
Since the volcano erupted on Friday April 9 Carter said he has not ventured out to sea as the water is dark and they cannot see the bottom. He stressed that he is not making a living at this point.  
Winston Mason said he went out to fish once since the eruptions started and the crew did not catch much fish.  
"You know like how the sulphur fall on the water, it might be a little white and thing, so we just waiting until it get little clear up, things might be better."
Mason said on the morning of April 21, he heard that a seine fisher caught about 4000 pounds of fish in Clare Valley waters.  
"Every day nah go be the same," he however stated, adding that he is still not 100% sure if the ash is causing the problem.  
Another fisherman, Andre Francis commented: "I cannot go (fishing) because I have no bait…"  
Francis said that he usually catches bait, but he cannot see to do that because the water is not clear.
 
"Whether is the ash or the eruption, is from the volcano. I can't tell you whether from the ash or wah. Could be from the water that come down and black…"Francis said.
A fisherman for 50 years Francis said that he lived at Chateaubelair for 40 of those years although he is originally from Barrouallie.  
"I experience '79 and I experience this one. We got more ash (in 2021)."
He told the reporters that in 1979 when La Soufriere erupted they continued fishing and made money, "but now is more ash, so the ash have the water black and dirty, just like the earth." 
Francis added that he was told the boat he left behind in Chateaubelair is filled with ash. He said he has not returned to Chateaubelair because there is no running water.  
Douglas Lampkin has been going to sea for 35 years and said it is very hard to fish since the volcano began erupting. 
"Cannot fishing like how I use to," Lampkin said while noting that he went out about 40 miles but turned back as there was not enough fish to pay for his gas.  
He said the ash on the water is forcing them to go further and further and that is problematic because of the financial burden of using the gas and not catching the fish to pay back.
 
Lampkin, a Barrouallie man, said the ash is on the water far out to sea.  
"Monday I lose $400 you could say," the fisherman noted adding that his income right now is nil, but in 1979 the warm water from the eruption did not affect fishers like the way the ash is doing now.
 
"No ash na humbug us in '79 but the warmness of the water through the volcano did humbug us," he said.  
Eldon John, a fisherman/diver of 25 years, said he went out on Wednesday but had to turn back because the water was black.  
"You can't see nothing, I go out this morning, same problem, I had to come back shore," John said.  
Volcanic eruptions around the world have been known to wreak havoc on fishing industries. 
Minister of agriculture Saboto Caesar told SEARCHLIGHT on Thursday that in a few weeks, government will take a supplementary estimate to parliament and that will include figures aimed at helping fisherfolk and farmers.