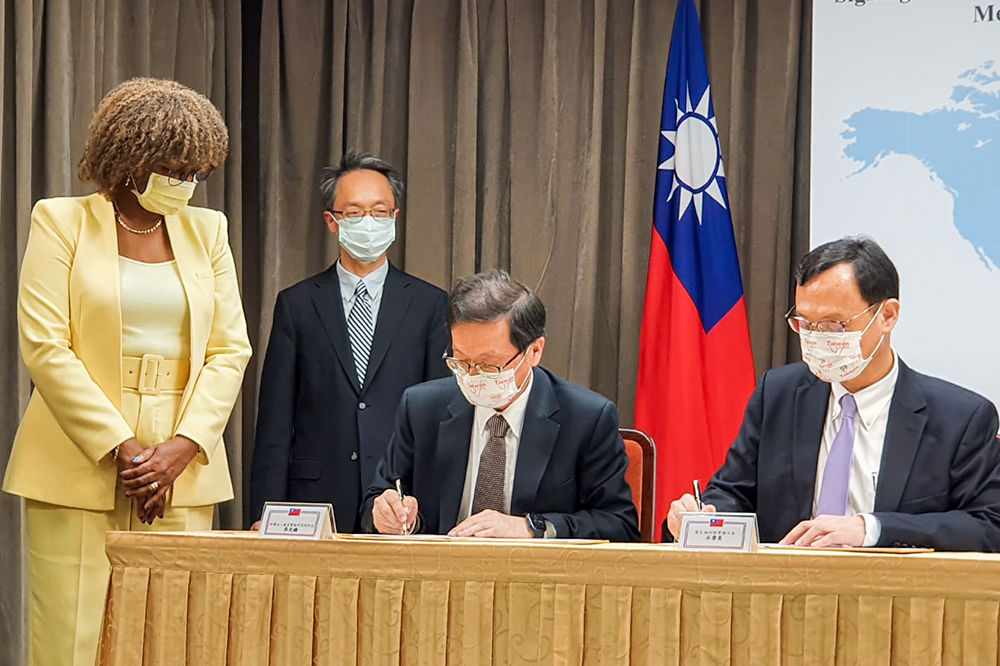 Taiwan and SVG sign MOU to build medical and disaster management capacity
THE GOVERNMENT of Taiwan and several government-supported agencies on April 13 signed a memorandum of understanding (MOU) on a consultancy project for disaster management and medical capacity building in St Vincent and the Grenadines (SVG).
The signing ceremony had been planned several days before the explosive eruption of La Soufriere on the main island of St Vincent on April 9.
The MOU is the product of collaboration between Taiwan International Health Action (Taiwan-IHA), which is an action team formed by the Ministry of Foreign Affairs (MOFA) and the Ministry of Health and Welfare (MOHW), the International Cooperation and Development Fund (TaiwanICDF), the National Applied Research Laboratories (NARLabs), the National Science and Technology Center for Disaster Reduction (NCDR), and SVG's National Emergency Management Organization (NEMO).
The signing ceremony was held at MOFA headquarters, with MOFA Secretary- General Lily Hsu, MOHW Vice Minister Shih Chung-liang, TaiwanICDF Secretary General Timothy Hsiang, NARLabs Vice President of Wu Kuang-Chong and NCDR Director Hongey Chen as signatories, and SVG Ambassador to Taiwan Andrea Bowman also present.
According to the MOU, experts from Taiwan will help SVG evaluate its national disaster relief response mechanism, as well as do a feasibility study on building earthquake warning systems and volcano monitoring facilities in the country.
In addition, Taiwan will share its experiences on disaster prevention using technology, while also helping SVG enhance its emergency medical service capacity, the MOU said.
In her remarks, Hsu expressed the concern of Taiwan's government over the volcanic eruption in SVG on April 9, which has blanketed the country in a thick layer of ash and displaced about 20,000 residents.
Hsu said Taiwan is happy to share its expertise on disaster management with SVG because it is also located in a disaster-prone area, and thus recognizes the need for an effective disaster management mechanism.
Shih, for his part, stressed that disasters know no borders and Taiwan is willing to work with SVG to fulfill one of the
goals of the World Health Organization (WHO), which is "leave no one behind."
The MOU came at a time when SVG, one of Taiwan's nine diplomatic allies in the Latin America and Caribbean region, is struggling with relief efforts following the eruption of La Soufrière volcano.
"This disaster, which comes amidst our struggle with the pandemic caused by COVID-19 and the deaths resulting from dengue fever, presents our country as a prime location for this Disaster Management and Medical Capacity Building Project," Bowman said.
According to Bowman, the SVG Embassy first advanced the proposal for the project in April 2020. It has since gained support from several private and government entities, and is now much closer to implementation with the signing of the MOU.
Bowman also noted that the signing of the MOU marks exactly 42 years since the last major eruption of La Soufriere, recalling the economic, societal and infrastructural disruption that eruption caused to the country's development.
"Since then, volcano monitoring and disaster preparation and management systems have been implemented, but the enhancement and development of these systems are crucial, hence our presence at this signing ceremony today," Bowman said.
She described the signing as a renewal of diplomatic relations between the two countries, which was forged four decades ago.