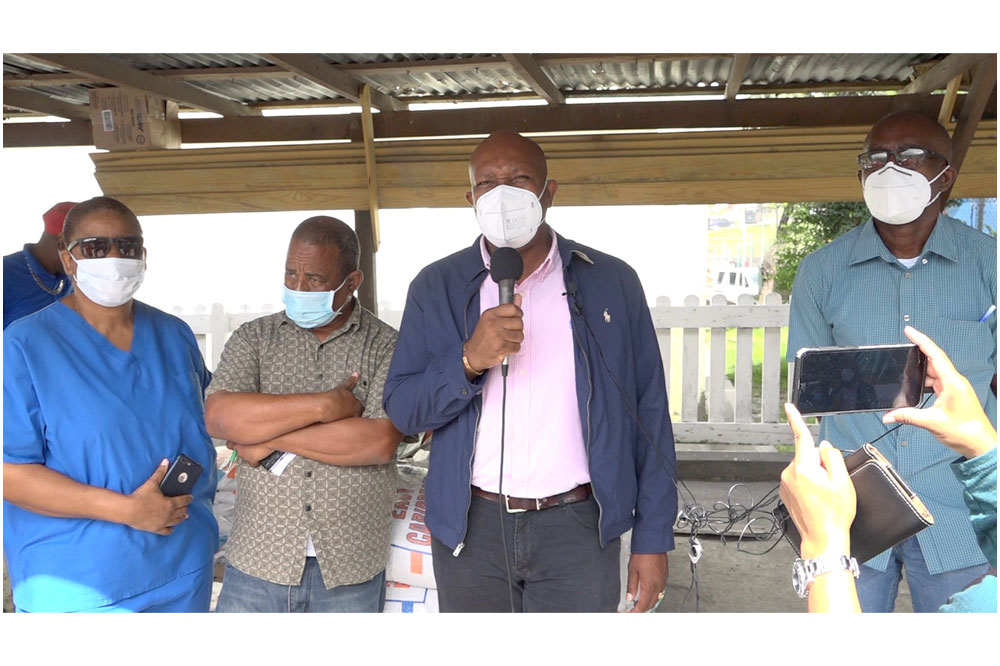 Farmers begin to receive animal feed
A first batch of 1200 sacks of feed were distributed to livestock farmers last Friday April 16, through the Ministry of Agriculture with support from the Inter-American Institute for Cooperation on Agriculture-IICA.
"It's not the first time that we are having a programme from the Ministry of Agriculture to assist with livestock farmers in terms of getting feed for their animals but definitely, we have never had a challenge of this magnitude", Agriculture Minister Saboto Caesar, said at a brief distribution ceremony on the ministry's compound.
The feed, valued at US$10,000, was donated by IICA as an initial first response to the urgent need of livestock farmers whose animals have been severely impacted by the volcanic eruption. Caesar said hundreds of them have been calling to seek help.
Farmers in the designated red zone communities have let their animals loose to give them a better chance of survival.
But with volcanic ash covering the vegetation, there are reports that many have perished for lack of food; and this is also a problem for livestock farmers in areas outside the red zone.
"We intend to have a particular focus for… farmers in the red zone, Ceasar said, " and, acting on the "advice and clearance" from NEMO, the ministry plans to "go into the red zone when it's safe to do so- to place feed in strategic places so animals will be able to get feed and the nourishment needed" .
The ministry expects to provide feed assistance to 4109 livestock farmers overall.
Ceasar assured farmers that additional supplies will be provided during this week as the Campden Parkbased feeds mills required some time to manufacture the second order placed, which will be financed by central government at a cost of EC100, 000.
Chief veterinary officer, Kattian Herbert-Hackshaw said at the April 16 animal feed distribution ceremony,
that the commercial feed is being provided for ruminants and pigs.
"Even though they are given this type of feed…we only are going to be complementing this feed with grass, so we would not be giving a lot of feed to sheep and goats because they will be coming down with different problems,"Herbert-Hackshaw explained.
The Ministry will therefore advise on amounts of feed that should be fed to "small ruminants and cattle, but the pigs, we can give them as much as possible because they can eat their food without any problem".
The Chief Veterinarian is also advising livestock farmers to continue to wash the grass as much as possible and feed it to their animals; continue to de-worm, and add molasses to their feed "so that they can get some more strength".
She said the ministry would like to assist in water and [grass] feed as soon as possible.
The Ministry of Agriculture will be providing feed assistance to livestock farmers from centers at the Walliliabou agriculture station; the forestry headquarters at Campden Park; the Dumbarton agriculture station; the Rivulet agriculture station; the New Grounds agriculture station and from its headquarters at Richmond Hill, weekdays, from 9 am-2pm. Farmers are required to take along their farmers identification card.Farmers begin to receive animal feed