Posted on
Chateau resident got vision not to move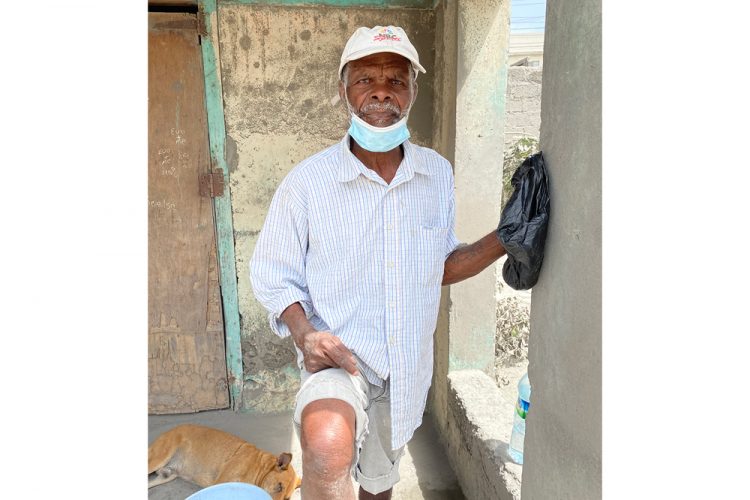 ONE RESIDENT of the North Leeward town of Chateaubelair is certain of his faith in a vision he said was revealed to him by the Holy Spirit, and this is why he has decided not to move from the area.
In North Leeward a thick layer of ash from the erupting La Soufrière volcano carpets the area.
Under the clear sky, on the afternoon of Sunday April 18, 78-year-old Euton Slack could be found sitting in a porch next to the quietly lapping sea as if it were any other day; but he wears a mask to protect himself from inhaling the dust.
La Soufrière can be seen in the distance, the picture of quiet, but hiding an explosion that it would release in a few hours.
There was no running water, and the bottled water left near the wharf by a visiting group was soon gone. However, Slack said that a boat with water, he thinks from Martinique, brought "nuff water", so they have.
The elderly man has spent most of his life living in Chateaubelair, except for a few trips overseas to neighbouring Trinidad and Tobago.
He recalled the events of the second day of La Soufrière's explosive eruptions.
"…The Saturday morning( April 10), they done cleaning out (the ash) annuh, and when I look, the whole place just get back dark; all up to nine o'clock sun shining and the place still dark. I dey right here, I and a partner. E Sunday, about one o'clock, the whole place come dark, yeah, and then after a while e just clear back, so I witness all that here."
As to why he decided to stay in the danger zone, he explained: "I get save in 1989, and after I get saved by a Pentecostal church up the road, 91' it revealed from the Holy Spirit."
Specifically, it was on February 15, 1991 that it was revealed to him, Slack recalled because he has marked it down in his bible.
He said, "God show me it(La Soufrière) will blow, but is in the sea it will blow." However, the vision he saw didn't involve people evacuating the area.
"God nah show me bout the people dem will move nuh, the people dem will be here and who he to save, will save, but he bringing up the seawater, bringing on a tidal wave the land and sweep go back," he recounted.
"…Becah before he tell me more than three quarter of these people here unGodly, which mean he have people who saved that he will secure," Slack calculated.
He said two persons have told him about revelations, saying they saw him(Slack) on the sea.
"So this ain nothing strange to me, you understand? Now that is the purpose why I stayed."
His faith in his vision is so concrete that he lives in a 'shanty' by the sea.
"You know the reason why I don't build a place, it was because what God show me he going to do. So me nah hah no fear about that," he said.
However, he can't say when this event will come about, "…no man know, that is God's secret".
Slack said that others could be saved as well, "you gotta put your hand in God own and he will secure them."
Preaching repentance is what the elderly man does, and he informed that he did it for 312 days, "every day in this place preaching repentance concerning just what God going to do, say bout the Soufrière."Chateau resident got vision not to move