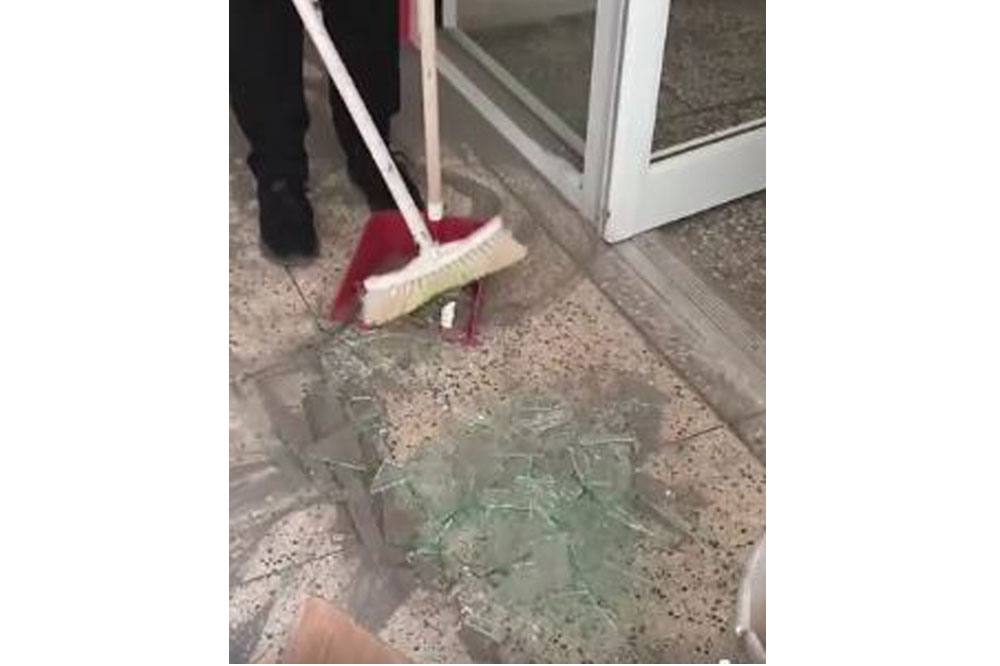 'Big bull' breaks glass door at Joshua Centre
MANAGER OF THE Joshua Centre, Hans King, is calling on owners of animals that stray onto the compound, to try their best to stop this from happening.
The Joshua Centre is the name given to the decommissioned ET Joshua Airport at Arnos Vale. The facility has been converted into a shopping mall and now houses several businesses including a Money Gram branch. On Sunday April 18, a head of cattle ran across the compound and knocked out a glass door, sending shards of glass flying and forcing a costly replacement and clean-up.
King is therefore appealing for owners of animals, including sheep and goats, to try their best to keep animals off the compound.
He said that apart from the incident on Sunday, livestock usually roam the property and feed on the decorative plants.
King explained that on Sunday, they were cleaning the facility because of the Soufriere volcanic dust, and he saw the bull walking on the compound.
"While I was upstairs I saw a big bull cattle running from under the canopy and I was joking with my friends saying 'boy I hope that ain't break out any glass'.
"Of course I had the security running coming up to me telling me in fact one of the entrance doors was broken by a big brown bull this morning," King said.
He said the incident could have been worse if it had happened on a day when Money Gram was offering their services and the property was filled with people.
He added that notices were placed in the press last year asking farmers from areas like Arnos Vale and Roseau to remove their cattle, sheep and goats but the problem persists.
"We spent a lot of money, it's a lot of glass, and if you don't, clearly, there is action we will have to take and I am sure that you as the owners of animals will not be happy about that," King said as he noted that the police recently shot several animals that were invading the synthetic track at Diamond.