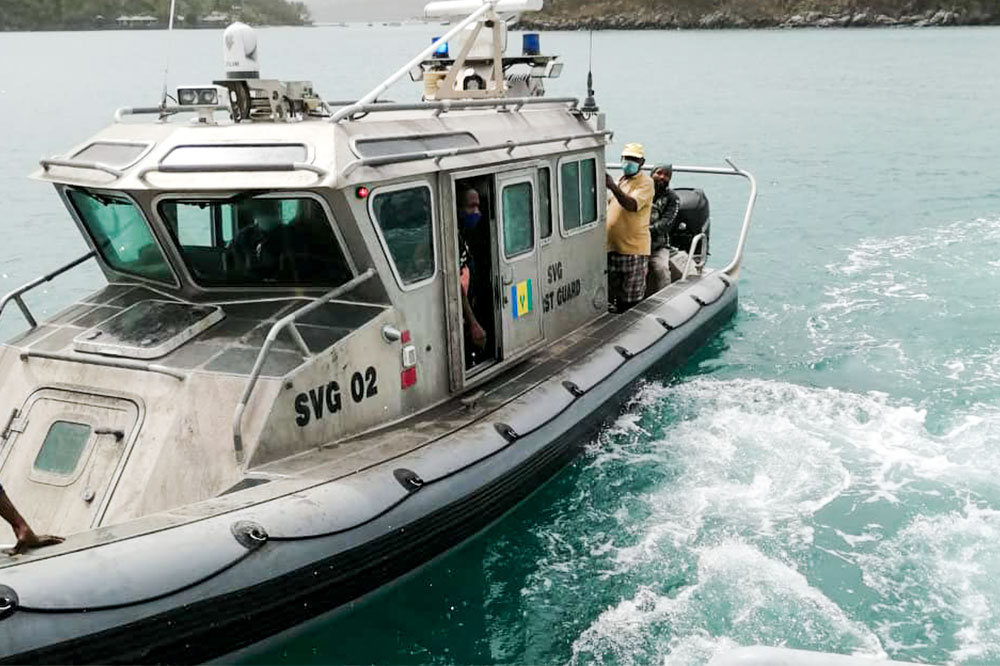 Reluctant evacuee exposes Coast Guard rescuers to covid-19
ALL PASSENGERS ON board a Coast Guard vessel which rescued 12 persons from Owia in the red zone on Tuesday have to be tested for Covid-19, after it was revealed that one of the persons rescued had been Covid-19 positive but never retested.
"One of the 12 persons yesterday, is someone who… just over two weeks ago , we have the record that he was tested positive, but we couldn't find him to test him over, to test him again," Prime Minister Dr Ralph Gonsalves revealed on radio, while noting that one could see why the Ministry of Health is concerned about doing PCR and rapid antigen testing and vaccinations.
The patient was being tested, but at the time the Prime Minister was speaking they did not have a result. All persons on the vessel will have to be tested as well, and contact tracing done.
"This is why for persons who are encouraging people not to test or not to take the vaccine, they are irresponsible," Gonsalves said.
"…How can we meaningfully control the pandemic in a situation like this? Even you don't have symptoms, half of the people who test positive for Covid don't have symptoms," he continued, as he underscored that testing is vital.
Fourteen new Covid-19 cases were reported on Sunday, and six on Wednesday 14.
"…Thankfully it doesn't appear as though, thus far, the analysis, that we have had any spread, wider spread from that
group, (those reported on Sunday). But we have on our hands, in relation to Covid, something which can get completely out of hand because in addition to the shelters, the persons who are in homes, homes which used to have three persons, now have 5, 7 and eight," he continued.
It is not mandatory for persons in shelters to be vaccinated against Covid-19.
This is a matter of taking care of our neighbour, the Prime Minister said, in light of outbreaks that will more than likely occur.
"…We can't afford to have that at any time, and worst of all at this time".