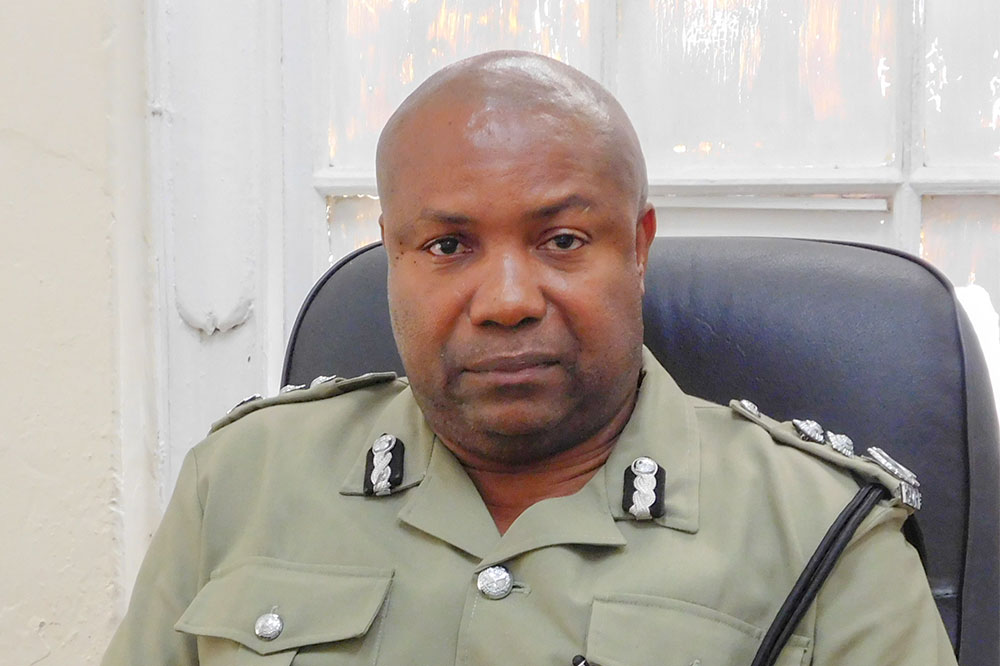 Keen eye out for Soufriere thieves
As the Soufriere volcano continues to erupt explosively, some persons are using the opportunity to commit burglaries and other crimes in the areas that have been largely evacuated.
Several reports of burglary, theft and other crimes have been surfacing from the red and orange zones and commissioner of police (COP) Colin John is warning would be offenders, that the police officers are on the ground and working hard to curb these incidents of crime.
One of the first reports of unlawful activities came on Saturday April 10, one day after the volcano exploded, when persons reported that a grey SUV with three men was patrolling the North Leeward area.
The COP said when they heard the report, they mobilized and managed to detain the three men. He said they held them for a few days but to his knowledge found no evidence of wrongdoing so there were no charges brought.
The COP noted also that on Tuesday, a van was stolen and the police apprehended the perpetrators, while another incident involved the coast guard intercepting a suspiciouos looking boat patrolling the waters of North Leeward. The men on the vessel were later released with no charges.
Reports also have surfaced that about four men were detained in North Windward for theft.
On Sunday, Sandy Bay resident Omari Hoyte told SEARCHLIGHT while standing on an ash covered road in Magum,that his family's shop was emptied by a burglar or a group of them.
Hoyte and most of his family had evacuated when Prime Minister Dr. Ralph Gonsalves gave the order to do so on Thursday April 8, one day before La Soufriere violently spewed plumes of ash high into the sky.
Hoyte said he was staying at a shelter in Edinboro but returned to Sandy Bay on Sunday to free his animals, "cut their ropes" to give them a chance of survival.
He was devastated and saddened by what he saw when he returned.
"We did have a shop, we go, and is just a few things there now. They already break the place," he said while showing a bag with four bottles of liquor and a bottle
of Jergens skin cream which he salvaged from what the burglar/burglars had left behind.
"Is my mother and step father shop and I does be there; they stir up the whole room inside where we does sell thing," he lamented as the truck pulled up to take him and others outside of the red zone to safety.
However, reinforcements have begun arriving from neighbouring countries to bolster the security efforts of the local constabulary.
Speaking on radio on Wednesday April 14, PM Gonsalves said 50 security personnel from Trinidad and Tobago were on the ground, while 40 from Barbados under the Regional Security Services (RSS), 30 from the Barbados Defense Force and 10 from Grenada are also expected.
"We do not as yet have what you may call a security problem," Gonsalves said on Wednesday. He added that he received a security briefing from the commissioner that day indicating "broadly that security overnight is fine."
He however noted that the history of disasters has taught us, "not just here, but elsewhere that you're going to have security challenges developing.
"For instance, we got reports yesterday and we intercepted two persons that we got intelligence that there were persons who had arrived at a particular area on the Leeward side of the island which has been evacuated.
"The intelligence was that they were to break houses and to take people's important valuables and put them on a boat and go elsewhere and sell and so forth."
He said they were looking for four persons, but arrested two and didn't find anything illegal. The PM said he will get reinforcements if needed, to ensure that criminals do not have space to function during the crisis.