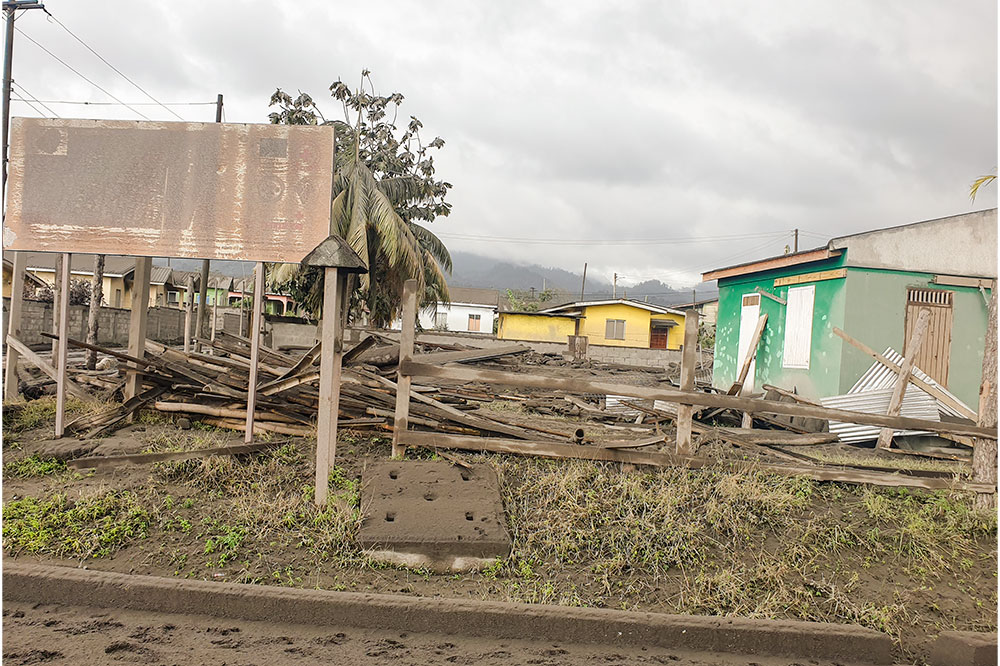 Family in Langley Park staying put
It may seem that some residents in the orange and red zones, affected by the eruption of the Soufriere volcano, could be part of a grey scale zombie apocalypse movie as they move around on the premises of their home covered in soot, and leaving distinct footprints in the ash.
These metaphorical zombies are persons who have showed an uncanny ability to feel at home in a setting that at any moment can turn quite deadly.
This country's La Soufriére volcano began erupting explosively on Friday April 9.  Pyroclastic flows began on Sunday April 11, preceded by ash-fall that has blanketed the country.
Despite the destruction and mayhem, several persons have adamantly refused to leave the red zone, areas said to be the most prone to volcanic destruction.
"In 1979 I didn't experience it because…I was under parents' care and I didn't really experience it so ah did really want to experience it this time, so that is one of the reason I didn't move…," Carol Toby of Langley Park told SEARCHLIGHT of her decision to stay behind in the red zone with her husband Alban, and brother-in law Conrad Toby.
Carol also told SEARCHLIGHT on Sunday that in the evacuation camps during the 1979 eruption, there were a lot of things that went on that she didn't like.
"Like if that body want to feces you have to go there and face that same thing you know. That is one of the thing, you didn't have no good condition thing there," she said while noting also that as a little girl she observed "man and woman doing their own thing" and she was uncomfortable facing that.
Carol said the experience of the eruption "is really horrible" but "you have to just pray and ask God to give you faith and strength to face it because is God wrath, but sometimes we as christians, when we pray and ask him for strength, he gives us strength."
She said she feels safe as she is a praying woman and when the volcano erupts, ash and other debris begin to fall from the sky, that is the time to go into your home and remain there.
"It is scary, it is scary, it is scary ah tell yo, it is real scary, real scary," she stressed while revealing that the first time when stones began falling on the house roof, her mother in law had not as yet been evacuated.
"I start to call my husband because he was up in the garage so I say 'Alban, Alban, stone', she (mother in law) say 'Carol it ain't big stone ah nah because them ain't coming through' and she give me a kinda strength from there."
Carol noted that her children in Canada and a daughter in Campden Park, as well as her sisters, are encouraging her to leave the area but she will not.
"I am going through it. It's a storm and I going through that storm," she said, "I just want to face it."
Carol's husband Alban, is also as stubborn as she and will not leave the red zone.
"No, me nah leave because me done have a little experience already, because me been here '79 and me and my father been dey home," Alban said of the 1979 eruption.
He said in 1979, he and his father left for two days, returned home, and never left again, and this time he took his mom to a safe area in Green Hill and returned home.
"It little scary but not nothing to worry yourself over because 79, like it been worse than now because bigger stone and everything been ah pelt '79, but now ah just fine stone and thing you ah hear pon the house like if ah rain come," Alban said.
Scientists monitoring the volcano have said that this eruption is closer to the 1902 eruption that killed approximately 1800 persons.
The brave resident said he has his animals and house to look after and does not want to be the victim of burglars.
He added that at one point, he went into the mountains to move his animals and heard the volcano rumbling after which, it began to rain and he had to leave the area quickly as stones started to fall.
Alban said the sounds at night sometimes are like a jumbo jet engine but he is braving this.
On Monday, the National Emergency Management Organization (NEMO) warned that persons caught in the red zones will be detained and charged by police.