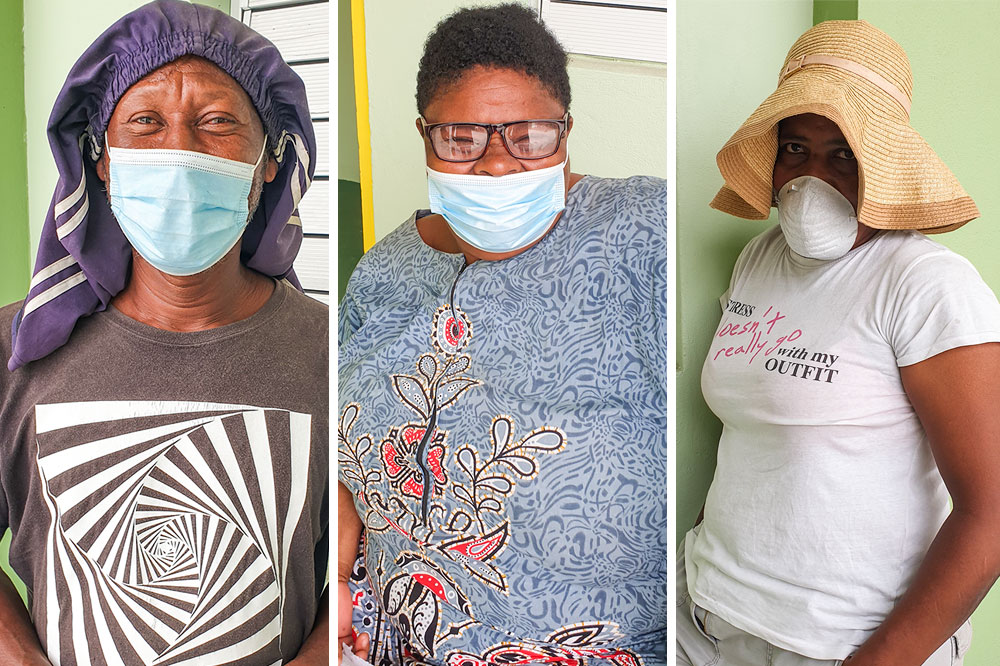 Evacuees making the most of shelter life
"In 1979 it was giving out ash but not like this. This worse," Owia resident Frankie "Tiger" Lavia told SEARCHLIGHT on Saturday from his temporary home at the Calliaqua Anglican School shelter.
Lavia is one of 3275 persons who have taken up residence at government operated shelters, in an attempt to be safe from the wrath of the erupting La Soufriére volcano.
He said this is his second experience of a volcanic eruption; an event that has forced over 16,000 persons from their homes.
"1979? It wasn't like this. First in my life I have seen anything like this," Lavia added.
Lavia and several other residents fled their home in a fishing boat on Friday April 9, the same day the volcano moved from effusive to an explosive state.
With near zero visibility for part of the journey, they were able to dock at Calliaqua where they entered the shelter.
"I was in Owia when it blow at first and I said I wasn't coming down but then I had to come down. Some friends back there, I told them to come down but they said no they not coming," Lavia related, adding that most persons heard the evacuation order on Thursday April 8, but were refusing to move despite the warning.
"They get the warning, if they do not want to come is their business. I wish them the best of luck."
Lavia described the experience in the shelter as "good" but there are issues with water.
"Water is the most essential thing, we need the water…," he stressed.
Donovan "Rasto" Samuel of Fancy said he was a young boy in 1979 when La Soufriére erupted, so he is able to compare the event then and now.
"It worse, I was saying before I don't think it going be so nasty that I have to come down, but I did done monitoring it and I had my car pack with all my business and thing so in case it get worse me and my woman would move out," Samuel told SEARCHLIGHT.
He said he did not sleep on Thursday April 8 and left the following day.
Samuel's girlfriend, Point resident Marcelle Lavia, said on Thursday 8, that she and Samuel dug arrowroot in the mountain.
"When we reach London, the van break down so somebody come and tell us evacuation notice already given so we hustle…," she said, explaining that when they took their harvested rhizomes to the factory the staff had already cleared out.
"So the arrowroot still in the sack over the factory, not weighed or anything."
They evacuated using their own vehicle.
She and her husband also expressed concerns about the availability of water but said the food is adequate.
"I think CWSA should have keep to their commitment because that is their only commitment, give us water, because you know we need it," said Samuel who noted that the shelter is clean and they have blankets and mattresses.
Violet Lewis of Fancy said they went to the Calliaqua Anglican School shelter on Thursday April 8, hours after Prime Minister Dr. Ralph Gonsalves gave the evacuation order for persons to leave the danger zone.
"It is very good here at the shelter. The first night we know we go meet it rough because sometimes when we dey home we ah meet it rough. It is very good now and it is very nice and they treat we good," said Lewis.
She said she fled with family members and has no idea what her home looks like now.
Danielle Bowens, another shelter resident who is from Fancy, said when she got the order to evacuate, she took what she had already packed and got on a truck.
"We arrived at the centre at about 10.30 Thursday night. So far the persons in charge are taking care of us and we got proper beddings and mattresses. Each person got their own, so that's a luxury," Bowens stated.
She said they receive three meals a day.
"So far it's good compared to other parts I am hearing about".
Bowen told Searchlight about six or seven persons chose to remain in Fancy and that is worrying to her.
"They say they are okay for now so that is a sign of relief for us," Bowens said.
Since that interview, the National Emergency Management Organization (NEMO) announced that the police will charge persons in the danger zone if they are there without permission.
Some persons who were refusing to leave have left the red and orange zones, but several others are still braving the eruption and are refusing to evacuate.