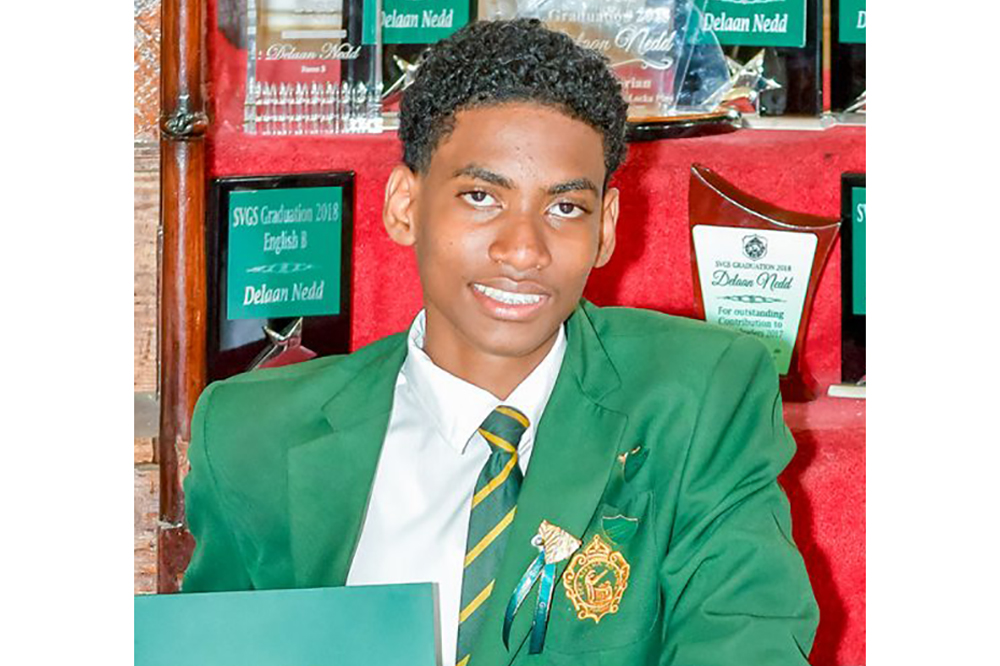 Vincentian scholar accepted into Princeton
NINETEEN-YEAR-old national scholar Delaan Nedd was last week accepted to the internationally esteemed Princeton University where he will further his studies in science.
Chemical engineering or pure chemistry, are the choices that Nedd has in mind as he prepares to take up his place at the 'Ivy League' private university in New Jersey.
The young man who has dedicated his life to learning, got his acceptance last week Tuesday, April 6. The occurrence made him tremendously happy and excited enough to give a small jump for joy, he told SEARCHLIGHT on Wednesday, April 7.
The New Montrose resident disclosed that he also felt relieved as he had suffered a setback in 2020.
"I had applied last year to a number of Universities, including Princeton, and ultimately I was rejected from all of them which was not part of my plan so to say, because I would have hoped to start University last year," he revealed.
It was nerve racking to go through the process once again, but the gap year gave the scholar time to reset.
In answering what acceptance to Princeton University means to him, the 19-year-old disclosed, "I think maybe last year I would have told you that it meant almost everything but I think the time taught me that it wasn't everything, but it still meant a lot to me.
"I think overcoming it in the end, even though I still had limited control over a process as big as this, it still meant a lot to me getting over those problems," Nedd said.
It is his most recent academic success and it comes on the heels of another major achievement. He was named last month as one of 17 national scholars, an award given by the state for his performance at the Caribbean Advanced Proficiency Examinations(CAPE). In his first year at the St Vincent and the Grenadines Community College(SVGCC), Nedd achieved four highest level grades in Biology, Chemistry, Mathematics and Physics, and a grade two for Communication Studies. In his final year he gained grade ones for Biology, Chemistry, Integrated Mathematics and Physics, and a grade two in Pure Maths.
This was just a continuation of his previous impressive performances. Still only a child, he placed second for boys and sixth overall at the Common Entrance Examinations to enter Secondary School. He scored 100% for the Mathematics assessment of this exam.
He attended the St Vincent Grammar School, and his studies there culminated with 15 grade ones at the Caribbean Secondary Education Certificate (CSEC). Nedd was the Valedictorian of the class of 2018 after maintaining a stellar record through his five years at this institution.
"I generally find learning exciting especially in science, or STEM(Science, Technology, Engineering and Mathematics)," the son of Dr. Conrad Nedd and Kaushalya Weerasena- Nedd explained. "I've been fortunate enough to have a great support system so firstly I'd like to thank God and my family," he also noted.
"What I was doing wasn't… most times it wasn't difficult to get myself to do it or stay disciplined to do it because I was excited to learn."
The young man may likely delay his national scholarship as his University studies will be funded by Princeton. Nedd disclosed that the schools he applied to offer aid on a needs basis. In the summer of 2019, he applied for and was accepted to the Student Program for Innovation in Science and Engineering (SPISE) program facilitated by the Caribbean Science Foundation (CSF). "…They were primarily the ones who would have guided me in terms of applying to schools in the US(United States), getting good education at a really affordable cost and as well as friends who would have gone through the process," Nedd revealed.
Nedd will likely be on campus this year, and he does not think he is nervous about the move.
"I think I've been working really hard and hoping, praying to get in so at the moment it's more excitement and I think a big part of that, is that I wanted that challenge that you're talking about so I'm not necessarily nervous," he stated.
Everyone has their own path, Nedd mused in response to whether he has any advice for persons seeking to follow his academic success.
"I've been really fortunate to have a great support system so I think in that sense I was lucky but also working hard and enjoying what you are doing definitely helps," he noted.