Posted on
Three men from New Chapmans are 'braving out' the eruptions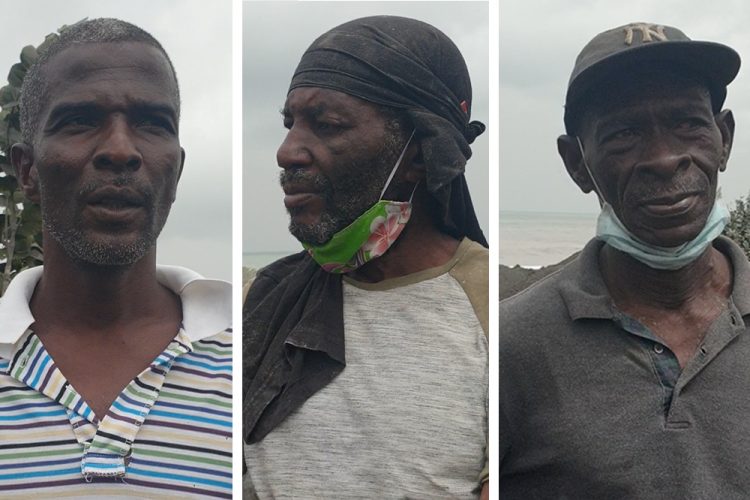 ON A BRIDGE in New Chapmans, three forlorn figures stood looking at the mountain top, the Soufriere volcano.
"My family from the area, couple sisters and mother and father. All the house in one area, so I decided to stick around," Dave Sutton told SEARCHLIGHT on Sunday, three days after the Soufriere volcano moved from effusive to explosive, covering the entire country in ash.
Sutton, his brother in law Terry Joseph, and their friend David Seymour, had all decided to battle the exploding volcano at their home in the red zone. The men are protecting their properties and livestock the best they can.
On Thursday April 8, Prime Minister Dr. Ralph Gonsalves, who also has responsibility for the disaster portfolio, issued an evacuation order for persons located in the red zone of La Soufriere.
The volcano has been erupting effusively since December 27 last year, and on Thursday, volcanologist Professor Richard Robertson of the University of the West Indies Seismic Research Unit, said at a press conference called by the Prime Minister, that at about 3 a.m. (April 8), there was another change in seismicity at the summit of the volcano. The following day, Friday 9, the volcano blew its top, sending ash plumes thousands of feet into the sky.
"I just decide not to move," Sutton said, adding that this is his first experience with a volcanic eruption and he decided to stay behind to look after his cattle.
The 46-year-old farmer said most everyone else had evacuated from his home village but he was braving whatever comes.
He said that on Saturday April 10 around 9 a.m, he went into the mountains to check on his cattle, but the ash made it impossible to see, so he turned back At around 2 p.m. that same day, Sutton went back to the mountains and cut the rope from his cattle, but while there, the volcano started rumbling and scared him.
"I hear the Soufriere start erupt again. I have to run down back because was me one," Sutton said adding that the eruption sounded like thunder.
He said he saw goats tied up and bleating with no food, but he didn't have time to cut their ropes and also felt that he should not free animals that belong to other persons without obtaining their permission.
Sutton told SEARCHLIGHT that a shopkeeper in the area had stayed behind as well as a businessman in Caratal, within walking distance from his village, so he can buy supplies when he needs them.
David Seymour, Sutton's friend said he remained behind "to pay attention to my things because of the way some people gwaan [go on] in disaster."
He said that during disasters, persons steal and destroy the property of others.
"This is a very good experience for me, me never fear," Seymour said.
He shared that the majority of persons had left, but were returning during the day to fetch belongings and check on their properties and animals.
Terry Joseph, the other man on the bridge, said he got his wife and two sons out of the red zone and stayed behind.
He described the experience as scary, especially the night of Saturday April 10 which he described as having, "a lot of action" when stones and ash fell on his galvanized house roof.
"We had to run from our galvanize house to places that have concrete roof to shelter," Joseph said of him and his brother in law and friend.
He said they hid under a neighbor's house together.
These three are part of a group of persons throughout the various communities in the red zone who have refused to leave their homes.
Their lives are in danger due to the heavy ash-fall and pyroclastic flows which kill and destroy everything in their path, even out at sea.