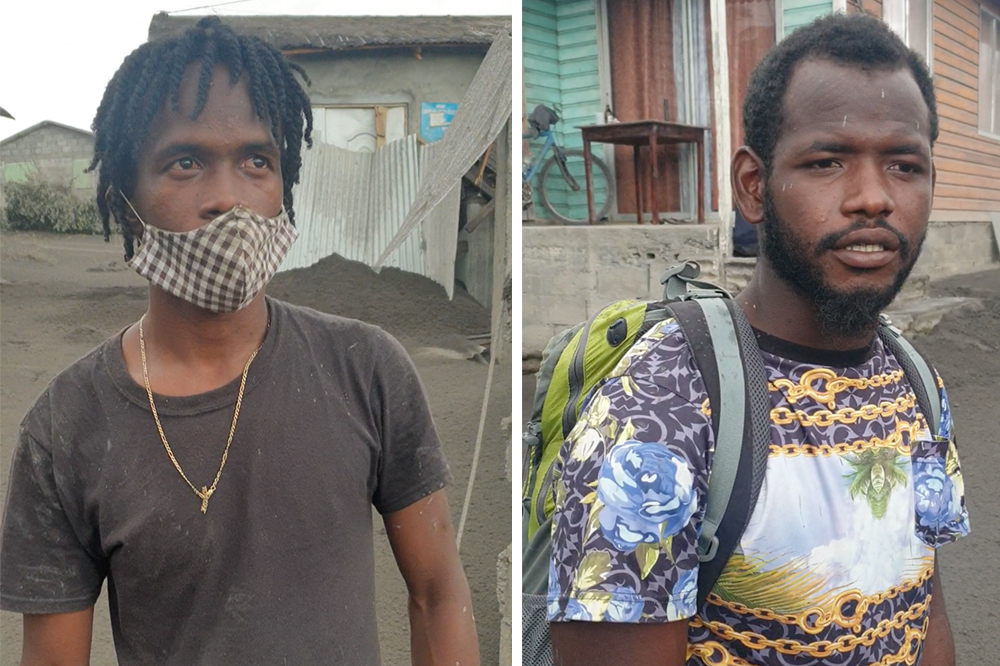 Magum resident devastated and saddened by what he saw post eruption
Deep in the red zone in Windward communities of the Soufriere volcano, is like watching a scary movie in black and white.
Trees bowed over from the weight of ash, cars and houses covered in ash, rivers stagnated by ashfall, collapsed roofs, stray animals, dead livestock, people fleeing and some still refusing to leave…all in the midst of a belching ash- spewing volcano.
"My uncle and few others in Sandy Bay say they not moving," Sandy Bay resident Omari Hoyte told SEARCHLIGHT while standing on an ash covered road in Magum on Sunday.
"It is horrible, you can see the destruction that it make, it kill animals also," he said with sadness in his voice.
Hoyte, and most of his family had evacuated their homes in the red zone when Prime Minister Dr. Ralph Gonsalves gave the order to do so on Thursday April 8, one day before La Soufriere cleared its throat and sent ash plumes high into the sky.
Hoyte said he was staying at a shelter at Edinboro but returned to Sandy Bay on Sunday to free his animals, "cut their ropes" in an effort to give them a chance at survival.
He was devastated and saddened by what he saw.
"Fellas break shop already because when I come back, we did have a shop, we go, and is just a few things there now. They already break the place," he said while showing a bag with four bottles of liquor and a bottle of Jergens skin cream which the burglar/burglars left behind.
"Is my mother and step father shop and I does be there. They stir up the whole room inside where we does sell thing," he lamented while the truck pulled up to take him and others outside of the red zone to safety as it began to rain.
"Sand in the rain," he warned as he mounted the truck to leave the area as the rains, painted what it touched grey and black, the droplets containing ash.
Hoyte's friend Zimroy Peters also hopped on to the truck.
"I leaving for sure. I came back for some gabs and thing, foodstuff," he told SEARCHLIGHT adding that he felt uneasy and sad by what he saw.
Other persons on the road moved towards the truck. One man said he was planning on staying but he realized that was
a bad move.
"I'm leaving now," he said noting that the night was frightening as small stones struck the roof of the house he was in and ash-fall caused zero visibility, while La Soufriere's rumblings sounded like the engines of a jumbo jet.
But, despite the danger in the red and orange zones, several persons were still refusing to leave, the threat of being thrown into poverty by the loss of their homes, businesses and livestock, apparently being stronger than the threat of death.
On Sunday April 11, volcanologist/geologist Professor Dr. Richard Robertson said in a live updat on NBC radio that pyroclastic flows had begun at the volcano.
Pyroclastic flows are extremely fast "moving masses of destruction" containing hot gas, ash and rocks, and which kill and destroy everything in their path, even out into the sea.
An update on Monday April 12 revealed that the dome at the summit of the volcano had already collapsed and pyroclastic flows along the valleys on the eastern and western coast had started after a large explosive eruption at approximately 4.15 that morning.