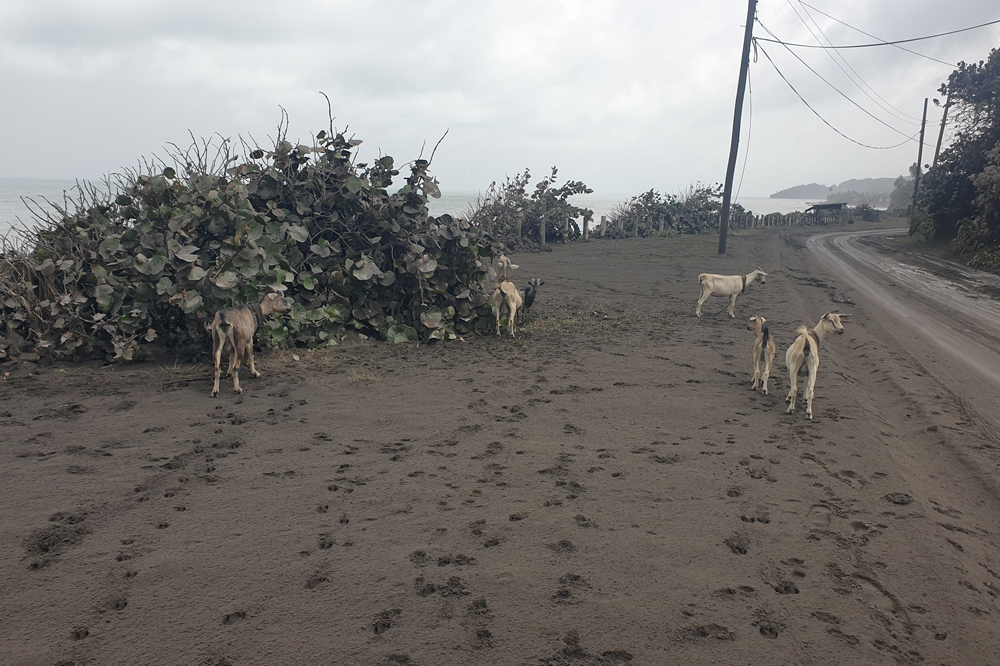 Farmers concerned about the produce and livestock left behind
As La Soufriere continues her explosive eruptions in the north of St Vincent and the Grenadines, farmers who have evacuated their homes in the red zone are concerned about the produce and livestock they have had to leave behind.
The volcano began erupting explosively on April 9 at 8:42am, four days shy of the 42nd anniversary of the 1979 Good Friday eruption of April 13.
Evacuation of persons in the red, hazard zone, began on Thursday evening, following the issuance of the notice by Prime Minister Dr Ralph Gonsalves at an emergency press conference, one of two held that day.
Jefron King, a farmer from Chateaubelair obeyed the evacuation notice just as he had done in 1979 during the last eruption, and travelled to the evacuation shelter at the Barrouallie Secondary School.
"I believe we will have about 5 to 6 explosions from what I hear because they say the new dome grow around the old one and for it to get quiet, it will have to empty itself, otherwise it never come quiet," he said of the 2021 eruption, as he sat at the tuckshop with several other Chateaubelair residents.
At least one other evacuee sitting close to him, nodded and murmured in agreement.
King said this year's eruption was different from the one in 1979 because then, it happened suddenly, whereas now, the country is experiencing an ongoing, effusive eruption which then transitioned into explosive mode.
Because of this, he believes information is more readily available this time around.
"We reach here the 13th April in '79 and we spend about three months before we go back, because it wasn't like now when the scientists could tell you this and tell you that. They was giving us some information but not plenty," he said.
The farmer also expressed his belief that "it will be a very, very hard setback for the farmers, especially in the zones where, like in the Leeward, Chateaubelair, Georgetown and everywhere people do a lot of farming and so".
King told SEARCHLIGHT that he was particularly worried about his sheep that he had to leave behind; two tied and one roaming free.
Speaking at the first of the Prime Minister's emergency press conferences Thursday, Saboto Caesar, the agriculture minister explained that there will be four phases to be executed by his ministry in the event of an explosive volcanic eruption.
Phase one has to do with the securing of public and private assets, which includes the tagging of farmers' animals, so that they are easily identified when the eruptions cease.
King said he had heard animals would be tagged, but that no one had come up to the time the evacuation notice was issued on Thursday evening.
"If somebody could assist me, I say I will even go down and let them go and double back but I ain't getting no transportation. I don't know. I don't know if they go dead," he told SEARCHLIGHT.
"It not easy for the farmers at this time eh. The farmers is who would feel this blow, it would give me a big setback. The government, I believe they will give some sort of assistance, but it will be a big setback for us. I don't know how long we have here."
The Chateaubelair farmer said he also has young cucumbers and he believes the falling ash would burn the leaves.
But he also noted that it will help to make the soil fertile in the future.
King nodded pensively but nevertheless, expressed hope that it would rain after the eruption, to help wash the ash off of the crops. His hopes were realised on Saturday night and again on Sunday, when showers were experienced across the state.
La Soufriere's rumbles were heard all across the country, and several persons attested to feeling the tremors before it blasted plumes of cauliflower-like ash clouds thousands of kilometers into the air Friday. By Satuday those ash plumes had fallen and blanketed the nation, also affecting neighbouring territories.
Arthur, another farmer from Chateaubelair did not expect the Soufriere to erupt Friday but in preparation, he travelled to Barrouallie to go to the bank.
When the volcano erupted Friday morning, the farmer had just exited the bank with a friend and saw the plumes towering over the mountain.
His thoughts immediatly went to his three heads of cattle – a mother and two calves — left behind in the most northern town on the Leeward side of the island.
Like King, his animals were not tagged; one was tied and two others roamed free.
He told SEARCHLIGHT he was very sad, not for his property, but for his animals and provision, which could be worth thousands of dollars.
"Me ah pray for ee cool down so me could get a ride go back down. Not today ahna but later on… I sell one (cattle) inna Christmas for $3500 to a fella from Rose Hall. I sell another one to a Grenadian, $2400," the Chateaubelair farmer said.
He also plants pears, tania and eddoes.