Posted on
Fishermen run, leaving lines and fish, when La Soufriere exploded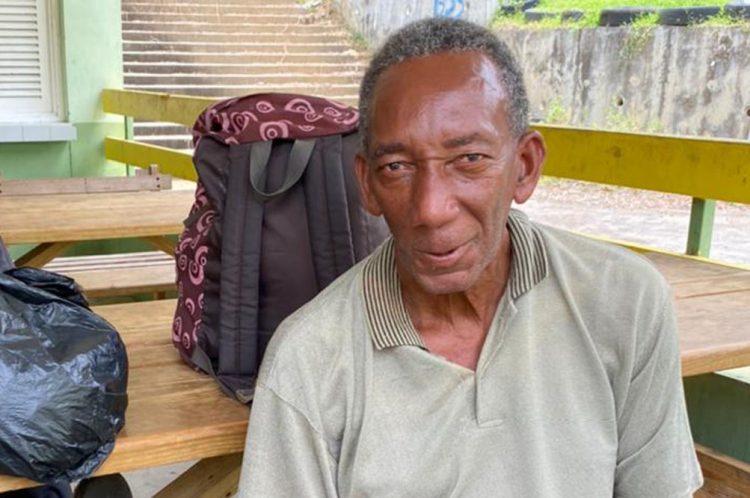 A group of persons fishing at the Chateaubelair wharf yesterday, April 9 left their fishing lines and even fish behind when an explosion from La Soufriere sent them running.
Sixty-four-year-old Ian Miller says he wasn't frightened by the blast, although this is his first time so close to the volcano during an explosive eruption. In 1979, he was working in Kingstown when La Soufriere showed its force.
"I didn't really plan to leave … but the eruption get so violent now," he said, speaking to SEARCHLIGHT from an emergency shelter at Peter's Hope, where he arrived yesterday morning, April 9, and was among other evacuees from Chateaubelair. It was the ash that drove him away from the village in the end, he noted.
Evacuations from areas close to the volcano began on Thursday afternoon when scientists gave the red alert that there was certain behaviour from the volcano indicative that an explosive eruption could be imminent.
However, in Chateaubelair, shown on the map as being in the orange volcano hazard zone – a few hundred persons decided to stay behind.
After the first explosion, which scientists say happened at 8:41 am, Miller said they were hearing sounds, "All the time "Badoom, Badoom". Like when thunder explode", "Plenty, plenty times, cracking, cracking."
"…When them guys there run off the wharf, it was just me and a guy there they call 'Bush Tea' alone there on the wharf."
"I see fellas run left their line, I pick up all ah mines," he disclosed. When asked about the fish, he replied, "One ah dem leave the fish, and I pick it up."
"One of the things I thinking about is them guys who gone bush under the volcano. People go down bush this morning, the coast guard was down there turning back boats," the Chateaubelair resident informed.
"…Some fellas down there (in the mountain) since yesterday and me ain't even think they come up," he said. As it relates to, "the Soufriere itself, just bare darkness you're seeing and the thunder cracking."
Miller wants to go back to his home. He doesn't know how long he will stay at the Central Leeward Secondary School, but estimated two days.
He isn't the only one whose home is calling, but the scientists have advised that the explosive eruptions are ongoing and there may be bigger ones yet. Another massive plume of ash and gases rose into the air yesterday afternoon as explosions continued.
And on Saturday, Vincentians awoke to a sea of ash after a night of regular ash falls.
Another witness to the first explosion, Zidon Franklyn, disclosed, "…to be honest me feel all the time the Soufriere ah fuse and fuse, ah weaker and weaker it ah get."
"…Me tell them now look [the volcano] done cool down, look all the rumbling and thing done cool down. And they say it nah cool down yet but [you] just feel it cool down…," he described.
The 54-year-old Chateaubelair resident is a farmer/electrician, and his family has always lived in Chateaubelair. He was able to compare the 1979 blast to what is happening now.
Sitting in the porch of his home looking at the volcano, Franklyn had a clear view of La Soufriere.
"At the time when it did blow in '79 it had more stuff roll up in the air than this morning," he observed.
He also noted, "…In '79 you have more [ash] and when the smoke ah go up in the air, you see like fire, lightening ah flash, but me nah see it down there this morning."
The resident said there were plenty of sounds this morning, and it sounded like thunder.
"People say stone ah pitch out," he said, but, "no stone wasn't pitching out or nuttin, man."
He may not stay at the emergency shelter long, because he wants to attend to his crops.
He hadn't intended to move out, but was concerned about criminals who may "plan to do certain things", and he doesn't want to get caught up in this.
"…When people gone and left them place, lef them business place and so on…so me nah wah involve in them stuff there, so me have to move at the point in time anything [explosive] happen," Franklyn had decided.