Posted on
'1979 was different because we did not feel earthquakes then'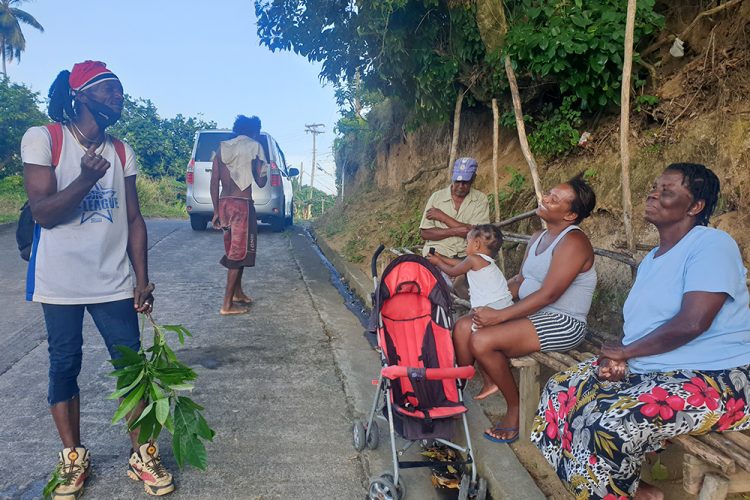 A RESIDENT of Big River, a commumity in Owia says the earthquakes that are occuring at the Soufriere volcano, were to his knowledge, not a feature of the 1979 eruption.
"Between now and 1979 was far different because we are feeling earthquakes and so on this time. For the day I experience about five earthquakes," Calvin King told SEARCHLIGHT on Easter Monday while standing at the side of the road with friends.
On Wednesday, March 24, just before six in the evening, a rigorous shake jolted residents in North Windward communities. This jolt was a change in La Soufriere's activity since the volcano started erupting effusively in December 2020.
The National Emergency Management Organization (NEMO) said persons are feeling volcano- tectonic (VT) earthquakes, normally associated with underground fractures of the rock mass that are commonly generated by magma pushing through an unyielding rock mass to reach to the surface.
NEMO said that close to 500 earthquakes were recorded between 6.30 a.m. and 4.p.m. on Monday April 5, 2021; and that the swarm of Volcano- Tectonic earthquakes "were also much more intense compared to those which occured during the period March 23-25 and contained many more small earthquakes with an average rate of about 50 earthquakes per hour compared with 1.5 per hour in March".
King said the day in 1979 when La Soufriere forced an evacuation, he was at home on his bed in Owia at a place called Hill when his grandmother told him volcanic ash was dropping from the sky.
"I look and saw up in the mountain was white and people who were going to change animals started to run back," King said of April 13, 1979, Good Friday.
The elderly man said at this point, he is "not really so frighten" because La Soufriere is located "where we have to live with it" in an area classified as the red zone.
"In 1979 there were no earthquakes," he further stressed, adding that he has not made up his mind if he will leave his home if the volcano enters the explosive eruption stage.
"I can't say well I would go and I would not go but my family will go," King said.
Monday's earthquakes led some families to flee from areas located in the red zones and take up temporary residence mainly with relatives in Kingstown and other places located in the designated safe zones.
The experiences of the eruption of La Soufriere over the years is fitting with King's account in that records show that the volcano has at times erupted without showing many warning signs.
According to the website, Blogs of the European Geosciences Union, the first known explosive eruption of St Vincent's
volcano was in March 1718.
"By all accounts this was a major eruption, preceded by an extended period of felt earthquakes," the site said of what happened back then. The publication described a short, but violent explosive eruption.
On Monday, another Owia resident, Sylvia Hoyte, said she heard about the earthquakes that were felt on Easter Monday but she herself did not feel the vibrations that day. The other residents sitting on a bench on the side of the road with her all felt the shaking.
Hoyte said on the morning of the 1979 eruption she came out of her home and saw "white thing start to drop". She said she put her hand out and her entire arm was covered with ash but she did not at the time know what it was.
"Then I hear all bady ah say like ah Soufriere," she said adding that many persons began panicking and she went to a nearby police station and was later evacuated from her home.
"In 1979 all them thing ya (earthquake) na been ah happen because arwe nah been ah feel no earthquake. No earthquake nah been ah pass or nothing," Hoyte stressed noting that the experience is different in 2021 than in 1979.
Shedrock Theobalds said in 1979 he lived at Mt. Grenan as a little boy and remembers being covered in ash and being taken up by his father who bathe him. He said he thinks the volcano is very dangerous and persons need to take the warnings seriously.
Herman Ballantyne and Keegan Stay of Fancy sat outside a shop on Easter Monday looking at an area over a mountain peak where they explained they would be able to see if the volcano begins to erupt explosively.
Ballantyne said during the last eruption, he was in Carriacou but recalls seeing the fire and ash that accompanied the explosions. He said he has been feeling the earthquakes and they are a bit startling.
Stay noted that the shaking is frightening and he has never felt anything like it before. Both men are just waiting to see what will happen and are ready to evacuate if they have to.
NEMO had not issued an evacuation order up to the time of going to press.