Posted on
PM pleads with Vincentians to take the jab before they expire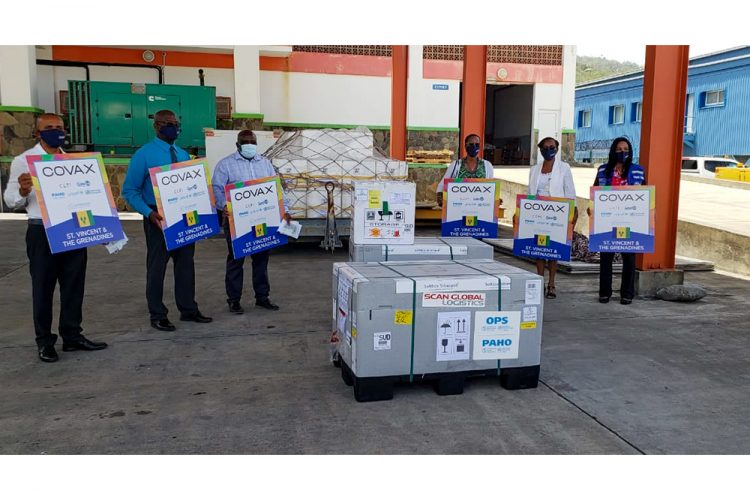 WITH THE expiration date of two batches of COVID19 vaccines looming over St Vincent and the Grenadines, and the threat of a possible volcanic eruption, Prime Minister Dr Ralph Gonsalves is pleading with Vincentians to take the jab.
This country received 24,000 Oxford AstraZeneca vaccines from the COVAX facility this week. The vaccines arrived in the country on Wednesday afternoon, and is the first of two batches to come from the facility, which is meant to aid in inoculating at least 20 per cent of SVG's population.
But this batch of vaccines has an expiration date of June 30. A previous batch of Covishield AstraZeneca vaccines received in March from India, expires June 27, three days before these new vaccines.
And Gonsalves said on Wednesday at a press conference that if there is not a sufficient uptick in the administration of vaccines to citizens before a cut-off date, local authorities will be forced to donate vaccines to countries in the region who need them.
"We need to do better. We are not doing well enough. Just about 11 per cent of the population, we have done…" he said.
As of April 7, 11,906 vaccines had been administered locally, with more than 300 of that figure being teachers and over 400 healthcare workers.
The country's goal is to vaccinate at least 70 per cent of the population in order to achieve herd immunity.
But Gonsalves said there are two problems surrounding the COVID19 vaccines.
"We have a problem in sourcing vaccines, because the distribution- we know there's a lot of hoarding by rich countries, and we know the problems about production. We are all fighting to see if we can get more produced…" he said at the COVAX press conference on Wednesday.
"But having done so, we have to persuade our people. We are coming up against a lot of vaccine resistance in the region and certainly in St Vincent and the Grenadines, and we have to use up these vaccines."
To date, SVG has received more than 45,000 COVID19 vaccines, inclusive of 5000 Covishield (Indian) AstraZeneca vaccines from Grenada, and additional 40,000 Covishield vaccines as a gift from the Indian Government, and most recently, about 800 Sputnik V vaccines.
Of the 40,000 vaccines received from India, this country donated 5000 each to St Lucia and Grenada.
Those vaccines are set to expire on June 27.
"…which means if we take into account that everybody has to get a second dose,
from those which we have already, we will have about 9000 or so spared and this 24,000. But this 24,000, we must remember, has a cut-off date of June 30, so we need to ramp up the vaccination," Gonsalves explained.
The prime minister warned that the country was at serious risk, and that persons must take the vaccine and "beat back all of those persons with all the propaganda about the vaccine, those who are being highly irresponsible".
La Soufriere has been effusively erupting since December 2020, and local authorities are on high alert, monitoring the activity at the volcano, in the event of an explosive eruption.
Gonsalves said that in the event an explosive eruption takes place, about 20 per cent of the population in the north east and north west areas from the red zone, and parts of the orange zone, will have to be placed in camps.
"Now if we have large numbers of people in camps, you are likely to have a serious spread, community spread inside of those camps if the volcano blows, and we don't know. So, we have to be proactive and plan for that and that's why we have to make sure we get all the teachers, the nurses, the police, all the public health workers, and the people in the red zone, orange zone and those too in the areas where we're going to have the camps to be vaccinated," he said.
He added that there are other economic implications if there is not an uptick in citizens being vaccinated.
SVG is set to receive approximately 46,000 vaccines through the COVAX facility. Having received 24,000 this week, the additional 22,000 is expected to come sometime later this year.
The prime minister said on Wednesday that the country continues to try accessing other vaccines, but the timeline on these efforts is uncertain.
Dr Yitades Gibre, a PAHO representative, and St Clair Prince, this country's health minister.