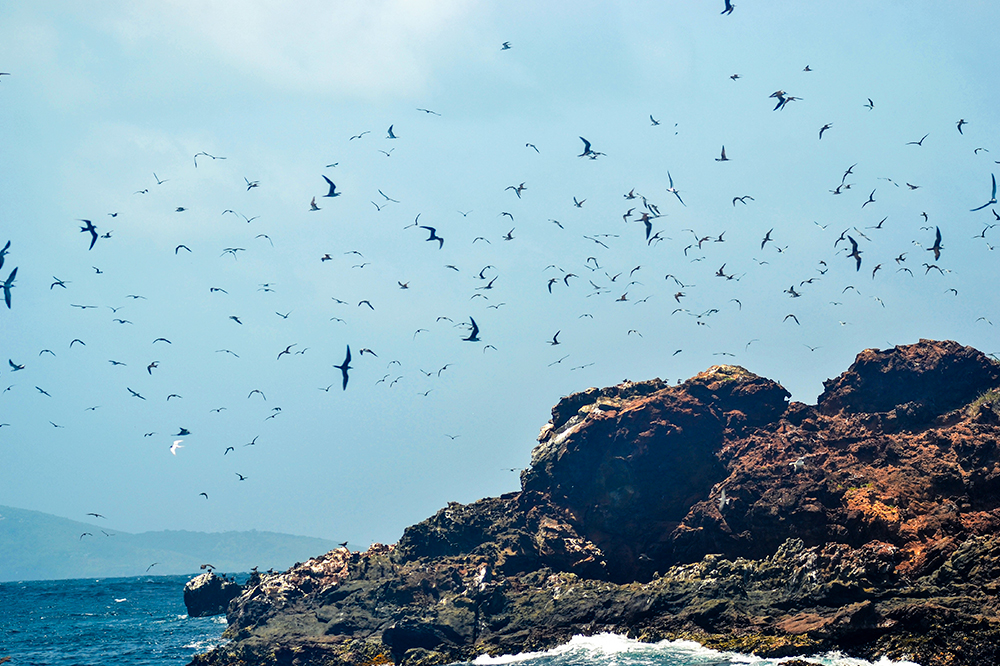 Working group addressing Grenadines conservation issues
A working group, comprised of diverse stakeholders, is exploring conservation issues affecting the remote, uninhabited islands of the Grenadines and mapping out actions to protect the native wildlife found there.
Grenada and Saint Vincent and the Grenadines are nations that are well known for their natural beauty and rich biodiversity. Perhaps some of the most remarkable features however, can be found at the uninhabited offshore islands in the Grenadines which are infrequently visited by people and often difficult to access. Here you will find tens of thousands of nesting seabirds which are present in regionally and even globally important populations. During nesting season, the islands and surrounding waters come alive with a flurry of activity, with seabirds socializing, fishing, building nests and raising chicks in a pattern that has been repeated every year for thousands of years.
However, despite the Grenadines island chain hosting what seems to be thriving populations of seabirds, they continue to be highly threatened and rapidly disappearing, primarily due to human activities such as illegal harvesting, development, grazing of livestock on offshore islands, plastic pollution, disturbance and the presence of predators (such as rodents) at their nesting sites. Given the remote setting and inaccessibility of most nesting sites in the Grenadines, enforcement of protective environmental legislations remains minimal due to the high cost of monitoring populations and enforcing violations through the island chain.
Environmental Protection in the Caribbean (EPIC) has been working to bring attention to these often-neglected species and areas, to preserve seabirds and their nesting sites by building a network of advocates throughout Grenada and Saint Vincent and the Grenadines since 2009. In early 2020, EPIC produced the Community-based Conservation Management Plan for Grenadines Seabirds, which outlines a multi-faceted approach involving education, outreach, research and conservation activities and identifying groups and individuals that can assist with these activities to preserve seabird populations.
During 2020, EPIC formed the Transboundary Seabird Working Group with the goal of implementing activities in the seabird conservation plan, which was developed through participatory stakeholder consultations held during 2019. The Working Group comprises stakeholders from St Vincent and the Grenadines and Grenada, and includes representatives from government departments, non-governmental and community-based organizations, citizen scientists, fisherfolk and researchers. The Working Group is kept up to date on the status of seabirds and major threats and discusses the feasibility of solutions.
The Working Group has met virtually twice so far (November 2020 and February 2021). While the first meeting focused on discussing population status and the presence of invasive species, the second meeting was devoted to discussing illegal seabird harvesting activities.
Fisherfolk in the group commented on their concern about the extent of illegal harvesting activities at nesting sites, remarking that they have noticed drastic changes in seabird populations, and calling for increased enforcement to preserve populations for future generations. Fisherfolk have a unique relationship with seabirds, often relying on them to find fish, navigate, and interpret weather through many years of observation.
Other participants in the group called for increased educational activities, both in a formalized school setting and through media campaigns to reach the general public. Overall, there was concern amongst all participants regarding the number of feral goats and rats on islands, especially in protected areas. These invasive species do not just affect nesting seabirds, but reduce overall biodiversity and the health of island ecosystems as well. It was also noted that one-on-one discussions with harvesters, landholders and livestock owners could prove to be beneficial in reducing threats throughout the island chain.
With the seabird nesting season fast approaching, EPIC would like to remind the public that harvesting of seabirds, their chicks and eggs is prohibited and punishable by law in Grenada and St Vincent and the Grenadines. The Working Group is supported by United States Agency for International Development (USAID), United States Fish and Wildlife Service (USFWS), the St Vincent and the Grenadines Environment Fund (SVGEF), and the Forestry Departments of Grenada and St Vincent and the Grenadines.
contributed by Juliana Coffey of EPIC