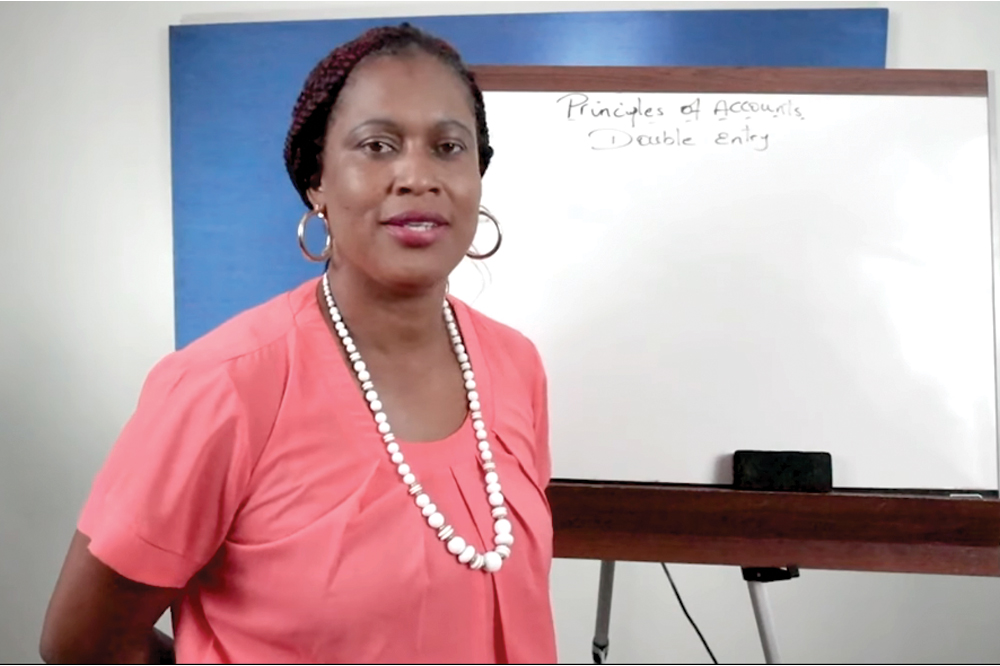 NDP introduces free 'E-lessons' to supplement online instruction
The New Democratic Party has implemented a free initiative that will allow students in St Vincent and the Grenadines to receive supplementary instruction online, as schools remain physically closed.
The political party launched "NDP E-lessons" in the last week of February with the aim of supplementing classes for students who may, for one reason or another, miss their scheduled online classes via the Microsoft Teams platform.
The initiative is being spearheaded by educator and the NDP's newest senator, Shevern John; the party's spokesperson for education, Terrence Ollivierre; and NDP public relations officer, Lavern King.
"The party thought it would be good to do something meaningful and practical that will help students at this time," King told SEARCHLIGHT this week. "We all have to basically come together and make the best of the situation we are facing right now."
Microsoft Teams is the preferred platform of the Ministry of Education for delivery of instruction to students across the country, who have been attending classes virtually since January, the start of the second term of the school year.
King explained that there are some students from households where there is only one device meant to be shared among all the children. As a result, a student may end up missing the live class if there is a clash.
"…The thing with the Microsoft teams meeting is it works just like if you're having regular class in school and if you're absent, you miss it. What we are doing, we are trying to give additional assistance to students out there who may not be able to get into the session once it's being taught for one reason or the other," she said. "Maybe it was an emergency, maybe their parent had to use a device, maybe they have several siblings who go to school as well or maybe they tried to log in and for whatever reason, they just couldn't get into the classroom during the Microsoft Team session."
The NDP e-lessons are uploaded to the party's Facebook and YouTube page on Wednesdays and Thursdays and can be accessed at anytime after the premiere.
To date, e-lessons covering CSEC Mathematics, Economics and Principles of Accounts have aired on both platforms.
Senator Shevern John and parliamentary representative for East Kingstown, Fitz Bramble are among the instructors.
But King said the party is calling on volunteers to join the initiative so that they can widen the scope of subjects offered at varying levels.
"Anybody who is qualified and willing to give of their time to help us make this to be bigger and better to help the students, we are willing to partner with them so that it becomes something that is bigger than just the NDP doing a project, but something that is really worthwhile and meaningful and impacts the life of every Vincentian student at this point," the PRO said.
King also noted that "it doesn't matter whether or not you have a political affiliation, you don't have to have any. Once you're a teacher, retired or current teacher, or somebody who is really proficient at a subject and able to deliver the syllabus, we're encouraging people to join with us. We will record and edit all the lessons so people don't have to worry about whether or not they have a good phone or device to record the lesson".
In addition to taking care of all the technical aspects of the e-lesson, King assures that filming takes place in a safe environment where all COVID-19 protocols are in place to ensure minimal exposure and safety of volunteers when recording lessons.
Filming may also be scheduled in specific time slots to further ensure minimal time spent in the studio.
King said the e-lessons will run for the duration of the term but the intention is to ensure that the initiative is one that is sustainable in order to last well beyond COVID times.
She also encouraged students to take advantage of the free service being offered.
Persons interested in volunteering their time to teach an NDP e-lesson may call 456-2114 or leave a message on the New Democratic Party's Facebook page.