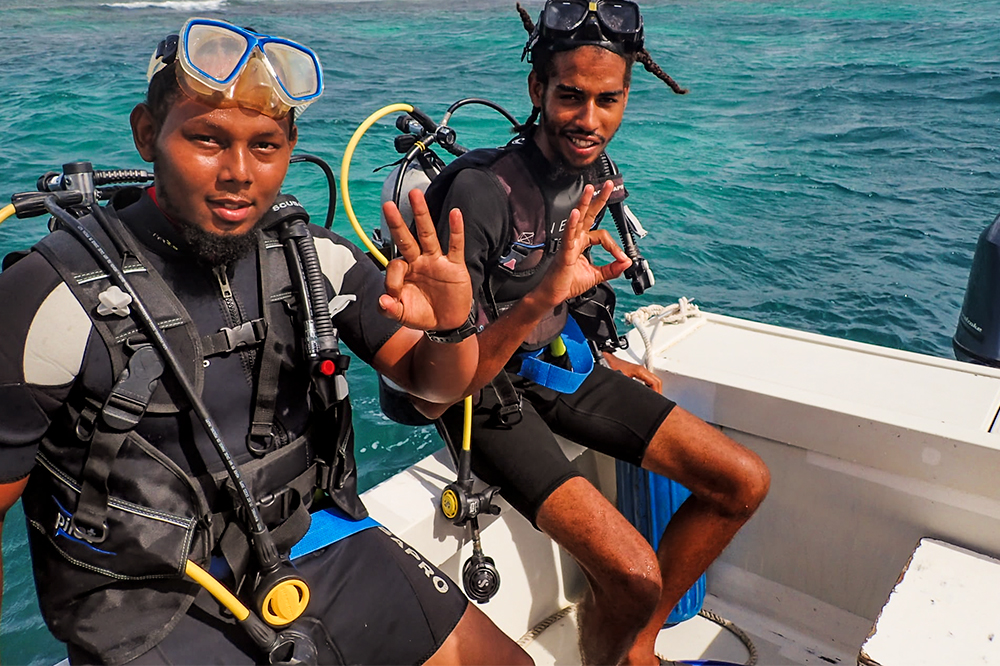 Deadly coral disease not sighted during survey of local reefs
A deadly coral disease first identified in Florida that has been spreading to other coral reefs in the Caribbean, has not been sighted in a recent survey of some reefs in St Vincent and the Grenadines (SVG).
Stony Coral Tissue Loss Disease (SCTLD) is a relatively new disease first identified on the reefs of Florida in 2014, which affects more than 20 species of coral.
By 2018, the disease had spread to 16 Caribbean countries, including Jamaica, Quintana Roo (Mexico), St. Maarten, St. Thomas (USVI), Dominican Republic, Turks & Caicos Islands, Belize, St. Eustatius (Netherlands), St. John (USVI), Puerto Rico, and Grand Bahama.
Sustainable Grenadines Inc/Sus Gren, a Non-Governmental Organization committed to the conservation of the coastal and marine environment which also supports the Grenadine network of Marine Protected Areas, was alerted by experts that they work with within the region, that the disease was spreading and they should be monitoring the situation.
Executive Director of Sus Gren, Orisha Joseph, explained to SEARCHLIGHT that they're still learning about SCTLD.
She said that they still are not certain about the cause of it, "but what we know is that, based on research of people from Florida and AGRRA (Atlantic and Gulf Rapid Risk Assessment), it seems to affect reef building corals."
"A reef system is very important for our fisheries sector, and whenever the disease is present, it could affect our coral colony or a particular species of any one of those species of corals in within a week or so," she further explained. The corals would become soft and disintegrate as they die.
Joseph says that the disease is like a pathogen and it "could be brought in from ballast water or from yachts or from foreign vessels or so forth and it's also very easy to spread."
It kills quickly, and the corals are less likely to "bounce back" compared to when they suffer bleaching or other diseases such as White Plague. "…With this particular disease, once it strikes it really damages the coral and it spreads so fast," Joseph stated.
Therefore, they decided, with funding from the Gulf and Caribbean Fisheries Institute (GCSI) and MPA Connect, to monitor the situation.
Sustainable Grenadines carried out a short survey between November 2020 and January 2021.
They worked with the National Parks, Rivers and Beaches Authority, Tobago Cays Marine Park, Sandy Island Oyster Bed Marine Protected Area, The Mustique Company, local dive operators and the community researchers and volunteers.
Reefs in both Grenada and SVG were monitored.
"…The reefs that we surveyed were chosen based on the susceptible species that would be found there," Joseph explained.
The sites chosen in SVG included five on the mainland, two on Union Island, three in the Tobago Cays Marine Park, and two sites in Mustique.
"…In our short survey that we have conducted in St Vincent we have not sighted the disease which is great news for us," the Executive Director informed.
They cannot say that it's not present as they did not survey all of the reefs, but they did survey vulnerable ones.
On the other hand, the researchers did observe White Plague and coral bleaching.
None of the sites surveyed in Grenada, Carriacou, saw sightings of the SCTLD.
In order to get a full picture of the situation they would have to do more surveys over a longer period of time, Joseph said.
She sent out a call to researchers and divers to still look out for the disease on their dives going forward. To members of the public, she noted that information is readily available online through MPA Connect, AGRRA, and others to identify SCTLD.
If there is a reef with the disease, Joseph explained that it is possible to isolate it.
A final report with their findings was published and will be sent to the Fisheries Division and related parties.