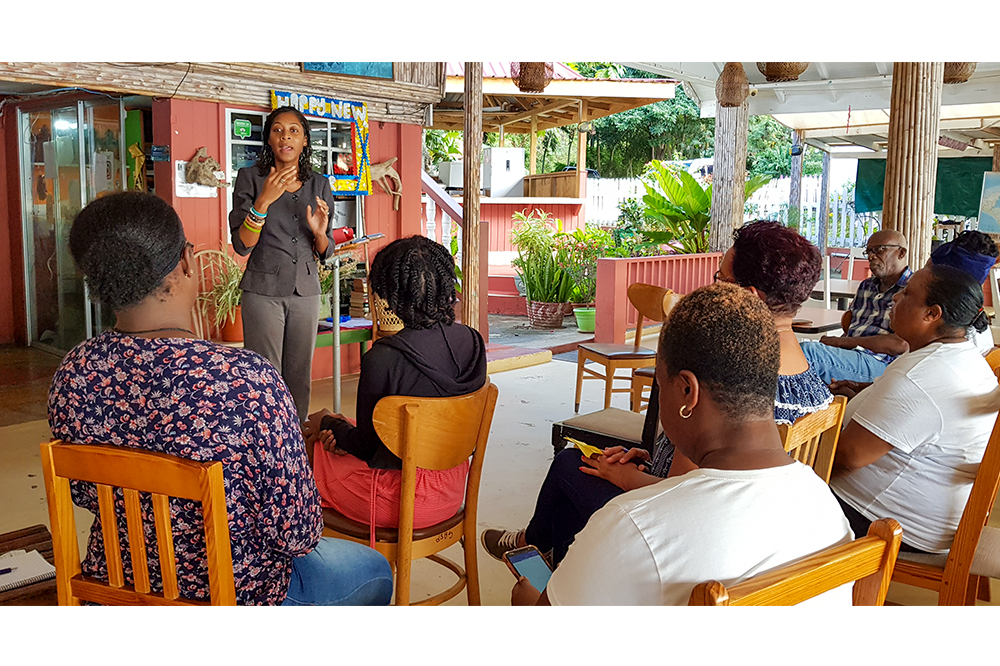 Coronavirus pandemic increases probability of abuse, human trafficking – British author
by Bria King
As schools remain closed and more and more persons work from home because of the coronavirus pandemic, the probability of abuse and human trafficking taking place increases in St Vincent and the Grenadines.
This is the belief expressed by British author and public speaker, Juanita Headley.
Headley has been in SVG since August 2020 raising awareness on human trafficking through presentations both on mainland and in the Grenadines to churches, schools, police stations and other entities.
The author, who has had to push past her own experience of sexual abuse, spoke with SEARCHLIGHT recently in honour of National Slavery and Human trafficking Prevention Month, which is celebrated internationally in January.
"Most parents and caregivers can be quite proud or arrogant or boastful about their nature of their relationship with a child and so they tell me, the expert on the topic that my son or daughter is not being sexually abused," Headley said, referring to interactions that she has had with parents locally.
She explained that a misconception of human trafficking is that it can only take place across borders. But she noted that it can also take place within a country, and is inclusive of exploitative actions where children, women and men can all be victims.
Headley said when she had presentations in the Grenadines, she encountered a 10-year-old girl who had many questions about what someone who is being abused can do, particularly if they are too shy to tell an adult.
The public speaker proffered that school is often an outlet for children in abusive situations to escape but that when schools are closed, they are forced to stay at home, potentially in the clutches of "the perpetrator or in otherwise, a paedophile…a person – stepfather or uncle, who exchanges that child for sex".
"When we are isolated now, it makes it a lot harder for that child to be protected by a teacher, a social worker for intervention to happen…" she said.
The author, whose latest book, 'Can you keep a secret?" addresses this very issue, gave some suggestions of how persons in situations of abuse and human trafficking can receive help, particularly in the context of COVID-19 where contact with others is limited.
"It's about enabling any person, not just children, adults as well, about the ability to communicate safely so that someone can intervene and protect them," she said, suggesting that community WhatsApp groups can be formed to provide support to persons in the community.
The British-born woman said a similar intervention was introduced in the UK.
"God forbid a child is being abused, she's using a WhatsApp group, she presses the record button, a recording is made, it's sent to the group, the authorities are informed that a child is being attacked, assaulted, whatever," she explained.
Zoom can also be used to create a safe space for victims of abuse and human trafficking situations.
Headley explained that forums can be held via the increasingly used platform to talk about the challenges faced during the pandemic.
Participants can also log in without turning on their cameras and with assigned letters known only to the host, so it can remain anonymous.
Once a part of the forum, private messages can be sent to the host to inform of the abuse taking place.
A hotline number for persons to call in to make reports to the police should also be activated, if not already.
"We have to be creative," Headley said.
Headley told SEARCHLIGHT that it was "fascinating that this thing is so prevalent and is so hidden" in SVG and she is hoping that her presentations or one on one conversations with parents can serve to enlighten individuals on the possibility that these activities can actually happen very close to home, even without their knowledge.