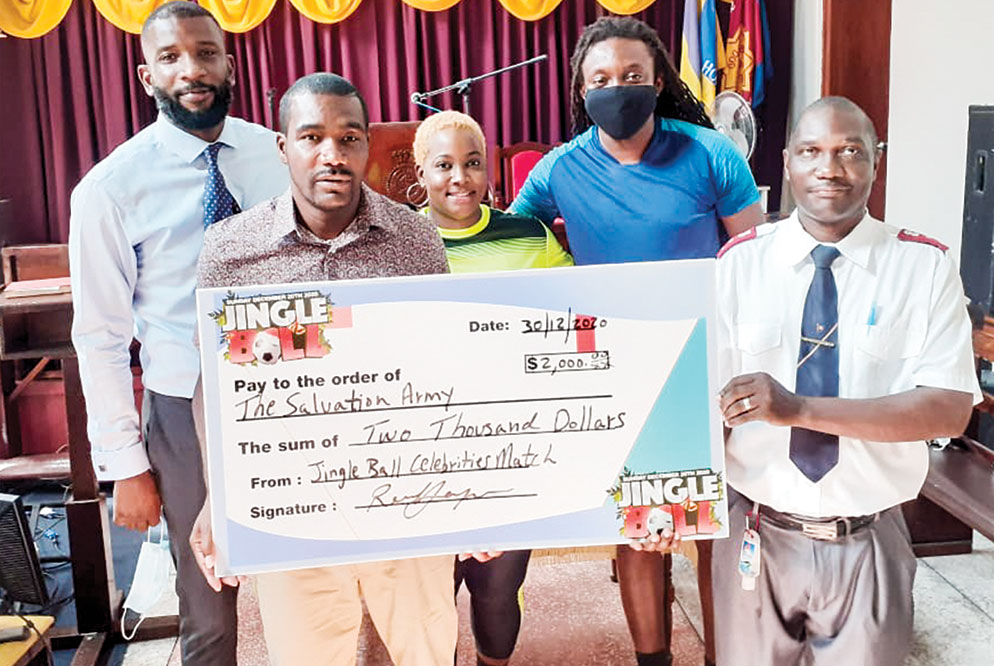 Salvation Army Children's Home at Pembroke receives EC$2000
The Salvation Army Children's Home at Pembroke is the beneficiary of EC$2000 thanks to Awesome Sports International and the Jingle Balls charity match.
The money was handed over to Captain Ernest Gachelin at the Salvation Army chapel on Melville Street on December 30.
Head of Awesome Sports International Renson Haynes presented the money to Captain Gachelin and noted that he is happy to be able to help a worthy cause.
"I am very pleased to donate to the Salvation Army. It is definitely something that I am passionate about and I am looking at ways we can donate more," Haynes said.
He noted that staging the event used up some of the money that could have gone to the Salvation Army but he is thankful that persons came out and supported the event for the fourth consecutive year.
"We hope it gets bigger and we are able to donate more next year," Haynes said.
Captain Gachelin said it is always a joy to receive donations.
"Especially when you know where it is going. It is to help the children and I am happy for that and I give God praise for that," the Captain said.
Eight children at the home will benefit.
Jingle Balls was held on December 20 at the Victoria Park and included a celebrities game featuring persons like Rodney Small, Fitz Bramble, Chewalee Johnson, Hance John, the Melisizwe Brothers and Lyf Compton.
Another game saw Layou FC defeat Hope International 3-2 to take the EC$1000 prize money.
The event received sponsorship from Sportsmax and Digicel and also saw a penalty shootout in which persons kicked against former St Vincent and the Grenadines goalkeeper Fitz Bramble. The winner received $200 in cash, a Vincy Heat replica jersey and a frozen ham.