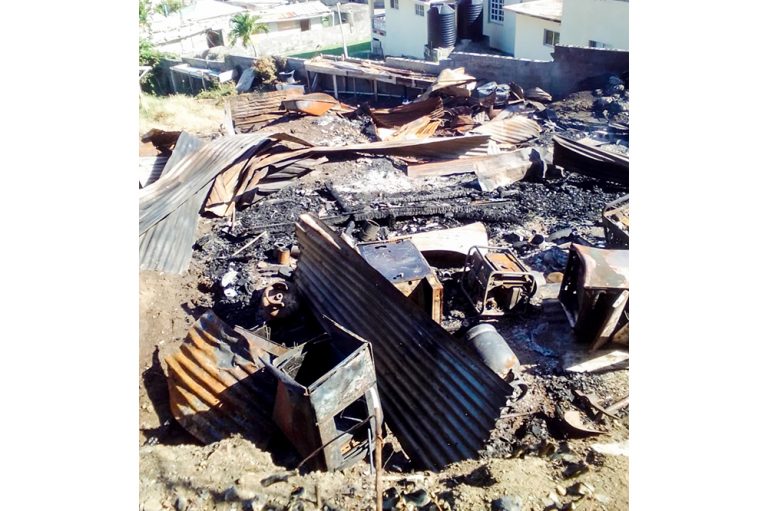 Family loses everything to fire
Canouan resident Susan Jacobs has described as "extremely unfortunate" a house fire that destroyed her family's home in Grand Bay on December 22, 2020.
"I don't know how it start, Jacobs told SEARCHLIGHT on Thursday, while saying she is seeking whatever help she can get to put her life back together.
Reports are that on the day in question, the Canouan Police Station responded to a report of a house fire at Grand Bay, Canouan.
The fire was fought with the help of CCA Ltd and the Glossy Bay Marina, but attempts to quell the blaze were futile.
The house was occupied by seven persons – Jacobs; her two daughters – Zantey, 25, April, 24; Julie Jacobs, 11, Ezra Jacobs, 9, Akeem Williams and Jeffrey King, 55.
According to Jacobs, on Friday December 18, 2020 she left Canouan for Union Island to visit family and King, a family friend, was left at the house along with her daughter April.
Her son Ezra was on the mainland and her daughter went to the mainland on the day the house burnt.
King is said to have left home at about 2:30 pm, to assist a friend with transporting goods from a ferry. He later told police that all appliances were turned off.
King said that at 4:45 p.m. he was at the Canouan market when he saw smoke coming from the vicinity of his home. When he arrived, he met a group of people pouring water on the fire but the entire house and its contents were destroyed.
The cause of the fire is unknown and the blaze is said to have destroyed property of estimated value of EC$96,000.
Jacobs said the heart wrenching thing is that a few weeks before, she being a family oriented person, asked her son and her daughter to return home to live and they did, bringing with them all their worldly possessions. A family friend was also allowed to live in the lower level of the house.
She said when she got the call that the house was on fire, she was shocked.
"We lost everything," she said, while adding that her son, daughter and son-in-law had brought all their stuff from their previous homes to this house and everything was destroyed. She said her son's baby was born on December 31.
"I asked them to come and they move over and they lost their stuff as well," she lamented while adding, "It is unfortunate because they brought all their stuff. And we all lived there, trying to make ends meet, I am a family woman and that was it."
She said the home was recently refurbished which included painting and a roof change and she has to now appeal for help.
"Any help that can be given, we need, and we will be happy to have because we have been left without anything, no clothes, no pot, no spoon.
"I am seeking your help in whatever way possible, it will be greatly appreciated by us, any help from you will be a beginning of a new start for us," Jacobs said.
This is the second tragedy for the family in less than a year as on Friday July 17, 2020, Secquwond Jacobs, Susan's 19-year-old son, drowned at Basin on the southern part of Union Island.
Back then Susan entertained the idea that her son may have been the target of black magic by persons who he had ran into some trouble with a few years ago.
Jacobs has however ruled out black magic in the destruction of her house.